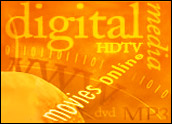 It seems as if everywhere I look these days, HD (high-definition) is there. An increasing number of TV programs come with an "available in HD" logo at the bottom of the screen, and it looks as though every consumer store that sells any form of electronics has photos of widescreen televisions plastered all over the advertisements they jam into the Sunday newspaper. Step into any of these stores and the new HDTVs easily outnumber traditional television sets in both number and the real estate taken up by their seductive flickering images.
With the amount of HD advertising blasting away at everyday consumers in the U.S., it appears as though everybody must own a hot plasma or a cool LCD HDTV, and that everybody can enjoy the jaw-dropping clarity of Lebron James slam dunking a basketball over Kevin Garnett. Heck, a recent rerun of "The Simpsons" just highlighted a plasma big screen with high definition programming. Homer's coworker throws a party so he can reveal his new television. Homer, of course, immediately parks his butt on the friend's couch and stays there — for three days. When he finally goes home to his old standard definition set, he grumbles, "Stupid non-plasma TV, pictures so blurry, might as well rub dirt in my eyes."
So what was the original air date of the episode? March 26, 2006. Where is HD now?
HD Is Everywhere – And Barely Anywhere
The paradox of HDTV is that it seems to be everywhere, and yet, when you take a closer look, it's hardly anywhere at all. HDTVs are pricey and for most consumers, the programming costs are expensive as well.
Consider some numbers: Frank N. Magid Associates recently conducted a study of consumers over age 21 across the United States. Currently, 25 percent of households (28 million) have at least one HDTV, up from 20 percent in September of 2007. That means that three-quarters of households don't have HDTVs at all. Odds are, price is a likely factor, as is confusion over how to get HD programming.
In fact, according to Magid research, 30 percent of HDTV owners don't even get HD programming. When it comes to actual TV viewing, that means most shows look pretty pathetic on their shiny new HDTVs. Generally, standard definition programming actually looks better on older tube TVs than it does on HD flat screens.
During the 2007 holiday season and the weeks running up to the 2008 Super Bowl XLII, 5.5 million households brought home an HDTV for the first time, according to Magid. Another 3 million homes added a second HDTV during the same period.
Overall, the message is clear: Unless you don't want to see the wrinkles on the faces of broadcast news anchors, HDTVs are the way to go. Interestingly, Magid's research also found that 24 percent of households that don't own HDTVs feel that it's important that they be able to watch the 2008 Summer Olympic Games in high definition.
The 'Digital Television' Transition Fallacy
Another driver of HDTV sales is confusion over the federal government mandate that analog television broadcasts transition to digital signals by February of 2009. Many consumers believe they'll need an HDTV by next year or they won't be able to receive a signal. That's simply not true, but the perception has been widely reported to have fueled a significant portion HDTV purchases by confused consumers. In reality, viewers simply need a digital-to-analog converter set-top box, and since many broadcasters are already broadcasting in both digital and analog signals, consumers can get digital signals now and enjoy programming on their old TVs.
While consumers can easily shell out thousands of dollars for a 55-inch high-end plasma HDTV, they can also find a variety of budget widescreen models, such as a 19-inch model for around US$300, 26-inchers for under $500, 32-inchers for under $600, and 42-inchers for around $1,000. As for standard tube TVs, it's getting harder and harder to find them, but a 27-inch, non-widescreen TV can be found new for under $300.
Of course, HDTVs still come with consumer-confusing specs like 720p, 1080p and 1080i. While bigger is better with higher resolution, it doesn't always translate into an appreciably better viewing experience, especially when television broadcasts and most HD content is delivered at 720p resolutions. Either way, when you consider that most people spend far more time in front of a TV than they do in front of a computer, the purchase price of an HDTV can seem reasonable these days.
Getting the Content
Not all HDTVs are purchased with HD television programming in mind, however. If an HDTV buyer connects the set to an Xbox 360 or PlayStation 3, their video games are going to look wicked cool. The PlayStation 3 can play high-definition Blu-ray movies, too. An Apple TV set-top box, for example, can also let an HDTV owner rent HD movies via an Internet connection. Just because nearly a third of HDTV owners don't even have HD television programming doesn't necessarily mean their set is going to waste.
Personally, I'm a little like Homer Simpson — I've been spoiled with a low-end 42-inch plasma television with HD programming via Dish Network for less than a year, and I never want to go back to standard definition. Watching a basketball game in standard definition is almost painful now — might as well rub dirt in my eyes — and by HDTV standards, I don't even have a high-end setup. As a case in point, I just changed my service plan with Dish Network so that I don't even subscribe to standard definition programming — and I'm saving about $30 a month to boot.
Once buyers get an HDTV set into the home, they've got to figure out their HD programming options. This is often an exercise in pain and frustration. The frustration: It can be astoundingly difficult to figure out. The pain: HDTV programming costs extra. Back in 2003, Forrester Research recommended that content providers charge more for HD service because affluent early adopters would help fund the transition to digital television and HD programming.
Enter the High-Cost Programming
Affluent or not, for HD television programming, consumers have three basic delivery options — satellite, cable/fiber optics, and over-the-air transmissions.
There are two main satellite players: Dish Network and DirecTV. Existing satellite TV subscribers will find themselves in the unenviable position of needing to upgrade their equipment to receive HD programming. They may need a new dish, perhaps a second dish, and they'll also need an HD receiver — and the satellite companies typically aren't offering these upgrades for free. The special packages and confusing offers change all the time, but one thing is clear: HD is going to cost.
Until last year, Dish Network offered many more HD channels than DirecTV, then DirecTV took the lead with 92 channels. The race continues, though, because it appears that Dish Network just this month upped its total to 95. Either way, each satellite service offers roughly twice as many HD channels as cable services offer.
Based on their Web sites and marketing materials, DirecTV and Dish Network are both as clear as mud when it comes to communicating to potential customers what they can buy and how much they are going to pay. Their offerings are masked in limited time offers, free months, free HD receiver upgrades, programming commitments, HD access fees, equipment leases, 18-month contracts, installation charges, and $5.99 monthly fees that provide insurance for the receivers that customers are already leasing.
Basically, if you want to open your wallet and dump out the contents into a satellite service bucket to get HDTV, you're good to go.
The pricing, however, is fairly consistent across both companies. Basic programming is divided into packages, and ultimately, even a budget-minded consumer will end up with a basic package that delivers local HD network programming (ABC, CBS, FOX, NBC), as well as cable staples like ESPN, Discovery Channel, Animal Planet, etc., for a price of about $60-70 a month after all the taxes and fees get added in. That's over $700 per year for one of the more modestly priced basic HD packages.
Most cable companies have similar pricing models and strategies, and their services don't seem to be appreciably different, other than the fact that they appear to have fewer HD programming options and generally lower startup costs and fewer special deals designed to tie consumers into long-term service contracts. The reason: Cable is already wired into most households where service is available. There's no satellite dish systems that need set up.
Fiber optic TV services like Verizon's FiOS are delivered over networks in larger cities and metropolitan areas. They comes with similar price points and decent HD programming. Again, once you add it all up, you're going to come in at over $60 a month.
Extended sports channels and premium networks like HBO and Showtime, of course, cost more.
The Dirty Little Secret
What if you just want network television that's broadcast in HD — CSI: Miami, Lost, Desperate Housewives and the like? The NBA finals and the Super Bowl? Just the basics?
There's a good chance that you can get the basics, but you'll have to call your service provider and ask for it. I recently changed my plan to only HD channels because I called up Dish Network and said, "I just want the most basic HD set of channels that I can get — can I get just get the major networks in HD? Is there any way I can get something like that, because that's all I really want."
Sure, I was redundant with my request, but I wanted to be absolutely clear. And the answer was yes, I had options. I'm now getting only the HD love that I really want, and I'm paying about $30 less per month than I was paying previously, based on the package options I could choose from at the time I first ordered service. Actually, the fact that Dish Network was able to provide a lower-priced HD tier is the only reason I'm still a Dish Network customer. After doing a little digging, I visited our local Time Warner Cable office in person. I presented the same basic question — "I just want HD programming, just your most basic set of HD channels, the major networks, and that's all. Can I get something like that, and how much will it cost?"
The guy who helped me certainly tried to up-sell me into a bigger package, but the net result is that I could get an unadvertised small set of HD channels, including an HD digital video recorder receiver, for about $30 a month. I was astounded. You're not going to see these packages in your local newspaper, nor are you going to find them online. You've got to ask.
Still, You Can Get Free HD Programming
Consumers that live close enough to a network broadcast tower — that is, most cities and metro areas — can also receive free over-the-air HD programming from the major networks. All they need to receive the broadcasts is an inexpensive digital receiver and/or antenna.
What's astounding is that so few households with HDTVs have actually bothered to get local broadcasts in HD free — even the 30 percent of HDTV-owning households that don't get HD programming. According to the Magid research, only 3 percent of HDTV-using households receive free over-the-air HD broadcasts.
The Future Is Clear
Recent research from SNL Kagan reports that more than a third of homes now have HDTV sets, which is a bit higher than the Magid research. Still, SNL Kagan expects rapid growth — according to the prediction, HD cable and satellite HD subscribers will penetrate 65.7 percent of U.S. multichannel households by 2012, up from 18.8 percent in 2007.
So while HDTV and HD programming is clearly on the rise, HD is not yet "everywhere" … though guys like me and Homer Simpson wish it were.