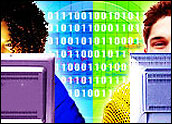 The growth rate for illegal downloading of copyrighted material via peer-to-peer (P2P) file sharing services slowed during 2006, while use of their legal counterparts picked up, according to recent research.
Nonetheless, open and walled-off P2P services — so-called darknets — remain the primary means of sharing and downloading music, videos, images and other copyrighted media. As they continue to pose a significant threat to established industry players and despite at times questionable efforts to suppress them, they will continue to be the favorite whipping boy for the music and film industries' antipiracy efforts.
Entertainment industry players must battle against the very nature of the media they produce and distribute. Music and film are shared experiences and new digital technologies enable them to be shared more widely and more easily than ever before.
Moreover, P2P is an attractive way for people to create culture and interact with music and film. Also, P2P technologies are key elements of recent advances in network computing. They are widely and legally used by developers in distributed and grid computing, as well as being an important mechanism in the creation of open source software. However, trying to suppress P2P technology results in driving it underground.
Growing Use
Out of 47 million digital music households in the U.S., one member from each downloaded, ripped, burned, played or uploaded online digital music last year, according to a report by the NPD Group. Some 15 million of the total number of households downloaded at least one music file from P2P sites, a slower 8 percent rate of growth than that recorded in previous years, which is notable given the growing number of digital music users, as well as increasing broadband access and use of digital video, according to Russ Crupnick, vice president and entertainment industry analyst for the NPD Group.
"Legal a la carte downloads were the fastest growing digital music category in 2006," Crupnick said. "Unfortunately, for music labels, the volume of music files purchased legally is swamped by the sheer volume of files being traded illegally, whether on P2P or burned CDs sourced from borrowed files."
The number of music files downloaded from P2P sites (5 billion) grew 47 percent year-over-year and still dwarfed that from authorized sites (500 million), which grew 56 percent, according to the NPD report.
The sheer size and ongoing growth of illegal downloads and file sharing doesn't bode well for authorized online music and CD sales.
"Even though there is significant growth in legal music downloading, much remains to be done by the music industry to protect the bottom line," said Crupnick.
To reduce the amount of P2P file sharing and other piracy, more antipiracy initiatives need to be crafted, he added."Most of all, music studios should continue to nurture and support those who pay to download music, in order to reinforce repeat usage and continue to build on take rates," Crupnick said.
More Carrots or Sticks?
Some would disagree that more antipiracy initiatives are necessary. Instead, they would argue that established industry players would be better off using more carrots and fewer sticks in their approach to new network computing technologies, developers and music listeners.
"The music industry needs to exchange control for remuneration," Paul Hitchman, cofounder and managing director of the UK's Playlouder, told TechNewsWorld.
The previous model focused on controlling distribution and promotional channels to maintain prices and margins, he said. The new model requires rights owners to license widely and transparently across many platforms.
"However, to be successful this requires content owners to forsake control in exchange for monetization," Hitchman said. "The key here is to follow the consumer rather than battle against him or her, and to support and enable technical innovation as the route to growth rather than resist change in order to protect a failing business model."
Until the major entertainment companies accept P2P and offer comprehensive and simplified licensing regimes and incentives for this channel, there will be the likelihood that unauthorized content redistribution will proliferate, Martin C. Lafferty, CEO of the Distributed Computing Industry Association, told TechNewsWorld.
The licensing needs to include all participants in the distribution chain that touch the content and play a role in ensuring that only licensed versions are being redistributed.
"The file-sharing distribution channel needs to include, for example, ISPs as well as P2P clients," he explained. "Until this channel has been properly established so that the file, the application and the network are all coordinated, law enforcement activity will continue basically to be an ineffective exercise."
Shifting Tides
There is movement in this direction, even as music and film industry associations continue to take much heat from increasingly better organized opposition groups on the Web. They're constantly criticized for ongoing legal actions and lobbying to shut down P2P operations and hamstring free sharing of digital music and video.
Meanwhile, implementation of file sharing continues to experience steady growth in terms of number of users: some 12 million average concurrent users and nearly 100 million monthly on a cumulative basis, Lafferty noted.
The cross-pollination of talent and resources has grown between the entertainment and digital technology industries. In December, BitTorrent, which lays claim to being the world's leading peer-assisted digital content delivery platform, announced it closed on a US$20 million Series B financing. The lead investor: Silicon Valley VC Accel Partners.
"P2P companies, such as LimeWire and Brilliant Technologies, have recently attracted high-profile entertainment industry executives to take management positions," Lafferty noted.
Some of the most exciting developments in terms of adopting P2P technologies for licensed music and film distribution have come this year with the advent of peer-to-peer television (P2PTV). Among them, Lafferty listed services such as Babelgum, Joost and VeohTV, as well as new technology from Abacast and RawFlow, which provide scalable solutions for live P2PTV streaming.
"The potential rewards of working in P2P were best exemplified with Skype's acquisition by eBay, representing a multi-billion dollar value creation in the Internet telephony space. The same kind of value creation for several P2P companies will occur in the entertainment and information sector in the fullness of time," Lafferty commented.
P2P 'Overrated'
In two years, file-sharing has the potential to be 100 times as fast and enabled on every single device, not just computers, according to Gerd Leonhard, CEO of Sonific.
"To some degree, P2P is a bit overrated — USB (universal serial bus) and IM (instant messaging) are much more widely spread than P2P, mostly because industry players are sitting on top of ISPs," Leonhard told TechNewsWorld.
People are sharing wireless networks and kids are flocking to IM — and possibly abandoning e-mail, he said.
"They're using Skype and IM; this whole sharing thing is going to be completely crazy with mobile wireless broadband," Leonhard said. "You have to license the network."
Limitations should not be placed on computers and networks, he added.
"It has to feel like a free embrace, like water or electricity. … There are much smarter ways of charging for service and content," Leonhard pointed out. "Initially, cable fees were $10; now they're $72, so the potential for up-selling is there."
If the sharing stops, it may kill the music business, he said.
"When the fan/user/listener stops engaging with the music, it's all over," said Leonhard. "Today, you urgently need a canvas for music not a one-way product (such as the CD)."