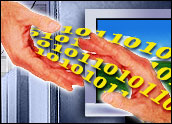 The number of consumers downloading music from authorized sites could exceed that of peer-to-peer (P2P) users this year, according to research conducted by the NPD Group.
The growth rate of downloading of copyrighted material via file-sharing services may have slowed down last year to around 8 percent, according to NPD. However, the number of P2P downloads still dwarfs that from authorized sites by a factor of 10, as is seen in Part 1 of this series.
Moreover, P2P users are more active consumers. Limewire captured a 62 percent share of P2P downloads and the average Limewire user downloaded 309 music files in 2006, a 49 percent increase year-over-year. Similarly, BitTorrent and other torrent services also gained in popularity. A building trend, BitTorrent and other torrent sites have begun offering material for sale, the report authors noted.
Music 2.0
Digital media entrepreneur and Sonific CEO Gerd Leonhard put into perspective the state of play in today's music industry in a letter read at the London Calling conference in May.
For the past 10 years, technical and economic innovations have stripped away many traditions, social and economic hierarchies and monopolies in the music industry, according to Leonhard.
"If there is one thing we can say for sure, I guess that would be that it's now showtime: The music industry is finally reaching a major inflection point … 10 years after the first dot-com ventures shook the ground," he says.
CD sales are down between 20 percent to 40 percent from last year, and digital sales are not making up the difference, Leonhard explains.
"We are very quickly nearing a point to where we are forced to dive into what I like to call 'Music 2.0' — a new ecosystem that is not based on music as a product, but music as a service: first selling access, and only then selling copies. An ecosystem based on ubiquity of music, not scarcity. An ecosystem based on mutual trust, not fear."
Turning It Up
The UK's Media Services Provider (MSP) is among those at the leading edge of the emerging music as a service movement. The company's Playlouder Internet service provider (ISP), expected to launch this fall, will offer subscribers broadband network access along with unlimited access to licensed digital music, online communities and the ability to share music files legally.
"What Playlouder has done is take what the vast majority of digital downloaders are already doing — such as file-sharing — and bring it within a licensed network environment," Paul Hitchman, company founder and managing director, told TechNewsWorld.
The company optimizes the consumer experience by making downloading easier, more reliable, faster and legal, he said. The Web site will combine social networking and community tools, music discovery and recommendation tools and audio and video streaming.
Playlouder is a next-generation "licensed network" model for ISPs, one in which network access is bundled in with other services and where digital rights management is built into the network itself rather than audio files, according to Hitchman.
Bundling Access and Services
In the first generation, P2P file-sharing helped drive broadband uptake. However, providing ubiquitous broadband access is now an expensive cost to ISPs, and they aren't adding to or deriving any value from growing volumes of digital music and video content, Hitchman pointed out.
"The next generation is about bundling access with other services. This is clear from the strategies of players such as Carphone Warehouse, BT, Sky and Virgin Media," he said.
Playlouder's aim is to be the leading provider of the broadband music service bundled with other services such as VOD (video on demand), IPTV (Internet protocol television) and VoIP (Voice over Internet Protocol), said Hitchman.
The result is a platform that optimizes the user experience while making access to and sharing of content both secure and accountable, he explained.
"This is a huge progression from the current DRM (digital rights management) models and gives consumers far more choice and flexibility, as well as returning fair value to rights owners," Hitchman noted.
A Change of Mindset
Hitchman and Leonhard are among a growing group of digital media entrepreneurs developing and advocating what amounts to a paradigm shift that may form part of the commercial foundation for the global music industry going forward.
"This change of mindset will enable the music industry to grow and enter a new age in which innovation is encouraged and facilitated and music forms the raw material for a wide range of services. The music industry will in turn receive revenues from this multiplicity of services and that will generate growth," Hitchman commented.
Achieving this requires shifting away from thinking about music as a product to thinking of it as a service, he elaborated.
"Under the product model, what is important to content owners is to maintain the unit value, the price, of music products. Under the service model what is important is the average revenue per music customer. If the average revenue per user is rising, then it doesn't matter if the revenue per unit is falling."
Control of distribution is no longer possible — digital TV companies like Joost are embracing this, Leonhard told TechNewsWorld. "It's not about controlling distribution, rather controlling people's time and attention," he said.
Promising Signs
Playlouder is seeing welcome signs of such changes taking place.
"Firstly, the music rights owners are licensing more and more services and are seeing revenue growth in digital as a result. Secondly, EMI was the first major to break ranks and license downloads in the MP3 format. Playlouder MSP itself is securing license deals with most rights owners — Sony BMG and EMI of the majors so far, with more deals to be announced soon," Hitchman reported.
P2P services, such as Azureus, iMesh, Qtrax and Vuze, have licensed music and film content from major record labels and film studios, and are pioneering a variety of new business models that combine advertising-supported, free-to-the-end-user, flat fee subscription and on demand paid downloads, noted Martin C. Lafferty, CEO of the Distributed Computing Industry Association (DCIA).
"One of the most promising approaches has been developed by Intent MediaWorks, which distributes licensed copyrighted works, often free ad-supported, directly into the search results for virtually all the major open P2P applications as well as other high-traffic portals," Lafferty told TechNewsWorld.
Intent MediaWorks is serving nearly 1 million legal file downloads a day and is adding about 70,000 files each week to its platform licensing agreements. "We should be at 3 million downloads per day by the end of the year at this pace," marketing director Jeremy Porter told TechNewsWorld.
"Intent works with legal content owners to distribute files in P2P networks, and helps advertisers sponsor content at the file-level so their ads appear with the content consumers are downloading," he explained.
Ongoing Campaign Against Piracy
Despite such positive progress, P2P file-sharing services continue to plague music and film industry executives, and continue to bear the brunt of at time questionable anti-piracy efforts.
Prompted by a group of entertainment giants including Time Warner, Viacom, Fox, Sony, NBC Universal and Disney, police in Sweden recently threatened to block access to P2P service provider The Pirate Bay, whose users account for an estimated 35 to 40 percent of the nation's Internet traffic, and put it on a list of child pornographers, based on claims that have not been divulged to The Pirate Bay or to anyone else.
"This is not worthy a democracy governed by law. The people who have made this decision cannot remain in our judicial system", asserted Rick Falkvinge, leader of Sweden's Piratpartiet political movement. "It also undermines the legitimacy of the child porn filter. This filter is not intended for subjective use by government officials to close down undesirable sites which do not break any laws."
Because anti-copyright infringement enforcement initiatives, there has been an increase in so-called "darknets," or closed P2P applications that make it difficult for outsiders to access and also hard for content rights holders and their agents to determine if there is copyright-infringing activity taking place, DCIA's Lafferty commented.
"The positive benefit of such innovation, ironically, is in data protection typically in enterprise deployments," he said.