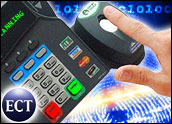 Biometrics — or biometric authentication — refers to technology that measures and analyzes human physical characteristics for security purposes.
Physiological (or biometric) characteristics include, for instance, eye retinas, facial patterns and hand or foot measurements, whereas examples of behavioral characteristics include a person's gait and signature.
Applications are varied and include the security of communications networks and IT systems as well as physical access to facilities.
The practical use of biometrics is growing, considering the ongoing advances in terms of range of biometric recognition algorithms, scanning technology, CPU power and network capacity, as well as increased middleware and database connectivity.
The post-9/11 "War on Terrorism" and resulting comprehensive security regulations has spurred the demand for biometric security technology. In addition, its use has grown steadily in more prosaic and traditional markets, such as time and attendance, facilities access control and venue management.
An infusion of new blood, along with larger amounts of capital and greater financial sophistication, is also increasingly evident in the biometrics market space. "Ultimately, the game is providing complete solutions and enabling trusted transactions to take place … At this point, these technologies are not anywhere near their potential market penetration, but that's changing," Maxine Most, principal at Acuity Market Intelligence, told TechNewsWorld.
Coalescing Forces
To estimate the total market opportunity for biometrics, Acuity analyzes data concerning the convergence of a number of broad mega-trends, including globalization, decentralization and greater mobility. The firm also uses this data to build its quantitative models and biometric industry forecasts, because it sees these mega-trends as the driving forces propelling biometrics technology growth in the coming decade.
In 2004, Acuity published a series of industry demand curves for biometric technology that accurately identified and framed the arc of the industry's growth. European and U.S. programs for e-border and e-passport programs gave the industry new impetus.
A second growth phase should take hold in 2008 with the implementation of national and regional e-ID documents, such as national identity cards and driver's licenses. A third phase is forecast for around 2012 with the expected widespread use of biometric security in e-government, according to Most.
Promise and Peril
Properly implemented and applied, biometrics may prove to be the critical tool needed to thwart the fast-growing threats of ID theft and online fraud.
However, there are well-founded personal privacy concerns regarding the potential misuse of biometrics. "I see biometrics becoming the lock and key to your personal data. You own and manage the key that unlocks access to your personal data," Most explained. "But the two must be separated."
Significant technological questions about biometrics remain. For example, a biometrics-based solution should be scalable and reliable enough to withstand the vagaries of heavy daily usage by people whose biometric variables — voice-print, skin, iris and facial characteristics — may vary from day to day.
All such solutions must also withstand vandalism and the efforts of criminals to fool them.
Biometrics in Southern Africa
In Oct. 2005, South Africa's Department of Home Affairs announced that it had digitized nearly 30 million hard-copy records of fingerprints and entered them into its Home Affairs National Identification System (HANIS). The initiative, dubbed the "Back Record Conversion Project," aims to eliminate manual, paper-based application processes.
With digital images of citizens' fingerprints, photographs and signatures, HANIS will enable the department to process citizens' national identification document applications electronically. This speeds processing, is more accurate than a manual system and costs less than alternatives — at least that is the department's belief.
In addition to national ID cards and other government applications, biometrics has been used by the financial sector for some time, mostly for verifying identities and authenticating transactions.
Biometric Security, a subsidiary of Orlando, Fla.-based Sequiam, announced late last October that it was awarded a three-year, US$2 million contract to supply biometric security technology to the Bank of Uganda, the country's central bank.
Sequiam's biometric fingerprint and smart cards, readers, cameras and software systems will be used to support the central bank's efforts to build a credit reference bureau and foster the use of credit referencing and risk management systems in the country's banking sector.
The technology will be used to positively identify bank customers and authenticate their transactions, according to Sequiam.
Usage on the Rise
South Africa's Dex Group develops proprietary biometric technology and systems for government agencies and the aviation, insurance and mining industries.
The company has installed security software at an FBI training center in Budapest, implemented a secure meals voucher program in Brazil and provided machine readable ticketing protection and a stadium management solution for the 2003 Cricket World Cup, which took place in South Africa.
"Biometrics are increasingly being used in ID cards, drivers licenses etc., to minimize identity fraud," Dex Group spokesperson Warren Dix told TechNewsWorld. "By using biometrics, it is impossible to be someone else. For example, when collecting pension money the collectors' identities can be verified on the spot, which cuts down fraudulent claims."
Event and Venue Management
Dex Group, along with other biometrics security companies, has their eye on South Africa and soccer's World Cup, which is coming to the country in 2010. "We have a solution called Dex Ticketing that addresses the needs of clients for various types of venues like stadiums, festivals, special events like A1GP (A1 Grand Prix), etc.," Dex Group Director Marius van Niekerk told TechNewsWorld.
"This solutions makes use of technologies like two-dimensional bar codes and 'at minimal scale' biometrics. This system is capable of managing access control to stadiums using copy protected, 2-D paper-based tickets, contactless PVC Mifare tickets and also allows access to VIP areas based on fingerprint biometrics," he explained.
"We have implemented Dex Ticketing in various soccer stadiums across Brazil — recently we have done the A1GP locally. This makes us an authority in this field and allows us to be ready for the 2010 World Cup Games."
Market Forecast
Acuity has been seeing increasing interest in biometrics systems and companies from more savvy and financially sophisticated technology companies outside the traditional biometrics field.
New methodologies from outside the field are also being adapted and applied. "Applications developed for use in other areas, such as pattern recognition algorithms used in astronomical observations, are now being applied to biometrics," Most noted.
It will take even more than the confluence of a number of broad social, political and economic trends, as well as technological advances, if biometric technology is to realize its market potential, according to Acuity.
"Fingerprint, handprint, iris and facial recognition — these technologies are being used today in a variety of different environments, but the results have been spotty," Most said.
By 2020, biometric systems will likely be reasonably ubiquitous, but it will also take a real commitment from new and long-time industry participants to build the solutions and value chain needed for that to happen, added Most.