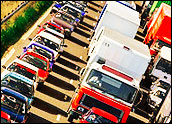 In response to a Supreme Court ruling that found carbon dioxide qualifies as an air pollutant under the Clean Air Act, President Bush has called for changes designed to reduce greenhouse gas emissions by 2008.
"Last month, the Supreme Court ruled that the EPA (Environmental Protection Agency) must take action under the Clean Air Act regarding greenhouse gas emissions from motor vehicles," President Bush said in the Rose Garden Monday. "So today, I'm directing the EPA and the Department of Transportation, Energy and Agriculture to take the first steps toward regulations that would cut gasoline consumption and greenhouse gas emissions from motor vehicles, using my 20-in-10 plan as a starting point."
Bush's 20-in-10 plan is a goal he set forth in his most recent State of the Union address. It aims to cut America's gasoline usage by 20 percent over the next 10 years.
Alternative Fuels
Part of the proposal is to set a mandatory fuel standard that calls for 35 billion gallons of renewable and other alternative fuels by 2017. "That's nearly five times the current target," Bush noted.
The other part of the president's proposal is to increase automobile fuel efficiency. His administration has twice increased fuel economy standards for light trucks, but government standards for passenger cars have essentially gone unchanged for two decades.
Part of the president's rationale for making changes is to reduce American dependence on oil, he said, which is a risk for the U.S. economy because a supply disruption could have a harmful impact by driving up fuel costs. In addition, he said dependence on oil makes America more vulnerable to hostile regimes and terrorists.
Not So New?
"It looks to me likes he's offering old wine in a new bottle to some extent," H. Sterling Burnett, a senior fellow with the National Center for Policy Analysis, told TechNewsWorld. "He says he's going to do something, both about climate change and energy dependence, and the plans that he's trying out are things that he's already offered. … [As] for his new rules and regulations? Well, they are going to be done when? As he's leaving the White House and turning the keys over to the new president, basically."
Burnett not sure that raising fuel economy standards is going to generate much savings in fuel use and emissions, he added.
"The reason is, if we raise fuel economy standards, you make it cheaper to drive. And when you make something cheaper that people like to do, they do more of it," he explained.