Activision's Call of Duty: Ghosts from developer Infinity Ward got the honor of demonstrating the power of Microsoft's Xbox One at its unveiling earlier this week.
The game development studio reportedly has designed new game-engine technology specifically to handle what the Xbox One and Sony's PlayStation 4 can deliver. This new entry in the Call of Duty franchise will arrive later this year for the new systems, as well as for the current-generation Xbox 360 and PlayStation 3, and the PC.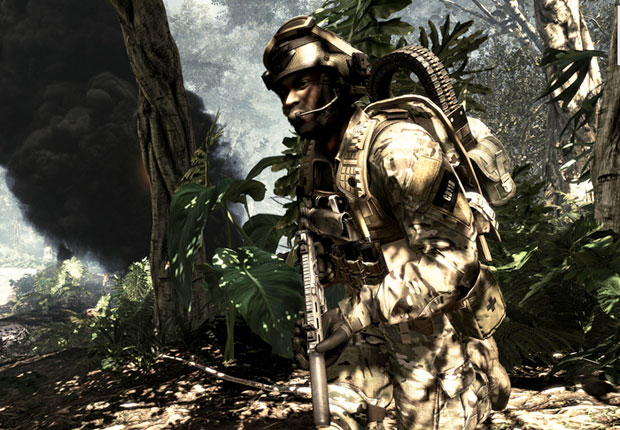 Call of Duty has generated strong sales as one of the most popular series among gamers, so it makes sense that it would be enlisted to show off the Xbox One.
"The title will get great coverage as part of the launch window lineup for the new consoles and will sell into large installed bases for Xbox 360 and PS3," said independent video game industry analyst Billy Pidgeon.
Activision and Infinity Ward did not respond to our request for further details.
Doing the Time-Jump
The game's developers have not revealed a lot of details about Ghosts, but it will be set in a alternate future, with the United States having fallen into disarray. This is a new departure for the series, which began as a first-person action shooter set in World War II.
Subsequent installments have centered on stories set during the Cold War and in the modern era. This time-jump forward could open a new brand for the franchise.
The players will be the "ghosts" referenced in the title — they are the remnants of various branches of the Special Forces.
Call of Duty has a massive following; it is arguably the most entertaining in its class," said Rob Enderle, principal analyst at the Enderle Group.
"Because it will push visuals, it will help drive people to the new consoles," he added.
"Given the consoles have been largely stagnant for the better part of a decade, the jump in visual performance is stunning," said Enderle. "This is the kind of game that will make people want to upgrade — and it's critical to the console upgrade cycle if it is to be successful."
Franchise Fever
Sports titles — such as EA Sports' Madden NFL, for example — are expected year after year, but with each new Call of Duty entry, there's some breath-holding. It's never certain whether it can reload for another go, or if it might be getting tiresome.
"This is an incredibly successful franchise, and with each iteration there is the potential to do it better than the last one," said game industry analyst George T. Chronis, editor of DFC Dossier. "Long-term franchises that are good go on until they aren't."
That depends in part on whether the new title has the type of playability that keeps gamers coming back for more.
One factor is "what the curve is like for the new system," Chronis told TechNewsWorld. "Some games get a lot of replay, and some don't."
Like many action shooter games, Call of Duty has an advantage in that it offers two games for the price of one. There is the single-player campaign that tells a story, much like a cinematic adventure, and then there is the open-ended online game with other players.
"Call of Duty is a multiplayer favorite, so it should sell strongly this fall," observed Pidgeon. "It could set new sales records — but even if it doesn't, it should still be a success."
The Big Hit
The decision to deliver Call of Duty: Ghosts not only for next-gen consoles but also for existing systems and the PC could be a shrewd move on Activision's part. It will ensure that — to paraphrase the motto of the U.S. Army Rangers — no gamer is left behind.
"It all depends on what your expectations are for this game," said Paul Semel, editor at Electronic Gaming Monthly.
"There are a finite number of people in the world. It will sell millions of copies and could easily be the biggest holiday game of the season," he told TechNewsWorld, "as people do love this series."
It is thus a wise decision for Microsoft to make it one of the Xbox One's killer apps.
"Microsoft is using the game to show off what the system can do, but it will still be a long time before you don't see a Call of Duty game for the PS3 or Xbox 360 — at least a couple of years," said Semel.
As for what to expect, one thing is known for sure: The game will include man's best friend.
"It is too early to know what has been added, but we know that the player will have a dog," Semel said. "I don't know if you play the dog or control it, but it is there."
As with the long-running sports series, Activision and Infinity Ward do seem to understand that change is good — but only in the right amount.
"They have to evolve the game, but not by making revolutionary changes," Semel explained. "These games come out every year and so they add incremental changes, but they aren't creating New Coke. Look what happened with that. People want these games to be what they are."