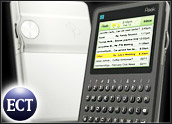 A small startup company, Peek, has introduced a new gadget — or, perhaps, an antigadget — called, not surprisingly, "Peek." It's basically a mobile handheld e-mail reader. And that's all it's for — reading and sending e-mail.
No, seriously, it is a brand-new device, and it does just one thing: e-mail.
In an age of smartphones, mini laptops, netbooks, tablets, and genre-busting devices like the iPod touch, the Peek is an anomaly. It comes with a 2.5-inch 320-by-240 pixel color screen, a QWERTY thumb-pad keyboard, and a scroll wheel on the side. It comes in three colors — charcoal gray, aqua blue, and black cherry. It's 4 inches by 2.7 inches by .4 inches and weighs only 3.8 ounces. According to the manufacturer, it has a battery that lasts 4 to 5 days … depending on the volume of e-mail a user gets.
It costs US$99.95 with a $19.95 per month service charge and can handle up to three e-mail accounts, which can be based on popular Hotmail, Yahoo, or Gmail-type services. All of the e-mails are delivered to the inbox on the main screen, but reply-to, etc, is retained with each account.
Oh, it also comes with a carrying case and an AC charger.
Who's This For?
The Peek is positioned for people who don't want to mess with complicated or expensive smartphone or related devices — or their hefty monthly data service plans. While most tech lovers tend to get excited about the all-in-one devices that surf the Web, play music, play videos, have games, and, oh yeah, allow phone calls, Peek clearly believes there are people out there who just want a simple device that performs a function — and does it well.
"The idea that you could have a better e-mail experience is clear," Roger Kay, principal analyst of Endpoint Technologies, told TechNewsWorld.
"And I do get the impression that single-purpose devices have a place in the market — it depends how expensive they are. It's a low, consumer-friendly price point for both the device and the service, and some class of users will find this attractive. I'm not sure they'll be a huge success — if it's 20,000 people, I'm not sure Peek could stay in business," he explained.
"But if that class of users turns out to be 5 million, it could be very interesting," he added.
Reducing the Sting of a Lost or Broken Gadget
Another key aspect Kay believes Peek has going for it: no single point of failure. For example, if an expensive, multi-featured smartphone breaks or goes missing, the consumer is usually stuck: no phone, no e-mail, no Web surfing, and they'll face a big sticker price to pick up a new device — even bigger if the buyer isn't yet far enough along in a contract to get a new-phone discount for re-upping. A solid, single-purpose device can lower the risk associated with product failure, theft or repeated drops on concrete sidewalks.
Peek utilizes a nationwide network service — reportedly T-Mobile. The service is all-inclusive via Peek, though, which doesn't require credit checks, contracts or activation fees.
Is there an e-mail limit? Nope. There's no special service tiers, just unlimited e-mail for $19.95 a month.