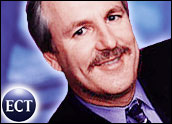 A little over a decade ago the market for aftermarket radios and gear for cars was relatively robust. At that time most car companies used standard-sized radios, and if you wanted to upgrade it was a relatively simple task.
That isn't the case anymore. Radios are increasingly designed-in to cars and some, like those licensed from Bose, are so difficult to upgrade that the standard recommendation is "don't."
There are products, however, that that can be wired into existing systems, and these tend to be not simply radios but multi-media players.
Automotive Satellite TV
Satellite TV for your car — more likely, SUV — is possible with the KVH TracVision A5 Antenna System.
About $2,500 installed, the antenna tracks the satellites automatically, giving you a sharp picture as long as you have a line of site to the satellites. (That means if you live in the mountains, drive in a lot of tunnels or spend much of your time in the city, forget it).
If you already have a DSS subscription, it will cost you an additional $14 a month to connect the service to your car.
The antenna attaches to your roof rack and makes it so you can't use the rack for anything else — but who does these days anyway? The antenna housing is black and low-profile, and my neighbor just bought one so I'm green with envy but can't for the life of me figure out a way to justify the cost (though I'm working on it).
Automotive Home Theater
If you want to retrofit a DVD player for the car, one of the better products is the Panasonic CY-VHD9500U. It is a ceiling mount, and the DVD player is built in to cut down on installation cost. It will also play MP3-encoded CDs, and it has an SD slot so you can look at the photos you just shot.
It has two wireless headphones so the kids can watch and you can continue to drive (and this allows it to work even if you can't figure out how to wire it into the car's stereo). The unit retails for around $900 and should cost under $200 to install. You don't want to do that yourself — holes in the car roof are not a good thing.
You can also just get a portable Video Player. One of the best is the Toshiba SD-P2600, which has a screen that is just short of 9 inches, will take two wired headphones, and costs $600 in stores. No installation is required, so you can move it from car to car. And there is virtually no risk of a leaky roof.
Remember these two options if you're buying a new car and the salesperson tells you it is "only $3,000" to put in DVD.
Digital Music
For music the coolest players are the new hard drive units. The coolest of these is the OmniFi DMP1, which connects to your home wireless network when your car is at home and updates your play lists.
It has a 20 GB hard drive, plays the popular digital formats, and connects to your car stereo either directly (if you have input jacks) or with an optional RF modulator (which is often the only way you can get any of this stuff to connect). It costs about $400 installed, or $300 if you want to do it yourself.
Then there's the iPod alternative. If you have a BMW, for about $400 you can get a custom cable that will allow some control of the device. Or for about $7 you can get a simple RCA cable that will work with many cars to provide what some think is an even better experience — and the RCA cable will work with players other than just the iPod.
I think you'd have to be nuts to do the BMW thing given how much the iPod is likely to change and how limited this is on most BMWs. But, as always, it's your choice.
You can get after market accessories to charge and mount the iPod as well, and your music can go with you when you leave the car. If the cable won't work, there are a number of iPod transmitters that will transmit the signal to your FM radio. Of these, the iTrip is best and a real value at about $30 street price.
It integrates nicely with the iPod and uses the iPod battery for a much cleaner implementation than the other products I've seen in this class. You do have to get the right one for your version of iPod, though, as these things weren't created equal.
If you have a spare cup holder, the Belkin TunDok for $19 will hold your iPod while you drive.
The nice thing about this setup is that you can use any boom box or receiver to share your tunes with the world. The more permanent wired technologies limit you to the car.
Video Switcher System
If you have a newer cars, you may already have a display in the front that could be used for other things. In my car I was annoyed to find that the only place I could watch DVDs was in the back seat, which isn't exactly the best seat in the house.
I found a unique product from AVElectronics called the Navigation Video Switcher System. It costs about $600 installed and you can get one with a TV tuner option for a little more, though my experience with car TVs suggests bypassing this option.
They even have an option to put in a backup camera concealed in the license plate frame and additional cameras around the car. Or you can connect a video game system or other video source. It is rather cool, and they have installation kits for most current generation cars.
However, I suggest you have this one professionally installed as well. Remember, it is not only illegal to watch movies while driving, it is also not the best way to suddenly meet the huge guy in the VW who silently stopped in front of you while you were watching Roger Rabbit's wife.
Of course, you can just go crazy: A friend just dropped $10,000 into his brand new SUV putting in the Satellite system, new speakers, updated screens — including a 15 inch screen in the back — and a sound system to die for. This is a good thing, because if his wife finds out how much he spent, she'll probably kill him. Of course, every time I look at his truck I think about going down a similar path, which means we should likely cover media systems for coffins next just so I'm ahead of the game.
Something to remember when you shop for this stuff: If you are easily attracted to tech, it is addictive, somewhat competitive, and a wonderful way to say goodbye to a lot of cash.
But then again, you can't take it with you, can you? Just think how envious your neighbors will be when to show them what you have done. And think of the exercise you'll get when your wife finds out what you spent.
---
Rob Enderle
, a TechNewsWorld columnist, is the Principal Analyst for the
Enderle Group
, a consultancy that focuses on personal technology products and trends.
---