Hyperloop Transportation Technologies on Thursday announced an agreement with an Ohio agency to launch a study on creating its first interstate hyperloop project in the U.S., connecting Chicago and Cleveland.
The agreement with the Northern Ohio Area Coordinating Committee puts in motion a regional feasibility study, to be carried out in conjunction with the Illinois Department of Transportation. Various routes have been identified for the Hyperloop service, which would operate a super high-speed system to accommodate transport at more than 700 miles per hour.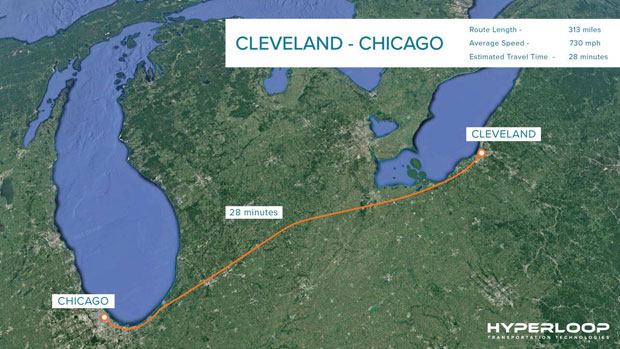 The Hyperloop system works through the use of pressurized capsules that travel along a frictionless magnetic cushion inside tubes. The capsules are powered by rechargeable batteries, a linear induction motor and electromagnetic propulsion.
The capsules hold 28 to 40 passengers, and the system would allow departures of capsules every 40 seconds. It therefore could move 164,000 passengers per day on each line.
"Regulations are the ultimate barrier for Hyperloop implementation and we are excited to build the first real public private partnership to bring Hyperloop travel to the U.S.," said Dick Ahlborn, CEO of HTT.
Economic Opportunity
The Great Lakes megaregion, which includes the Chicago-Cleveland corridor, has million of passengers and millions of tons of cargo passing through it every year, according to Hyperloop spokesperson Ben Cooke.
The market value of transit within the region is estimated at US$15 billion.
HTT has been exploring additional routes within the region that would feed traffic from other major cities into the route, Cooke told TechNewsWorld.
The company is in various stages of discussions with local governments and cities, he added, with plans to announce the additional routes in the future.
HTT last year announced a new innovation center in Tolouse, France, which included plans to develop new offices and a new prototype early this year. It also inked agreements to develop services in India, South Korea and Indonesia.
The company will disclose further project details on Feb. 26 at the Great Lakes Science Center in Cleveland, including additional members of the consortium.
Rep. Marcy Kaptur, D-Ohio, led a bipartisan group of legislators from Ohio, Pennsylvania, Michigan, Wisconsin and Illinois in promoting the Hyperloop Transportation Initiative. The group last month wrote President Donald Trump, asking for the inclusion of $20 million in the fiscal 2019 budget to accelerate the project.
Market Demand
One key question for the long term success of hyperloop technology, is whether it would combine high-speed commuter travel and high-speed freight hauling, noted Steven Polzin, director of mobility policy research at the University of South Florida's Center for Urban Transportation Research.
"There are folks who envision hyperloop offering something equivalent to a container shipping service to help amortize the project cost and more fully utilize hyperloop capacity," he told TechNewsWorld. "For a new technology like this, customer acceptance is an unknown."
There are questions as to whether customers would feel claustrophobic in such a train system and be able to tolerate the g forces associated with such high speeds, Polzin added.
Chicago is home to O'Hare International Airport, one of the world's biggest airports, and a major connection hub for connecting flights throughout the midwest.
High-speed rail would only require duplicating what is already available in markets like Europe and Japan, noted Sharon Feigon, executive director of the Shared Use Mobility Center.
It would not require the development of new technology, she told TechNewsWorld, and could be built before the Hyperloop study is completed.