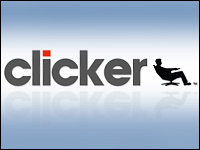 Let's put this simply: If you want to stream free, professional videos online, Clicker makes finding the video easier than most other solutions I've seen. In fact, it's one of the few online television and video search guides that I've felt compelled to create an account with. Why?
Easy. It targets the content I want — full episodes of network television shows, and what's not a network television show is professional-grade content. It might be full-length movies or Web originals, but there's also some free music videos, though there seems to be plenty of holes, and some old videos are bafflingly popular.
But let's focus on Clicker's core strength strength — online network television.
Clutter-Free Access
Clicker says its mission is to make it simple for you to find the show you're looking for online, and that it does. The search function isn't trying to scan the entire Web, so its results are usually right on target — search for a show name, say "FlashForward," and you're going to get "FlashForward" at the top of the list. Same goes for titles like "Castle," which brings up the comedic murder mystery show's available full episodes — rather than old buildings and such. ("Castle?" you might be thinking … yup. Remember Captain Hammer from Dr. Horrible's Sign-Along Blog? That's the star of Castle.)
But Clicker isn't just a search engine with a clean database. It's also an online directory that gives you multiple, intuitive ways to drill into the content — it's got a handy square alphabet grid for browsing by show name, categories for finding action & adventure, drama and whatnot, plus shows by media type, which are TV, movies, Web originals and music.
Right now, Clicker contains more than 450,000 episodes from over 6,000 shows, from over 1,200 networks, tens of thousands of movies, and 50,000 music videos from 20,000 artists.
If you've got a show in mind that's actually available online in full episodes, you can find it easily enough with Clicker.
What's Next?
After you find your show, you can click on it to view specific episodes and where they are available to watch. While Clicker embeds some shows, most of the bigger network shows click through to network sites for streaming, for example, on ABC.com or CBS.com. Of course, Clicker also clicks through to sites like Hulu.com and TV.com. So if a show like "CSI: Crime Scene Investigation" is available from CBS, Clicker will give you options to stream it from CBS, including what appears to be an alternate CBS streaming site, which I didn't realize existed. But that's just "CSI: Crime Scene Investigation." What about "CSI: Miami"? That particular crime drama sibling is available on both CBS and TV.com … and clicker gives you links to both.
What gives? In this case, "CSI" has two full current episodes available online on CBS.com but only one on TV.com. Why? There's either a lag in the different services or there's some esoteric online video rights clauses and licenses that restrict what episodes of which televisions shows can be made available from various online outlets at any given moment. Current episodes of "The Mentalist," for example, aren't available anywhere online that I can ascertain at the moment, except for Apple's iTunes, which is, of course, a pay-to-buy download option only.
Because Clicker is about finding and pointing you toward available shows, you usually end up streaming the show directly from the host site. This means your browser may need to be compatible with the host site's stream. In the case of "FlashForward," you get two choices — ABC.com and Hulu. Since I already use Hulu, I'm more likely to choose that. But I also tried ABC and realized that no, I don't want to download the ABC.COM Video Player Software plug-in and agree to ABC.com's end user license agreement. So, a few back button hits on my browser and boom, Hulu it is.
The Playlist
The best feature of Clicker is its Playlist. If you create a free account, you can easily add shows to your playlist. You can add a single episode, all available episodes, or just all new episodes. It's pretty simple to manage. In about 10 minutes, I suddenly found myself with hours and hours of great content on my playlist. There's a reason I'm not recording every new episode of "The Simpsons" on my DVR, but hey, maybe I'll find time to watch the latest "Treehouse of Horror" episode at my desk. It's just a click to add "The Simpsons" to your playlist.
So now you know that I receive network television and I have a DVR. I've also got a decent HDTV and an old couch. Pair the two together, and most of the video I want to watch is on a big screen, in network television high definition — much better than streamed TV content. Clicker and other online television guide sites — like TVGuide.com, Channels.com, OVGuide.com, and SideReel.com, et al. — have years before they'll compete with the average consumer's living room and more traditional HD television delivery methods.
Still, sometimes I run into episodes or shows that I haven't been following or haven't recorded or heard about and want to watch them, like "The Daily Show with Jon Stewart." I can't take the time to enjoy Jon Stewart on a daily basis, but once a week or so, I can check out the guests and recent action via my Clicker playlist. Nice.
The playlist, though, isn't a perfect system. For example, many shows have online publication rights that let only a certain number of the most recent shows be made available online. Take "Castle," for instance. I just recently ran into "Castle," and it's a decent show. I'm not sure how long it'll be able to sustain my interest, but I'm willing to give it a try. I started watching one of the episodes late at night and got sidetracked. The next day, the episode was off my playlist. Obviously, Clicker only tracks that it sent me to the online video and didn't realize that I didn't actually watch it. When I managed to find a link, I learned that the episode had expired on both Hulu and ABC.
Bummer. And the limited time frames of availability is a fundamental problem with online streaming video in the world today. Byzantine broadcast rights are hard for regular consumers to follow, if not tolerate. So the episode that I had watched a portion of? The only way to finish it would be to wait for a rerun … or buy it from iTunes.
Bottom Line
Clicker is new, easy-to-use, and clutter-free. Similar guides offer similar functionality, as do video search engines like Blinkx and Truveo, and perhaps because they've been around longer, they tend to be crammed full of information, if not a lot more advertising.
Hopefully, Clicker will be able to retain its clean ease-of-use as it balances its need to generate revenue off the service. Meanwhile, I'll be using it for those moments when the couch and HDTV aren't readily available.