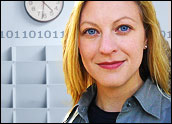 Cloud computing, technology delivered over the Internet, has become a hot area in the last few years. The technology marketplace moves at breakneck speeds, but it is still shocking when innovation almost completely wipes out squabbles like those over open source (OS) vs. proprietary software.
"In a cloud world, source code is almost irrelevant," Matt Asay recently wrote at GigaOm.
Tim O'Reilly was among the first to point this out in 2008, when he said that "Architecture trumps licensing any time."
This statement rings true to most experts following this space, but for those who remember the heated battles between proprietary software providers and the open source community, the new environment seems almost surreal.
Mixing It Up
There was a time, for example, when Microsoft CEO Steve Balmer called Linux a "cancer." Now the company is actively engaging the open source community in various ways, such as offering OS applications on its cloud, the Windows Azure platform, and publicizing that 350,000 OS applications run on Windows.
Sandy Gupta, director of platform strategy for Microsoft' server and tools organization, told TechNewsWorld that many of Microsoft's customers are using a mix of open source and proprietary software, and that the company's goal is to offer "a choice of languages to write applications in the cloud," making sure that Microsoft "provides sample applications and code to enable development."
However, not all former players in the OS software debate have become so cooperative.
It's a Trap!
Richard Stallman, founder of the Free Software Foundation, has been widely cited arguing that cloud computing is a trap to be avoided because, he thinks, it leads to a loss of freedom and control. Such comments are an unnecessary throwback to a time when some individuals got great pleasure out of bashing big companies that were not as cooperative as they could have been.
The landscape today is different, and it seems clear that the industry is moving from a software-based approach to a services-based approach, making the market much more competitive. Google, Amazon and Microsoft are three well-known providers among many others.
Easy to Walk Away
Since being locked-in to any cloud computing structure is a huge worry for businesses wary of making the switch from their in-house systems, data portability is critical for the cloud industry to succeed, Microsoft's Gupta stressed.
To that end, Microsoft offers customers the ability to take their data on a hard disk anytime they wish, said Gupta.
It's tough to argue that control is lost when it's so easy to walk away.
One legitimate worry about cloud computing is data security. When data is in the cloud, there is the risk that an attack on one group in the cloud will affect others.
On this point, companies will fiercely compete to keep customers because, as Gupta noted, "having an application that's never down" is extremely important.
Over time, it will become clear which cloud providers offer the best service. What is clear already is that it doesn't matter so much what software is used to build each cloud, as what kind of service is provided. Open source and proprietary software are working together to create value in the cloud, bringing peace where animosity was once the rule.
---
Sonia Arrison
, a TechNewsWorld columnist, is senior fellow in technology studies at the California-based
Pacific Research Institute
. Follow her on Twitter
@soniaarrison
.