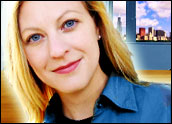 In the latest WikiLeaks data dump, around a quarter-million confidential American diplomatic cables were published online. "Cablegate," as it is being called, has revealed some rather startling information. Among the tech-relevant secrets, the State Department tasked agents to collect DNA and other biometric information on foreigners of interest.
Specifically, U.S. officials were told that in addition to collecting "email addresses, telephone and fax numbers," they should also snap up "fingerprints, facial images, DNA, and Iris scans." This directive makes the recent TSA scandal over airport full body scanners seem like child's play.
Wired joked that this would explain to foreign leaders why the "chief of mission seemed a bit too friendly at the last embassy party."
Jokes aside, access to DNA information is potentially one of the most important privacy issues of the future.
Decades of DNA Harvesting
In a world in which DNA sequencing is becoming exponentially faster and cheaper, it won't be long before it is possible to sequence everyone's genomes for medical purposes. Possession of an individual's DNA blueprint will be useful in fighting disease and in personalizing drugs and other therapies. Of course, as with any technology, DNA sequencing can be used for either good or evil purposes, so it will need to be used wisely.
The State Department was probably hoping to get the DNA for identification and tracking purposes, as other agencies have done in the past. Indeed, to the horror of many California residents, it was recently revealed that the state government has been storing newborn DNA for the last 30 years without parental knowledge or consent. "With approval by a state committee or court order, samples are retrieved anonymously or by name and provided for research, lawsuits and investigations," according to local news reports.
Who Needs Enemies?
While government agencies are often derided for their lackluster use of technology — for example, department websites usually are difficult to navigate and search — bureaucrats are not oblivious to the power that innovations offer. In yet another shocking example, it was recently discovered that U.S. federal agents were urged to connect to people on social networks in order to spy on them.
In October of this year, the Electronic Frontier Foundation, an Internet watchdog group, obtained memos from U.S. Citizenship and Immigration Services (USCIS) that instruct agents to "friend" people on Facebook in order to get information. Specifically, the USCIS memo states that "Narcissistic tendencies in many people fuels a need to have a large group of 'friends' link to their pages and many of these people accept cyber-friends that they don't even know."
Bureaucrats explicitly preying on the idea that people want to be popular is not only disconcerting, but seems decidedly out of place in a free America because of "its potentially deceptive and unethical approach to collecting information."
Opportunity Knocking
Creepy as they might seem, these moves should not be surprising. One of the roles of government is to maintain law, and those tasked with that goal will naturally use all the tools at their disposal. Yet it is important to maintain a balance between privacy and security, especially as new abilities such as whole genome sequencing get cheaper.
In the coming months, there should be a discussion about how the government uses technologies like DNA collection and social networks.
The Obama administration is understandably not happy about the Cablegate leaks, since much of the information affects sensitive international relationships. Yet the president was elected on a platform of transparency, so perhaps he can see this problem as an opportunity to be clearer about privacy and to run a more open government.
---
Sonia Arrison
, a TechNewsWorld columnist, is senior fellow in technology studies at the California-based
Pacific Research Institute
. Follow her on Twitter
@soniaarrison
.