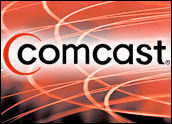 Comcast is now delivering super high-speed Internet services to households in Minneapolis and St. Paul, Minn. — up to 50 Mbps (megabits per second), significantly faster than typical low-end broadband, which comes in at 1.5 Mbps or less.
The new speeds come courtesy of the company's next-generation Data Over Cable Service Interface Specifications (DOCSIS) 3.0 technology, which Comcast talked up at the Consumer Electronics Show earlier this year.
The 50 Mbps refers to download speeds, and while its 5 Mbps upload speed is noticeably slower, it's also quite a bit faster than previous offerings from Comcast. The high-speed service, however, comes with a high price — about a US$150 a month.
The new speed tier option runs across fiber-optic cable networks, and with DOCSIS, Comcast expects to deliver even faster speeds of up to 100 Mbps to its customers over the next two years — which could even ramp as fast as 160 Mbps or more in the future.
"This announcement marks the beginning of the evolution from broadband to wideband," noted Mitch Bowling, senior vice president and general manager of Comcast High-Speed Internet for Comcast Cable.
"Wideband is the future and it's coming fast. We believe wideband will usher in a new era of speed and Internet innovation for today's digital consumers," he added.
The Need for Speed
"This is about Internet video distribution — for standard definition (SD) video to begin with — but more strategically, [it's] also about HD (high-definition) video distribution eventually," Karsten Weide, a program director and analyst of digital media and entertainment for IDC, told TechNewsWorld.
Weide also noted that Comcast's offering is still experimental, in just one market, and demands a very high price point. However, he said, it's also "a first step in the right direction."
Comcast customers using the 50 Mbps service could download a 4 GB HD movie in about 10 minutes, Comcast reported. To download the same file at 1.5 Mbps would take more than 6 hours. Even at 7 Mbps speeds, the file would still take more than an hour to download.
More Markets?
While the Twin Cities represents Comcast's first big super high-speed service region, the company will continue to add regions. However, it's not as though Comcast has the only ball that consumers can play with.
"For the most part, [Comcast's 50 Mbps] is one tool in the competitive arsenal," Patti Reali, a Gartner research director of carrier network infrastructures, told TechNewsWorld.
"I think, 'big ouch' on the price, but you've got to put that up against what else is out there in the market, and Verizon has some heavy pricing as well for those speeds. Verizon is limited to a select number of markets for 50 Mbps as well, so 50 Mbps isn't universal by any means," she added, noting that some parts of the world, like Japan, have much higher average Internet bandwidth speeds available than the U.S.
"I think everybody is more or less committed in one way or another to roll out the next generation of broadband speeds. The way it's going to work is this: there's still going to be a mix of technologies because not everyone will roll out the new modems for everybody at the same time, at least not until the chipsets come down in price," Reali explained.
"The question is, 'What are they doing in the system beyond just broadband in order to make this happen?' It's really about the re-engineering of their networks on a broad scale … there's a lot of tinkering that needs to go on with the pipes to make this happen, so it's going to be a while before this is footprint wide," she said.
Downstream Upgrades, Too
While many customers may have to wait years for 50 Mbps, the Twin City rollout is bringing benefits to Comcast's slower offerings that locality.
Customers there will see increased upload speeds on their existing services for no additional cost. Comcast's 6 Mbps / 384 Kbps (kilobits per second) Performance tier will gain 1 Mbps uploads, while its 8 Mbps / 768 Kbps Performance Plus tier will jump to 2 Mbps uploads.
In addition, with Comcast's PowerBoost technology, its customers can get even faster speeds of up to 12 Mbps downloads and 2 Mbps uploads on the Performance tier and 16 Mbps downloads on the Performance Plus tier, the ISP said.