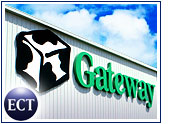 Gateway today announced that CompUSA, the nation's second-largest PC retailer, will begin selling Gateway-branded desktops later this week.
The systems will be sold across CompUSA's retail network of 226 stores nationwide and through the company's web site.
The availability of Gateway PCs at major retailers — in addition to Gateway's traditional direct channels of web and phone — follows the closure of its 188 retail stores in April.
Gateway adopted this strategy following its merger in March with eMachines, whose eMachines-branded products are sold through retailers in the U.S., Japan and the UK.
"This represents another significant step forward in ensuring that the Gateway brand is widely available at the retail outlets where our customers shop," said Wayne Inouye, Gateway's president and CEO.
"CompUSA is an excellent distribution channel for us and we look forward to working with them to make our desktops available to their millions of customers."
"Gateway is one of the most popular PC brands on the market today," said Gary Bale, CompUSA's Vice President, Hardware Divisional Merchandise Manager.
"One of CompUSA's goals is to provide our customers with the widest range of choices available, so we're pleased to be adding Gateway PCs to our shelves."
Details about the Gateway desktops carried by CompUSA will be available when the systems are ready for sale later this week.