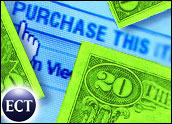 Overall holiday sales for 2006 — including both online transactions and sales at brick-and-mortar stores — showed an increase of 4.4 percent over 2005, according to theNational Retail Federation (NRF).
Quarterly growth in 2006 online sales ran in the double digits, and Internet sales are expected to continue on a double-digit growth track throughout 2007, the group noted.
"I can't image a tailing off to any substantial degree," commented Rosalind Wells, the NRF's chief economist.
New Interactivity
This year, expect Web 2.0 to further impact e-tail.
"Behind this flurry of activity, there are a number of Web 2.0 technologies and concepts just now making their way into the retail e-commerce experience," said Mike Brinker, director of the Web channel solutions group for Deloitte Consulting.
These include product wikis — item descriptors written and edited for the Web by end users — store blogs, rich Internet applications like Ajax or Flash, social networking and social marketing, product videos and RSS (really simple syndication) catalog feeds.
Consumers Garner Power
"Product wikis allow the consumers to go beyond reviews and help author the specifics of product details, product capabilities and product usage," Brinker told TechNewsWorld. "Social marketing — consumer-driven marketing, embedded marketing in social sites — lets the consumer gain by spreading the word on products that they like."
Brinker predicts a new generation of e-tail sites that will "take standard product pages and make them sing."
Instead of viewing a sweater and shoes on a standard set of pages, Brinker noted, a consumer can view the shoes, sweater and pants together as an outfit, changing colors, sizes and accessories on the fly.
"The new experience will allow consumers to better evaluate their purchases and feel more confident about clicking the 'buy now' button," he commented.
Boosting Cross-Sales
More-prominent and improved recommendation engines will increase cross sales at every click, as well as across channels, says Lauren Freedman, president of thethe e-tailing group.
Reviews, product comparisons across more categories, and rich media elements are all important, as they give customers the confidence to buy. However, for those hesitant to check out upon their first visit to an online store, "perpetual carts will be universal," Freedman told TechNewsWorld.
Shoppers will be able to return to e-tailers or pursue their product selections through other channels.
In addition to carts that remain intact, "'recently viewed' functionality will become a standard," Freedman predicted.
As the online channel matures, merchants will make the user experience more efficient and reinforce the vitality of the channel, suggests a recent mystery shopping study from the E-tailing Group.
Merchants are enabling shoppers to use shopping sites more effectively — and increasingcross-selling opportunities — by providing improved search mechanisms, single-page product and category views, clearly stated shipping and return options, and consumer feedback features such as bulletin boards.
"Shoppers are obviously becoming more proficient at navigating the abundance of product and information on the Web," Freedman noted.
"Simultaneously, with the aid of enabling technologies, merchants are getting more adept at delivering their goods and services. Together these factors add up to more traffic, revenues and ROI (return on investment)," she added.
Beyond the Basics
Almost 70 percent of the 65 online and multichannel retailers that responded to a recent survey said they currently deployed or planned to add features showing consumers different views of a product, according to rich media platform providerScene7.
This is just part of the "guided experience" Scene7 recommends its clients embrace rather than the linear click path their sites originally were designed for.
New technologies or greater use of tools like Flash are key to the new look and feel advocated for online merchants.
Gucci Gets an Upgrade
For example, Gucci.com built its Flash-based site that leverages Scene7's rich media platform. The site was made to digitally simulate the in-store shopping experience.
"When arriving at a product category such as handbags, visitors can move through what feels like an in-store shelf-browsing experience, Sheila Dahlgren, Scene7's senior vice president of marketing, told TechNewsWorld.
"Then, after selecting an item, the page jumps to life to feature the item and display additional product information," she added. "This is all done within the same page. … The content is almost exclusively the interface."
Additionally, on the JustBlinds.com site, which was designed by Scene7, visitors may step through the window treatment customization process, seeing exactly what a "top down bottom up" shade looks like, for instance.
"This new approach guides customers through a complex process and provides relevant information, including pricing, at the right time," Dahlgren noted.
New Advances
Consumers are empowered to make their own product choices but are also expertly guided through the e-tailer's offerings, thanks to Scene7 and Adobe Flex technology.
"This is a great example of something that could not have been done prior to broadband or with just HTML and the browser," she added.
"Every commerce business is trying to differentiate its storefront," Dahlgren concluded. "This is about the haves and the have-nots. If you haven't invested to keep up, you're at a competitive disadvantage."