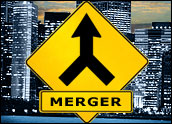 Digital convergence — the marrying of computer, communications and entertainment technologies — is driving mergers and acquisitions among technology companies, according to a report released Tuesday by PricewaterhouseCoopers (PWC).
The report, part of a series of surveys being conducted by the accounting and consulting firm with leaders of technology companies worldwide, noted that more than half (53 percent) of respondents polled had seen "significant" consolidation in their sectors in the past three years, and almost two-thirds (65 percent) expect that trend to continue over the next three annums.
Last year alone, digital mergers and acquisitions rose 88 percent, to US$122 billion, said the report, a copy of which was obtained by TechNewsWorld.
Billions to Be Spent
In addition, among the 34 largest companies in the PWC survey — enterprises with revenues of $1 billion or more — 35 percent estimate they'll spend $1 billion on acquisitions over the next five years, 21 percent expect to burn $5 billion during that period and 12 percent anticipate splurging more than $5 billion on the activity.
"Conservative estimates built on these responses alone total $35 billion to $65 billion over the next five years," the researchers wrote.
"Moreover," they continued, "each sector in the survey, regardless of size, industry or geography, anticipates proportionate levels of activity.
"Extrapolate these findings to the sector as a whole and the implication is that the pace of M&A will continue to be rapid," they reasoned.
Shaping Convergence
The report also asserted, "M&A will help shape the evolution of digital convergence."
"All the major technology companies, a lot of the major software companies, entertainment companies and the distribution companies like telecom and cable are all looking at ways to play in this converged space," PWC Leader for Technology Information, Communication and Entertainment Media Randy Browning told TechNewsWorld.
"The success of this second tech boom is dependent upon strategic partnerships that fulfill emerging consumer needs," added PWC Global Technology Industry Leader Bill Cobourn in a statement.
"Companies are under pressure to gain footholds in digitally-related industries and markets," he continued. "Executives see M&A as a means of capturing entire beachheads. To be a player in today's integrated technology landscape, they must quickly take advantage of others' core competencies."
Consumer Is Afterthought
As for fulfilling emerging consumer needs, no amount of M&A is likely to address the fact that when it comes to convergence, most companies miss the mark, according to Rob Enderle, president and principal analyst with the Enderle Group in San Jose, Calif.
"Apple has demonstrated how to do this right," he told TechNewsWorld. "The other firms don't seem to be learning particularly well."
He maintained that merger activity is rarely motivated by what moves consumers.
"The companies trying to make this happen are not staying focused enough on what the resulting customer benefits will be," he asserted. "They're justifying their actions on other things, and they're forgetting that to be successful, what the customer gets has to be compelling."
"Very often these mergers are to broaden a company's footprint — as was done in the AT&T acquisition of BellSouth — or looking for a new target customer in a tangential space, like Verizon purchasing MCI," Ross Rubin, director for industry analysis at the The NPD Group in Port Washington, N.Y. told TechNewsWorld.
No More Dot Bombs
As merger activity begins to boil, there's bound to be a few deals that will be lemons, but PWC's sense is that technology execs have taken the lessons of the dot bomb disaster at the turn of the millennium to head and heart.
"From the survey, we learned that people do expect failures," Browning said. "There's always a high percentage of mergers that never quite see the value they were anticipated to have. Some of that path won't change.
"What we did find," he continued, "is that most companies thinking about mergers are doing it in a smarter way than they did at the height of [the] dot-com [era] when everyone was acting a little irrationally.
"They're focused on activities to put companies together as quickly as possible to make sure that the synergies that are being talked about are actually realized," he added. "There's a much greater post-merger focus than I've seen in the past."