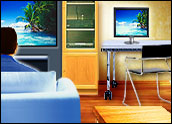 Digital consumer electronics company Sling Media on Tuesday announced that its Slingbox is now available for purchase across the United Kingdom.
A Slingbox is a device that allows consumers to access a living room television experience at any time, from any location, using a laptop or desktop PC, PDA or smartphone. Specifically, the Slingbox redirects, or "place-shifts," a single live TV stream from a basic aerial connection, cable box, satellite receiver or personal video recorder (PVR) to the viewer's PC or mobile device.
The European Version
"The launch of the Slingbox in the UK market and ultimately to the European consumer is a significant milestone for Sling Media as we continue to build a worldwide footprint and deliver the same customer experience internationally that we do today for customers in the United States and Canada," said Blake Krikorian, co-founder and CEO of Sling Media.
The European version of the Slingbox is tailored for the UK market and features an integrated PAL analog/digital tuner with DVB-T support, giving customers access to Freeview programming from their aerial streamed to a laptop or desktop computer. In addition, Slingbox controls a wide range of Freeview, digital cable and satellite set-top boxes that are available in the UK including those offered by Sky, Homechoice, NTL and Telewest.
"We are also excited about the timing of the launch with the World Cup set to start just over a week from today. When the game is on, England fans with a Slingbox can watch the home team no matter where they are: halfway around the world, stuck at work or simply around the home," Kirkorian added.
Better in Europe
Sling Media has received plenty of accolades in the U.S. for its innovation. It has also raised US$46.6 million in financing, which allowed it take its service into Europe as it contributes to what iSuppli forecasts as a market that will rise to $211 million in 2010, from $23 million in 2005.
The firm's place-shifting service may be even more popular in Europe than it is in the U.S., according to Will Strauss, president and technology analyst at Forward Concepts.
"More people commute by train and bus than they do in the U.S. In the U.S., every cowboy has to have his horse and [Americans] are not real big on watching TV while we are in transit," Strauss told TechNewsWorld. "This is a good move for Sling Media. WiFi and technologies like that are getting to be ubiquitous. So you do have the bandwidth available to have a reasonable experience."
Best Laid Plans
Sling Media is clearly ramping up to make a major splash in the European market. The company is releasing a new version of the SlingPlayer PC software in conjunction with the Slingbox hardware.
SlingPlayer PC version 1.1 is now available to UK customers and supports 16:9 widescreen video, enhanced favorite channels organization features and the ability to customize the look and feel of the software with a range of pre-installed or user-created skins.
Sling Media is also putting management in place to push its European initiative forward. The company announced it hired Stuart Collingwood as the company's vice president of Europe.
For the last three years Collingwood advised pay TV providers, digital media companies and technology start-ups on the launch of new digital platforms and technology. Collingwood also served as vice president EMEA for Liberate and spent eight years at Fujitsu-ICL. Based in London, Collingwood will oversee all aspects of Sling Media's European operations.