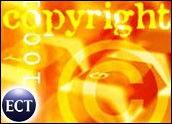 Technology often evolves more rapidly than the laws needed to regulate it, especially in the realm of copyright law. The Associated Press, Viacom and YouTube are just some of the parties involved in a variety of lawsuits and accusations focused on Internet copyright issues. Guidelines are in place concerning the fair use of copyrighted materials, but their interpretations have often left lawyers, judges, corporations and everyday consumers wondering and arguing about what exactly is legal and what is not.
Copyright questions have been raised since the dawn of the printing press. An array of factors — the expanding variety of digital content, the growing ability of consumer electronics to handle multimedia data, increasing overlap between traditional and Internet media, and the expanding number of content distribution channels — have turned them into front-page news.
Originally, companies tried to stop individual consumers from downloading pirated items, such as music and movies. Recently, the focus of the suits has in some cases shifted to corporate copyrights and instances wherein companies attempt to stop other businesses from using what they view as rightfully theirs.
Where are the Dividing Lines?
Many such actions stem from interpretations of the Digital Millennium Copyright Act (DMCA), which became a federal law in 1998. Like other copyright acts, the law was designed to prevent companies and individuals from using materials generated by someone else. However, the act raises the question, how does one make a distinction between fair use and illegal use?
Some groups define such actions quite strictly. The Recording Industry Association of America states, "It doesn't matter whether you're dealing with sound recordings, pictures, software or written text. The courts have consistently ruled that P2P (peer-to-peer) and other unauthorized uploading and downloading inherently amount to copyright infringement and therefore constitute a crime."
But others see more gray in the issue. "There is no solid line between fair use and illegal use," Mike O'Donnell, president and CEO of iCopyright, told TechNewsWorld. "To paraphrase an old clich, 'One man's fair use is another man's infringement.'"
Weighing a Handful of Factors
The courts have generally weighed four factors when trying to determine what constitutes a copyright violation: (1) the nature of the work, (2) the copier's purpose, (3) the amount of content copied, and (4) the effects the use may have on the market.
The nature of the work focuses on whether or not it is a personal or professional endeavor. Items from corporate Web sites are clearly protected, but individuals publishing items on the Web for non-business purposes will find it more difficult to stop improper usage.
The emergence of sites such as YouTube and MySpace has in some cases blurred those distinctions. "On a lot of these social networking sites, adolescents put up much of the content, and they often do not understand the implications of their actions," explained Margie Milam, Vice President, General Counsel at MarkMonitor.
This ignorance lies at the heart of Viacom's lawsuit against Google's YouTube. Viacom last year kicked off a $1 billion lawsuit against Google, accusing the Internet giant of facilitating the breach of copyrights by allowing users to upload Viacom content to YouTube.
The YouTube Police?
Viacom's action against YouTube stems from what the media conglomerate views as insufficient effort on YouTube's part to police its site and remove questionable content. YouTube said it checks into claims from vendors and will remove content once it is deemed in violation of the law. However, the company does not want to get into the business of preempting everything placed on its site.
This case is now proceeding through the courts, with an initial ruling favorable to Viacom. However, Mark Rasch, managing director at FTI Consulting, could see it being overturned because to date, most courts have not held Internet service providers or other content conduits responsible for policing everything posted on their sites.
The case plays into the second item courts consider — the copier's intent. If a person illegally downloads a song and copies it from a PC to an iPod, and that person is somehow caught, they'll likely be able to escape with a relatively small penalty. If an individual is caught making copies and selling them, they can expect a full-frontal assault from lawyers.
How Much is Too Much?
The amount of information copied also plays a role. "Historically, if you take a small bit — say, a few lines in a song — that was generally not considered significant enough to warrant any action," Rasch told TechNewsWorld. However, with the advent of new products — cell phone ringtones, for example — that is now one of many areas in flux.
Corporations' main adversaries is this space are mass-market counterfeiters and outfits that attempt to profit from selling pirated content. However, corporations and industry groups have also been known to pursue individual consumers they suspect of illegally trading small amounts of content over the Internet for personal use. The Recording Industry Association of America has famously threatened to sue thousands of individuals. Most cases result in small settlements, though a handful have gone to court.
As other industries turn more toward the Internet as a distribution channel, their scope has been widening as well. Historically, the Associated Press has based its business on selling news article reprint rights to various news outlets. However, bloggers have often taken parts of the AP's stories and run them on their Web sites, which upset the news organization for a variety of reasons.
The disagreement illustrates how the dividing lines between bloggers and established news organizations are blurring. A growing number of newspapers now have their best-known columnists blogging. Also, "The new media outlets are threatening to put traditional television and newspapers out of business," MarkMonitor's Milam said.
From the AP's perspective, the bloggers' use of its content was depriving its paying customers of its content from hits to their news sites. If a blogger summarizes or lifts a good portion of an article, why would a person hit a link and visit another Web site? Fewer hits, of course, mean less advertising revenue.
To protect itself, the news service took the Drudge Retort to court. The two sides settled the case, but controversy still surrounds guidelines that the AP wants to put in place, with bloggers stating that the news organization is overstepping its bounds.
"Copyright issues will become more problematic as technology evolves," stated FTI Consulting's Rasch.
More and more video is being produced and shared, the types and the volume of mobile content is increasing, and the variety of information sharing sites is in on the rise. These changes will keep the lawyers busy and complicate the job of those trying to establish clear parameters between what is legal and illegal.