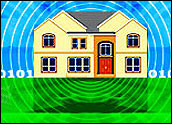 Increasingly, consumers are connecting their stereos, plasma TVs, DVRs, PCs, laptops and gaming systems to intelligent entertainment systems designed to record, store and share media across devices throughout the home.
As the home networking market continues to gain traction, what devices will they hook up next? Some home networks have begun incorporating practical appliances; security systems, lighting and energy management solutions are gaining more intelligence, so consumers can now manage them in a more sophisticated manner.
Yet, these nascent markets face significant challenges. The number of homes currently using them is minuscule. The cost of the systems is sometimes exorbitant. The products continue to rely on proprietary networking technologies, so mixing and matching different devices is difficult, if not impossible. As a result, networking these products is more a long-term, ongoing project than a quick solution.
Locking the Fortress
The market for home security systems started to take shape in the 1970s and is now well established. These products are found in most high-end homes and about 20 percent of all residences. They are popular because they are relatively inexpensive to install and fairly easy to use. For example, Brink's sells a system for about US$50 that includes a keypad, two door or window sensors, a motion detector, an interior siren and a master control panel.
Suppliers have been searching for ways to enhance their systems, sometimes by incorporating the user's home computer. One area of growing interest is video surveillance, which is being used for purposes such as monitoring children and babysitters while parents are out of the home.
Prices for these solutions vary according to the quality of the camera and the number of rooms that a family wants to monitor. On the low end, cameras are in the $75 range; high-end systems — with features like color and infrared video — can run as much as $500. After collecting video data, these systems store information on special-purpose PCs, which cost a few thousand to several thousand dollars. Due to the cost, this option has been relegated to very high-end homes.
Intruder alerts aren't the only security utility that can be integrated in a home network. Outside lighting, for instance, can serve as a deterrent to residential crime. Lutron Electronics sells the AuroRa wireless lighting control system, which enables home owners to create a safe path of light from their cars to their front doors, for example.
Energy Costs Spur New Purchases
However, automated lighting systems can come at considerable expense. So why are consumers buying?
"Rising energy costs are helping to drive interest in intelligent home lighting systems," Gary Meshberg, controls business development manager at Lightolier Controls, told TechNewsWorld.
About 20 percent of all U.S. electricity is used for lighting, and 50 percent is wasted by consumers who have inefficient lighting sources, according to figures from the Energy Conservation Enhancement Project at Louisiana State University.
Few homes now have sophisticated lighting systems. "About 6 percent of residences have an intelligent lighting system," Bill Ablondi, director of home systems research at Parks Associates, told TechNewsWorld.
To help spur additional awareness, vendors — including AHA Design, Control4, Echelon, iLuxe innovation, and Lightolier Controls, Square D/Clipsal and Watt Stopper/Legrand — created the Home Lighting Control Alliance. This ad hoc vendor consortium is trying to convince builders and consumers to install dimming systems (hard-wired and wireless), control keypads and interfaces, as well as lighting control system integration for specific rooms or whole houses.
Metering Gains Intelligence
Energy companies are also working with consumers to increase energy efficiency. One area of emphasis is advanced metering infrastructure (AMI). Energy companies have used wireless technology to push intelligence down to the poles outside of customers' homes and businesses; they are now trying to extend their reach into homes and businesses.
As a result, networks could be used to control thermostats, in-home displays and smart appliances. Energy providers can then use smart electric meters or other types of energy gateways to enable continuous two-way communications between utilities and intelligent devices connected on home networks. That would enable them to monitor requirements and provide customers with lower-cost energy.
Southern California Edison has announced plans to deploy intelligent meters to automate energy management for 5.3 million homes and businesses from 2009 through 2012. Dallas utility Oncor Electric Delivery plans to use Landis+Gyr Holdings' smart meters to upgrade service for 7 million customers during the next four years. Partly because of such public support, market research firm WTRS expects smart meter sales to rise from about 500,000 in 2008 to 19 million in 2012 worldwide.
While there has been progress in these areas, the various initiatives still face many challenges. One is the nature of the networks being used to connect home devices. WiFi has emerged as the de facto method of connecting home entertainment systems, but it has not been as widely accepted in these other market sectors.
"Many of the new home networks are still based on proprietary architectures," Parks Associate's Ablondi said.
High Costs
Pricing is one reason for the discrepancy. The cost for the security, lighting and energy-metering device is usually low, sometimes as little as a few dollars per device. WiFi chips are usually priced from $15 to $25, so vendors have developed lower-cost, proprietary options.
Aesthetics also plays a role. Most consumers would rather not clutter their walls with separate controls for their alarm, lighting and energy systems. Instead, they want to manage them from a single interface — the same desire that drove development of the universal remote control. However, such devices are in test labs rather than on store shelves — at least for now.