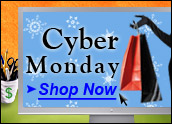 A batch of great online deals on Cyber Monday, on the heels of strong Black Friday sales at traditional brick-and-mortar stores, could make Microsoft's Xbox One video game system the big winner in the run-up to the holidays.
The video game console headed into its second holiday season in second place to Sony's PlayStation 4, but Microsoft has introduced a number of bundles to draw in gamers. Both systems saw strong pre-holiday sales after their respective launches last year, but Microsoft could have an early edge this time around.
A number of online retailers — including Amazon — have stuck to the bundles as a way to increase the install base for the system.
In the Bundles
Gamers who opted to wait for Xbox One and PS4, which last year were in hot demand and limited supply, probably will be able to score a deal this season.
Amazon has dropped the price on its Xbox One Assassin's Creed Unity Bundle from US$399.99 to $329.00, which is especially notable as it was still offering the Xbox One console without games for $394.49 on Monday.
Another Cyber Monday deal is the Limited Edition Call of Duty: Advanced Warfare Bundle, which includes a custom skin for the Xbox One, a 1-TB hard drive, limited edition wireless controller with custom skin, and chat headset for $599.
Retailer Best Buy had its own Xbox One Cyber Monday bundle. This Black Friday holdover featured an Xbox One 500-GB Console with Kinect, extra controller and Assassin's Creed: Unity for $429.99. However, it was sold out by Monday afternoon.
Sony's PS4 is also getting the bundle sales treatment, with Dell.com offering a deal that includes InFAMOUS: Second Son, Killzone: Shadowfall, Tomb Raider: The Definitive Edition, an extra controller and three months of PS Plus for $499.99 — down $100 from its usual bundle price.
There is also a sports-focused bundle at Dell that includes 2K15, WWE 2K15, and a three-month PS subscription for $499.99 on Cyber Monday — down from $539.99.
"The bundles are usually a good deal, but it depends on what is in the bundle. Sometimes it can be a game you really don't care about," said game industry reviewer Paul Semel.
"What you will see this year is going to be something basic with a big game," Semel told TechNewsWorld. "Next year they'll be even bigger with extra controllers and more games. Bundles get better as time goes on."
Bundled Giving
Bundles make it easier to guarantee that a special gift is delightful right from the start.
"If you're buying a system as a gift, the bundle is the best way to get it," noted Rob Enderle, principal analyst at the Enderle Group. "Nothing is worse than getting a system and having nothing to play.
"Kids or families want to play it on Christmas Day, and a bundle typically ensures that you're getting a popular game," Enderle told TechNewsWorld. "This year, there are some very good bundles being offered."
Let the Games Begin
Many of this season's most anticipated titles are featured in Cyber Monday sales.
Perhaps the biggest deal to be found is on Amazon, where Middle-Earth: Shadow of Mordor for the PS4 and Xbox One is priced at $25.99, more than half off its normal sale price. Other notable items featured in Cyber Monday Deals Week include Dragon Age Inquisition for $44.99, a 25 percent savings; Alien: Isolation for $39.99, and Tomb Raider: Definitive Edition for $19.99. There are even bigger potential savings for Wii U, Xbox 360 and PlayStation 3 games — with some offered for $14.99, drastically cut from normal prices of $39.99 or more.
The attractive prices of the newer releases, such as Shadow of Mordor, is most surprising, according to Semel.
"It is surprising because the game could see a boost in sales when the new Hobbit movie comes out, but it is a new series and this could be the start of something big," he suggested.
"More people are playing games on portable systems like tablets," Enderle pointed out. "This is a way for the console makers to make a move to get gamers back on the consoles."