Apple on Monday gave the world a peek at macOS Mojave, the next version of its operating system for Macintosh laptop and desktop computers. The preview took place at the company's Worldwide Developers Conference held at the McEnery Convention Center in San Jose, California.
Mojave has a mix of new features that add to its good looks and utility as a productivity tool.
Among its highlights is a new Dark Mode — a darkened color scheme designed to make content pop on the desktop while controls blend into the background.
"Dark Mode will be really welcomed by programmers, as it enhances their code views," Tim Bajarin, president of Creative Strategies, told TechNewsWorld.
---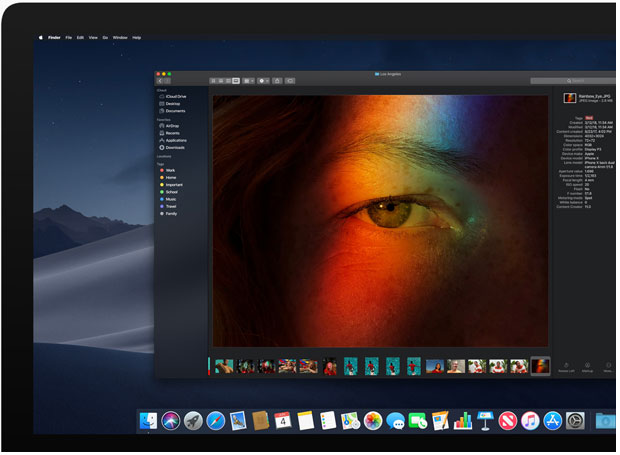 Dark Mode transforms the Mac desktop with a dramatic darkened color scheme where content pops and controls recede into the background.
---
Better Desktop and Finder
Apple also tweaked the desktop and Finder in Mojave.
To address desktop clutter, Mojave has Stacks, a feature that automatically aggregates desktop files into groups. The stacks can be defined in a number of ways, including with dates and tags.
Finder sports a Gallery View that lets users skim through files visually.
The Preview Pane in the Finder displays all the metadata for a file, making file management easier.
Quick Actions and Quick Look also have been added to Finder.
Quick Actions lets users perform tasks like adding passwords to PDF files and running Automator Actions on files from within the Finder.
Quick Look provides full-size previews of document and media files that can be marked up and edited without leaving the Finder.
iOS Apps Come to Mac
Apple for years has denied that it had long-term plans to merge macOS with iOS. At this year's WWDC, though, the company acknowledged that it was working on making it easier to get iOS apps to operate on macOS.
It's doing that by taking some key frameworks from iOS and bringing them to Mojave. The frameworks have been adapted to Mac behaviors, such as use of a trackpad or mouse, window resizing, and integration of copy/paste and drag/drop.
"They're not running iOS apps natively. They're going to let developers port iOS apps," Kevin Krewell, principal analyst at Tirias Research, told TechNewsWorld.
Initially, only a few Apple iOS apps will land on the Mac — news, stocks, voice memos and home — but in 2019, Apple will provide developers with the wherewithal to port their iOS offerings to macOS.
"We see a huge opportunity for the Mac to tap into the world's most vital app ecosystem. It's called 'iOS,'" said Craig Federighi, Apple's senior vice president for software engineering, during the keynote presentation at WWDC.
"There are millions of iOS apps out there, and we think some of them would be absolutely great on the Mac," he added, "and Mac users would love to have them there."
Benefits From iOS Sharing
While the Mac once outshone all Apple's products, its cachet has declined over the years.
"Desktop and laptop computers haven't played a significant role in the company's success or plans for years," maintained Charles King, principal analyst at Pund-IT .
"Once-stellar products like the MacBook Air have become increasingly moribund," he told TechNewsWorld, "but those products are also critically important to many of Apple's more devoted customers, so refocusing or appearing to refocus on hardware innovation is something the company needs to do."
Bringing iOS apps on board may be a way to bring that old brilliance back to the Mac.
There are far more apps in the iOS app store than in the Mac app store, so the macOS platform could benefit greatly from a flood of iOS-adapted apps.
"It would be a shot in the arm for the Mac," Ross Rubin, principal analyst at Reticle Research, told TechNewsWorld.
What's so important about bringing iOS apps to the Mac is the unification of the user interfaces of both operating systems, so that switching between the two will be a seamless experience, Creative Strategies' Bajarin explained.
"Both OS user interfaces have important attributes that complement each other, and unifying the UI will enhance the overall Apple experience and make continuity even better as apps on both platforms work the same and stay updated on either OS platform instantly."
Security and Privacy
Apple also has introduced a number of security and privacy features into Mojave and Safari, its Web browser.
"We believe your private data should remain private — not because you've done something wrong or you have something to hide, but because there can be a lot of sensitive data on your devices, and we think you should be in control of who sees it," Federighi said.
That philosophy is incorporated into Mojave. By default, it protects app access to the camera and microphone in a Mac, as well as sensitive parts of the file system, such as the mail database, message history and backups.
Apple also has broadened Safari features that block marketers trying to follow surfers on the Web. Site features such as "like," "share" and "comment," which track visitors whether they interact with the features or not, automatically are blocked in Safari.
Foiling Fingerprinters
Apple also has targeted a practice known as "fingerprinting." Some marketers track Web travelers by gathering information about their computer when they visit a site. That information is used to "fingerprint" the computer and follow its owner around the Internet.
Mojave attempts to foil fingerprinting by limiting the amount of information it gives a website.
"We're presenting Web pages with only a simplified system configuration," Federighi explained. "As a result, your Mac will look more like everyone else's Mac, and it will be dramatically more difficult for data companies to uniquely identify your device and track you."
While the Mojave has some security- and privacy-related features, they are not big improvements, said Su Mon Kywe, a research scientist atAppthority.
"They are really things that Apple should be doing already," she told TechNewsWorld.
"Browser-based tools for anti-tracking, anti-fingerprinting and password management have been around for a while, and Apple is just integrating these technologies into the OS," Kywe pointed out, "and permission requests for microphone and camera use should have been implemented a long time ago."
Group FaceTime
---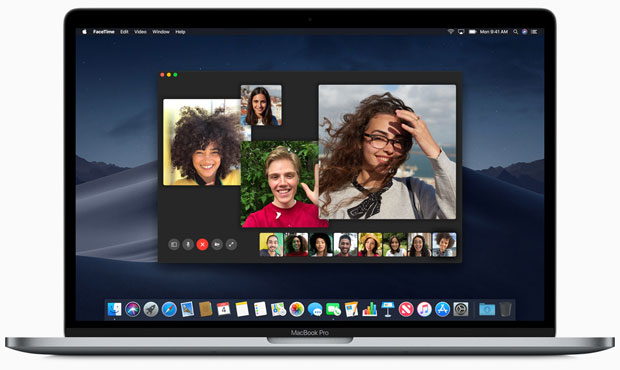 Group FaceTime makes it possible to chat with multiple people at once and participant views are resized based on how active they are.
---
Other new features in Mojave:
Group FaceTime, which allows up to 32 people to video conference together;
On-screen controls for screenshots and new video-recording capture capabilities; and
Continuity Camera, which allows a user to take a photo or scan a document with an iPhone and or iPad and have it instantly appear in a document on a Mac.