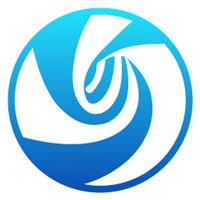 Deepin 15.8, released last month, is loaded with more efficient layout tweaks that give the distribution greater functionality and maturity.
Deepin, based in China, shed its Ubuntu base when with the 2015 release of version 15, which favored Debian Linux. That brought numerous subtle changes in the code base and software roots. Ubuntu Linux itself is based on Debian.
The chief distinguishing factor that accounts for Deepin's growing popularity is its homegrown Deepin Desktop Environment (DDE). One of the more modern desktop environments, it is one of the first Linux distros to take advantage of HTML 5 technology.
Coinciding with the base affiliation change, the developers, Deepin Technology, slightly changed the distro's name. What was "Deepin Linux" is now "deepin." That subtle rebranding is an attempt to differentiate previous releases named "Deepin," "Linux Deepin" and "Hiweed GNU/Linux."
Regardless of whether the name is rendered as "deepin" or "Deepin Linux," this distro offers users an eloquent, modern-themed Linux OS. It is easy to use and comes with high-quality software developed in-house.
Desktop Differences
The Deepin Desktop is offered in a widening assortment of popular Linux desktops, but the best user experience is found in this distro.
Other distros running the Deepin Desktop miss much of the unique integration you get in Deepin Linux. DDE elsewhere usually lacks much of the optimization and special optimized software available through the Deepin software store.
Often, you get the software versions provided by the distro you are running. The Linux distros offering the Deepin Desktop are Archlinux, Manjaro, Ubuntu, Gentoo, Fedora, Puppy Linux, SparkyLinux, Antergos, Pardus and openSuse.
Growing Pains Over
I have reviewed earlier versions of Deepin Linux along with other distros running the Deepin Desktop Environment. This latest version is awesome.
Any new desktop environment is a work in progress. DDE started out with lofty goals but mediocre execution. The Deepin desktop is now well designed and very functional.
Desktop shells largely are valued for how simple they are to use and how functional they are for a user's productivity. For me, the Cinnamon and the Xfce desktops get high marks for both.
DDE offers a third favorite option. I like its modern design. Using it is intuitive. A user guide presentation runs when you first load the desktop. It is very helpful in getting started.
DDE does not yet have every power user feature I would like to see included, but it is packed with enough personalization tweaks and design improvements to make it a very workable alternative.
Digging Into Deepin's Design
The Deepin Desktop design is snazzy yet simple to use. Add its homegrown applications, and you get an operating system that is tailored to the average user.
The new desktop screen is prettier and less cluttered. Annoying desklets, like a weather module and volume sliders, are gone — either removed or relocated.
I really like the new docking tray and boot theme. In-house developed applications have been a key ingredient in Deepin's growing popularity. This latest release has some 30 improved native applications that should bring a more beautiful and efficient experience.
Another strong point in Deepin's design is the new collapsible dock tray. Deepin uses a dock bar instead of the traditional bottom bar. When the dock is set in the macOS-style mode, a button appears that toggles a new dock tray element — embed tray icons in the dock.
The Dock offers a choice of fashion or efficient modes. Fashion mode adds a hide/show button in the dock tray. Click it to hide the icons in tray area and save the dock space. The power button is separated from the tray area to reduce the clicks and avoid function confusion.
In the Efficient mode, the right corner is set to show desktop. The previous 'Show Desktop' icon disappears.
Beyond Gnome
At first glance, you might think that DDE is a remake of the refashioned GNOME 3 desktop design. Looks can be deceiving. Click the first icon at the left end of the dock bar to open the applications menu.
That is what starts to look like GNOME — or Android. You see a full-screen spread of rows of applications. Click the second icon to see the multitasking view, aka "virtual workspaces." In DDE that panel drops down from the top center of the screen, unlike GNOME's right screen panel.
---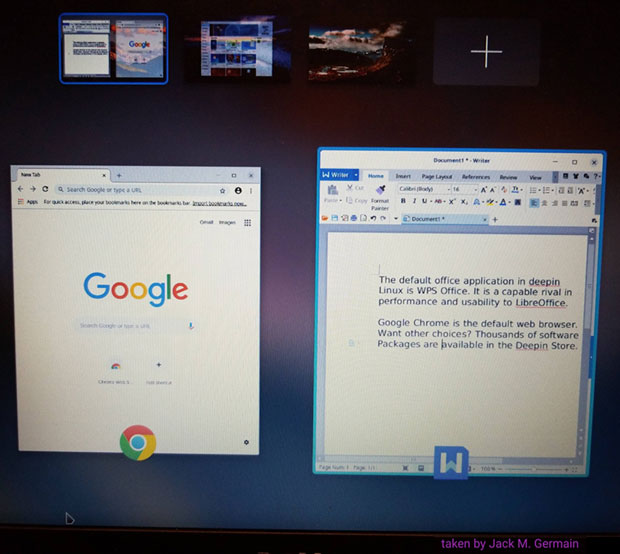 Deepin's multitasking feature shows thumbnails of virtual workspaces via a display panel that hides along the top edge of the screen. The main view displays mini images of open windows on the current workspace.
---
Deepin lets you set a different background image for each virtual workspace These display in the panel view as well. You can drag a running application's mini image from the multitasking view to another workspace. You also can right-click on the top window border of a displayed app to move it to another virtual workspace.
Clicking the gear icon on the Dock bar slides out the settings panel from the right edge of the screen. The left vertical border of this panel holds a column of icons, one for each settings category.
---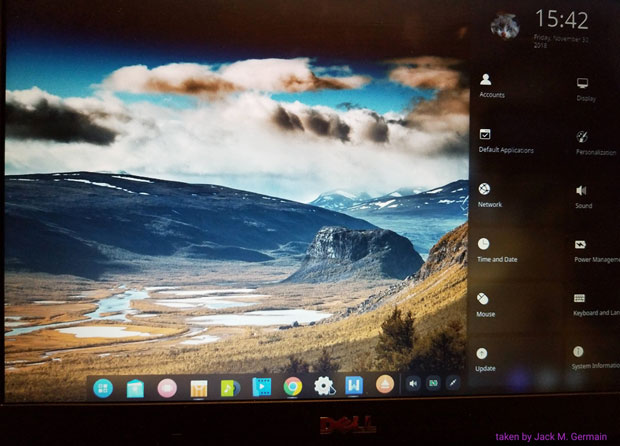 The Deepin Desktop has a slide-out control panel that makes finding settings effortless. It uses a dock bar instead of a traditional panel at the bottom of the screen.
---
Click a vertical icon to open a settings display for the selected category. Or you can click in the panel and scroll down or up for a continuous scrolling through all settings.
Stuffed With Software
Deepin-specific applications separate this distro from most others. The developer has an impressive inventory of in-house generated applications. This release expands that inventory with more new titles and revamps of many others.
Here is a brief selection of what Deepin provides:
Deepin File Manager has a new Recent bookmark in its sidebar. The latest release also offers an optional dark theme.
Deepin Boot Maker has a simple interface to make a deepin boot disk easily.
Deepin Editor is a lightweight text editor with some customized functions for composing text and writing code.
Deepin File Manager is an optimized revision with added features.
Deepin Font Installer is a new tool for adding/removing font files with simplified operations. It shows font information, such as style, type, version, copyright and description.
Deepin Repair is another new tool to fix some issues in Deepin quickly, including hard disk detecting, disk cleaning, DPKG repairing, boot repairing, privilege repairing and password reset.
Deepin's Graphics and Driver Manager app is introduced in this release. It includes graphics card hardware detection, graphics driver installation, graphics driver solution switching, graphics driver automatic recovery, and other functions.
Deepin Clone is yet another new tool that makes it safe and easy to backup and restore the system. It supports to clone, backup and restore disk or partition. It works with Deepin Recovery to fix the boot, partition and other problems.
The community-sponsored software store offers about a thousand applications. Also available is a new Deepin Store.
Deepin Store is a high-quality application store to display, download, install, review and rate applications. It includes the selections of popular apps, new updates and hot topics. It supports one-click installing, updating and uninstalling.
Getting It May Be Troublesome
One of the great advantages of many Linux distros is the ability to test the distro in a live session. This lets you try out the distro without making any changes to your hard drive.
Unless you have a spare computer to perform a full installation for testing, not being able to run a live session is very risky. Glitches happen when installing something untried.
That is an issue with Deepin Linux. The ISO does not boot into a live session. It is strictly for installations only.
However, you can download a special boot tool to allow you to install a live-session-capable version of this release to a USB drive. Look for the live session download option on the download page.
However, you also will have to download the installation ISO. That poses yet another inconvenience.
Time Factor Fail
The download time directly from the Deepin website is horrendously slow. Download times posted take as long as 18 hours. I checked back numerous times with no faster delivery times.
A better option is to use one of the streaming mirror sites. The download times are literally minutes instead of hours.
You will find these alternative download sites at the bottom center of the download screen. Hover your mouse pointer over the half-dozen symbols and look at the URL displayed.
Tip: You'll only find the installation ISO on these secondary download sites. The boot tool is available only from the Deepin website.
Installing It
The installation routine is modern and classy. The process is GUI-based (graphical user interface) rather than text-based or command line-based.
The installer moves right into the desktop environment with a blurred version of its desktop wallpaper overlayed with centered, translucent menus. This creates a pleasant visual effect.
---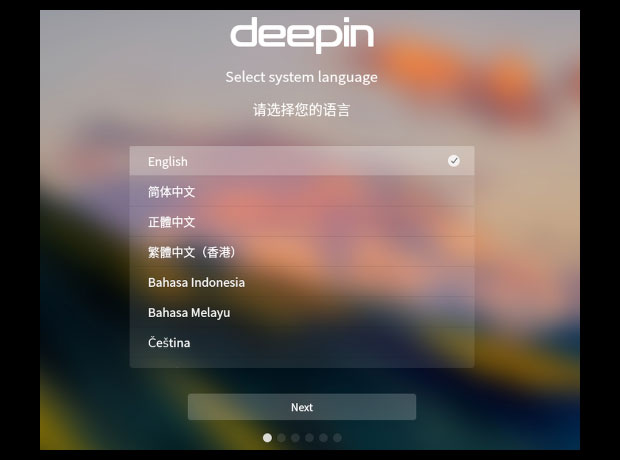 The Deepin installer is a class act. It has a smooth progression of setup steps displayed against a blurred background image of the Deepin Desktop Environment. It provides an easy guide that new Linux users can follow with confidence.
---
The next screen presents a mandatory End-User Agreement. Its wordiness seems to exceed the usual open source licensing requirements.
It is lengthy to read and has numerous references to intellectual property. Ho-hum! Just scroll to the bottom of the display window to activate the ACCEPT tab to continue the installation process.
Unlike other Linux installation routines, Deepin Linux does not test for an Internet connection. You can install it without an online connection.
Bottom Line
Deepin Linux 15.8 is a solid performer. The developers have not yet provided language support for many languages. This limits who can use this distro.
In Deepin's earlier years, the only available languages were Chinese and a few related dialects plus English. This latest release has expanded that list to a dozen or so.
In the English language version, it is annoying to see Chinese words and phrases in some of the system displays and software store catalogs. I assume that issue may exist in other language releases of Deepin as well.
Unless you are used to distro hopping, save yourself from the pain of trial-and-error usage discovery. Deepin is easy to operate. However, if you are not familiar with most things Linux, do yourself a big favor and first familiarize yourself with the Deepin Manual that comes with the preinstalled applications.
If security concerns you, especially when using an operating system from a foreign developer, use the full disk encryption feature now available with this release.
Want to Suggest a Review?
Is there a Linux software application or distro you'd like to suggest for review? Something you love or would like to get to know?
Pleaseemail your ideas to me, and I'll consider them for a future Linux Picks and Pans column.
And use the Reader Comments feature below to provide your input!