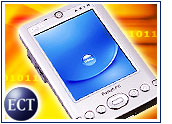 Dell has expanded its handheld product offerings by introducing the three-member Axim X3 family, consisting of slim and compact PDAs that include the Axim X3i, a US$379 model with integrated wireless capability.
At 5 ounces, the Axim X3 is 28 percent lighter than its predecessor and, at a half inch thick, 17 percent thinner. The Axim X3 offers a bright color display, removable primary battery, SecureDigital slot for SD cards, consumer infrared and built-in wireless networking.
Three Configurations
The Axim X3 is available in three configurations: the Axim X3i with integrated WiFi 802.11b for $379, and two nonwireless Axim X3 configurations for $229 and $329.
Dell will continue to offer the Axim X5, a PDA that has helped move the company into the ranks of top 5 Pocket PC handheld device suppliers in less than a year.
"Dell established the gold standard of price-performance and customer value leadership in the handheld segment throughout the past year," said John Medica, senior vice president and general manager of Dell's handheld product group.
"With the Axim X3i, Dell once again is leading, bringing integrated WiFi functionality at excellent price points on the Pocket PC platform," he said.
Windows Mobile
The Axim X3 handhelds come with Microsoft's Windows Mobile 2003 software for Pocket PC, plus pocket versions of Microsoft Outlook, Word, Excel, Internet Explorer, MSN Messenger and Windows Media Player. The Axim X3 also will come with a year of advanced exchange service.
Both the $379 and $329 configurations are powered by the Intel Xscale processor that runs at 400 MHz. Both offer 64 MB of SDRAM and 64 MB of Intel StrataFlash ROM.
The built-in SecureDigital slot can host several kinds of devices. A 3.5-inch transflective TFT color display is standard on all Axim X3 configurations, with 240 x 320 resolution.
Additional Specs
The unit's sync-recharge cradle — standard on $329 and $379 configurations — has an extra battery-charge slot that can accommodate either a spare standard battery (950 mAh) or the optional high-capacity (1,800 mAh) battery that costs $99.
Users also can opt for the Axim X3's $229 configuration, which has an Intel Xscale 300-MHz processor, 32 MB of SDRAM, 32 MB of Flash ROM and a USB sync cable instead of a desktop cradle, in addition to all of the other features of the $329 unit.
All Axim X3 units will be offered with optional accessories, such as folding keyboards and leather carrying cases.