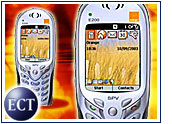 Orange has announced a new version of its SPV smartphone, called the SPV E200, which will become available next month. The new phone features Bluetooth support and an integrated digital camera. According to the company, it will be the first handset to ship with the Smartphone 2003 version of Microsoft's Windows Mobile software.
"Two key features customers told us they wanted in the SPV were Bluetooth and a camera," said Stuart Jackson, global communications manager at Orange. Bluetooth support only covers wireless headsets at present, but this will be updated in the future, he noted.
The SPV E200 is Orange's third version since it introduced the first Windows-powered smartphone last October. The new phone will look almost identical to last year's E100, which was the world's first Microsoft software-based handset. All Orange smartphones offer access to e-mail and Web browsing via Orange's General Packet Radio Service (GPRS) network, and all also store contact and calendar information.
Improved Capabilities
The new Orange model has the larger keys and improved display of the SPV E100, which Orange introduced earlier this year, but is otherwise similar in style to the original SPV. Other changes include support for Microsoft's .NET framework, allowing developers to write applications and services that run on Windows smartphones.
While the Microsoft smartphone partnerships are still few and far between, major wireless providers, most notably Motorola and Sierra Wireless, have begun to adopt the platform for their high-end phones.
All Windows Mobile-based smartphones have color screens small enough to fit on a compact phone yet large enough to read e-mail, view images and browse the Web.
Personal Information
The Orange smartphones offer personal information management applications in addition to e-mail synchronization capabilities through Outlook, Web browsing through Pocket Internet Explorer, instant-messaging capabilities with MSN Messenger, and even the ability to listen to music and play video with a micro version of Windows Media Player.
The Orange smartphones also will let users send multiple types of messages. For example, you can send a text message as an e-mail to one person and as an SMS message to another. If one of the recipients cannot receive an SMS message but can receive e-mail, the smartphone will know to send the text message in e-mail format.
Microsoft Partnerships
News of Sierra's partnership with Microsoft this week sent Sierra's stock flying. The stock started to climb earlier in the week when rumors of the Microsoft deal and impending Voq launch began to emerge. Sierra shares have soared more than 270 percent this year alone and set several new highs this week.
News of Orange's adoption of Microsoft's latest operating system for mobile phones could have the same effect on the company, even though Orange has been using iterations of Windows Mobile for slightly over a year.
The SPV E200 will cost less than US$300 with a contract, according to Orange.