It certainly meets the Tom Clancy High-Tech Battlefield Seal of Approval, but it also hopes to take advantage of new stimulus-package spending that should result in new construction projects nationwide. These are the potential markets Dell is targeting with its new XFR E6400 Latitude rugged laptop computer.
"It is engineered to meet the needs of even the most demanding customers in the harshest environments such as the military, first responders, field service technicians and those who require systems that meet 13 military specifications including drop tests, sea fog, temperature extremes, thermal shock and explosive environments, to name just a few," said Dell spokesperson Patrick Burns.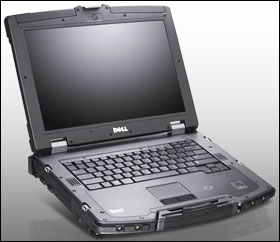 To drive home the point for those accustomed to the occasional notebook latte spill or airport layover bounce, a video on the Dell blog includes shots of the US$4,299 laptop getting blasted by a firehose and being shaken (not stirred) in an industrial-strength vibration chamber.
The Specs
The company hopes to take on existing rugged laptop models like Panasonic's Toughbook series and other smaller notebook makers targeting this market with a key difference, Burns said.
"Customers have had to make the tradeoff between performance and the ruggedness of their system with lower-voltage processors and/or a generation-or-two-old technology with no discreet graphics option," Burns writes. "With the Latitude E6400 XFR, we are enabling customers to use the latest technology."
That technology includes an Intel Core 2 Duo processor and Intel 45 Express chipset; 120 GB of space on a special shock-mounted hard drive; Nvidia Quadro NVS and Intel Media Accelerator graphics cards; GPS capabilities; and a 14.1 inch display designed for easy viewing in bright environments.
All of that is protected by what Dell says is exclusive Ballistic Armor Protection System, which allows for four-foot drop tests (standard tests stop at 3 feet) and extreme heat/cold durability, and what the company calls "PrimoSeal" technology that protects all ports, seams and joints from water or dust ingress (hence the firehose test).
"What I did think was kind of cool about the Dell product is that along with all the military specification features and capabilities, it does share common components with the rest of the Dell Latitude line," Charles King, principal analyst for Pund-IT told TechNewsWorld. "From an administration and data management standpoint, the IT administrator can maintain the data the same way they would with any Dell laptop — there's no special tools or software needed to do it."
The Market
The hefty price tag stamps the XFR 6400 as a specialty product, King said. Dell is indeed targeting a military that is now fighting two wars on increasingly wired battlefields. "Even with the troop drawdown in Iraq, there's another war going on in Afghanistan, and who knows what the future will bring? What's interesting in this space is the degree that mobile communications has come to play — live updates of satellite maps, enabling satellite-based telecommunications, troops using laptops to chart incoming missile and artillery fire. There's lots and lots of stuff these things are used for."
On the domestic front, King says the Obama economic stimulus package could mean years of new infrastructure spending on things like road and bridge repair. "There really could be an expanding market for products like this over the next two to five years."