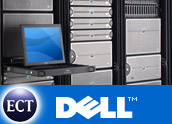 Dell has released a new M-Series blade solution, the M1000e, that boasts a new balance of performance, ease of use, and more efficient energy consumption — not to mention environmentally friendly lead-free configurations. Dell says it designed the M1000e "from the ground up" using Dell Energy Smart technologies that resulted in 30 patent applications.
The PowerEdge M-Series, according to Dell, consumes up to 19 percent less power and achieves up to 25 percent better performance per watt than the HP BladeSystem c-Class. When compared to the IBM BladeCenter H, the M-Series consumes 12 percent less energy and achieves up to 28 percent better performance per watt, according to the company.
The PowerEdge M1000e comes in a 10U-sized enclosure that supports 16 blade servers — optimized for Dell's own PowerEdge M600 and M605 blade servers, which are 60 percent more dense than standard 1U servers, a design intended to help ease space issues in packed data centers.
"Blade offerings have been long on promises and short on helping customers address the growing costs and complexity in their data centers," noted Brad Anderson, senior vice president of Dell's Business Product Group. "The PowerEdge M-Series delivers on those promises with unmatched energy efficiency, flexibility, performance and manageability. It enables customers to achieve the compute performance they need while lowering their overall power consumption and reducing data center complexity and server sprawl."
How Does It Really Stack Up?
"The most noteworthy thing I see about this announcement is that Dell actually seems to be serious about blades this time around after three or so miscues," Gordon Haff, principal IT advisor for Illuminata, told TechNewsWorld.
"They still have a narrower focus than HP and IBM — which is really to be expected from Dell — but there's some genuine innovation such as the modular switches," he added.
Dell's PowerEdge M-Series incorporates FlexIO switch technology, which the company said makes it the only blade solution that provides snap-in scalability all the way down to the switch interconnects, eliminating so-called rip-and-replace upgrades.
Charles King, principal analyst for Pund-IT, echoed Haff's praise of the "snap-in" design, noting that it would be particularly useful for customers with rapidly changing and growing IT infrastructures.
"I find Dell's focus on simplicity to be particularly notable. Simplifying assembly and deployment are in the company's DNA, and are obvious inspirations in the new blade systems," King told TechNewsWorld.
"It's not an issue that affects every company equally, but large enterprises considering the logistics of installing large numbers of blades are likely to appreciate any opportunity to save significant deployment time and effort," he added.
Connections Abound
Dell is also touting the M1000e's connection options, which include:
An upgradeable Ethernet blade switch, the Layer 3 Dell PowerConnect M6220, with four 1 Gb ports and optional upgradable ports for stacking or 10 Gb.
Three Cisco Ethernet switch options, which let customers choose between a switch with all 1 Gb ports, 1 Gb ports plus stacking ports or a combination of 1 Gb and 10 Gb plus stacking. An Infiniband switch option from Cisco will also be available, Dell says.
Two Brocade 4 Gb Fibre Channel connectivity options, allowing customers to choose between a standard FC4 switch or a low-cost port aggregator that provides simplified configuration and interoperability into almost any SAN (storage area network) fabric.
FC4 Host Bus Adaptors from QLogic and Emulex, as well as an Infiniband mezzanine card from Mellanox.
Fibre Channel and Ethernet Pass Through options for customers with an existing switch infrastructure, including an Ethernet pass through module that can run at 10/100/1,000 Mb per second.
The new M1000e blade enclosure starts at US$5,999 with blades starting at $1,849. It's available for worldwide ordering now.