The 15.6″ Desklab portable IPS 4K touchscreen monitor is a solid choice to consider if you are looking for a high-performance second display that you can easily take with you.
This is not a brand new product. Rather, it is the latest iteration of monitor configurations based on an innovative concept released about two years ago.
The Desklab monitor does more than turn a cell phone into a large-screen gaming display or temporary workstation when no computer is available. Its usefulness goes well beyond that scenario.
It works from PCs running Microsoft Windows, macOS, Linux, and Chromebooks (Chrome OS). Even better, it is compatible with gaming consoles, as well as Android and Apple devices, and tablets.
Desklab entered a growing market of portable monitors competing with a price range spanning from around US$200 to three times that amount. Engineers began developing and designing the monitor in June 2018. The project entered its Kickstarter fundraising campaign in October 2019. The first deliveries started in early 2020.
Unlike most other portable monitors, some with smaller panels, the unique design factor of Desklab is its concept of clutter-free, plug-and-play design that eliminates the need for dongles, multiple cables, and added software to work with a limited cadre of devices.
Desklab does not need gadgets or accessories. Plus it is setup-free and is lightweight.
Product Description
This portable panel is slim and lightweight. It is 0.236″ thick, weighs 1.6 pounds, and measures 14″ x 9″.
The viewing area is framed on three sides with a 1/4″ black bezel. A 1-1/4″ base stretches across the bottom. The fully black metal case is firm and has no flex when held.
The thicker casing at the base is needed to house the additional circuitry and components that drive the internal features that make this portable monitor so useful. The base also houses dual hi-fi speakers for an immersive stereo sound that is round and full.
I tested the portable monitor with a variety of laptops and Chromebooks. The Desklab monitor's speakers equaled or surpassed the listening quality for both speech and music reproduction.
On the right side's bottom edge of the base, viewed from the front, are one Mini HDMI port, two USB-C ports, and a micro-USB port which may be needed to plug in the AC power supply if the laptop, desktop, or tablet connected to it does not provide enough juice.

There is no microSD slot. On the lower-left edge of the base is a 3.5mm headphone jack, a wheel button to access settings, and the on/off button.
Powerful to a Fault
Perhaps a design consequence of making this unit slimmer and lighter led to not providing an onboard battery. In theory, this secondary monitor is powered by attached devices.
However, that can limit portability if the attached device does not generate enough power to run both devices or if there is no AC power source nearby. That was a common result I encountered in testing the Desklab monitor.
Using this monitor without the included AC power brick depends on the connected computer. Not all devices supply enough current through the USB-C port.
I had little success in powering the Desklab monitor tethered to most of my numerous office laptops. Some computers lit the portable display dimly. A few more inadvertently flickered on and off, even if the laptops were themselves plugged into a wall socket.
As long as I had the Desklab portable monitor powered through a wall socket, its screen was always bright. Its performance and features make it ideal to use as the only monitor attached to a desktop computer.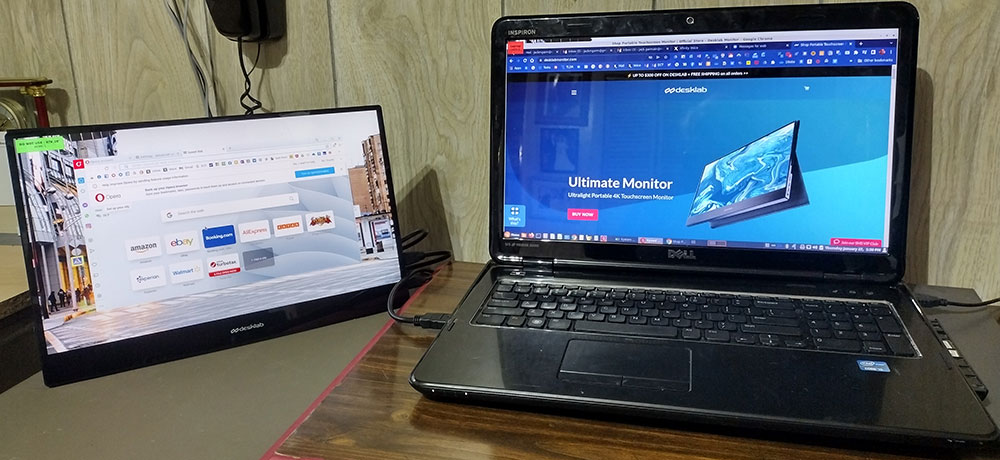 Unless the attached device can supply power from the USB-C port, a second cable must power the portable monitor connected to an AC outlet.
---
Achilles Heel
A second issue I encountered with this portable viewing device was its included flimsy stand.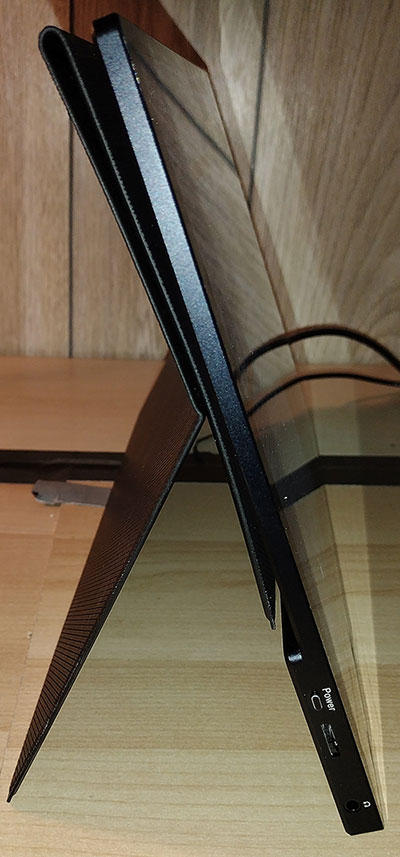 The wider base is not hefty enough to support the monitor positioned upright or at any angle. For that, you need the included vinyl-covered (presumably metal) flexible stand that sticks to the monitor's back panel.
Product information claims that the stand is magnetic. That may have been the case with previous models. However, that does not appear to be what is provided in the current model.
Two strips of provided double-sided tape hold the stand in place. Two folds in the stand let me position the monitor at various angles. This provided less than ideal sturdiness.
Especially when placed on a smooth surface, the panel is not confidently stable. I resorted to using a piece of tape and/or reinforcing the bottom edge of the foldable stand to keep its tripod shape from collapsing.
When not used as a stand, the creased fabric folds over the top and front of the panel to cover the glass screen. That is handy to protect the portable monitor when carrying and storing it.
However, I would rather have the stand serve strictly as the monitor's carrying case or cover and attach a more rigid and reliable wire stand. Previous Desklab models provided the foldable stand as an additional purchase. The website was not clear about the availability of an alternative stand for this panel.
Easy To Use
This portable monitor delivers a suite of office and entertainment features packed under the bezel base. These functions are built-in and just work without any user intervention.
These make the portable panel plug and play. Other than adjusting the screen to your specific needs, no hardware and software configurations are needed.
If attached to a computer, the only thing you need to do is open the computer's display settings to select how you want the Desklab to respond. The standard computer settings are to have the secondary monitor mirror the primary monitor or instead show whatever window content you drag from the primary monitor to the Desklab panel.
Similar to navigating through standard monitor controls, pushing the Desklab's wheel button opens a popup window in the panel's lower-left corner. Use the wheel to select the settings you want to adjust. These include picture brightness, color elements, audio, and more.
The Desklab has settings to mute the speakers and adjust the volume. The computer's audio settings let me select the computer's speakers or the Desklab's audio. When using the portable display's built-in speakers, I could adjust its volume levels with the computer's dedicated keyboard keys.
That did not work for adjusting the panel's screen brightness, however.
Specs and Features
This is the latest configuration available. Earlier models came with a microSD slot and a second HDMI port. Previous models also were not 4K capable.
Included in the box are three cables to handle typical connection needs via HDMI and USB-C ports. The cable ends are varied to accommodate ports found on Macs, Windows PCs, tablets, and Chromebooks.
The panel's viewing angle is 178 degrees. It is perfectly clear when angled next to a laptop. Its luminance is 400 nits.
Here is a short list of some of the most impressive specifications and features that come standard in the Desklab monitor:
Brilliant 4K with True LED backlighting and vivid color
Gaming Ready — Compatible with Nintendo Switch, Xbox, PS4 and more
Safe for Eyes — Low flicker, low blue light, and anti-glare
Super Responsive — Lightning-fast 10 millisecond response time
IPS display at 1080p (FHD) / 4K UHD (2160p) resolution
Hands-On Experience
A few caveats exist. The portable monitor works on PCs, Macs, and various Chromebook models that I have. Attached to a PC and late-model Chromebooks, I could use the Desklab portable as a touchscreen monitor.
Not so when attached to a Mac I borrowed for testing purposes and one aging, low-powered Chromebook. The portable monitor also worked on an iPad I borrowed.
Touch screen availability is dependent on the type of connection the computer has as well as the computer's components.
If the connected device is not already touch-screen enabled, Desklab's touch function may not be compatible. For example, MacBooks are not touch screen enabled.
With other devices, connecting via HDMI port will only provide input/output display signal. To activate touch functionality, connect the Desklab monitor to the computer via either a USB 3.0 A to USB-C cable or USB-C to USB-C cable.
For simultaneous power and data transfer, use one USB-C for data transmission and another USB-C cable for the power supply. If the power does not flow from the computer to turn on the Desklab, use the AC power cable and included power brick.
Bottom Line
I was very pleased with the usefulness and performance of the Desklab portable monitor.
It duplicated all the computing tasks I normally perform with a second desktop monitor attached to my main office laptop.
That setup also brings a full-size keyboard and mouse all through a docking station. The Desklab monitor made all that productivity possible while on the go without the docking station and other accessories.
Through no fault of Desklab, my current Moto G Stylus 5G smartphone does not provide a signal to the external monitor. Not all smartphones do. But my otherwise out-of-service Samsung Galaxy S8+ phone connects just fine.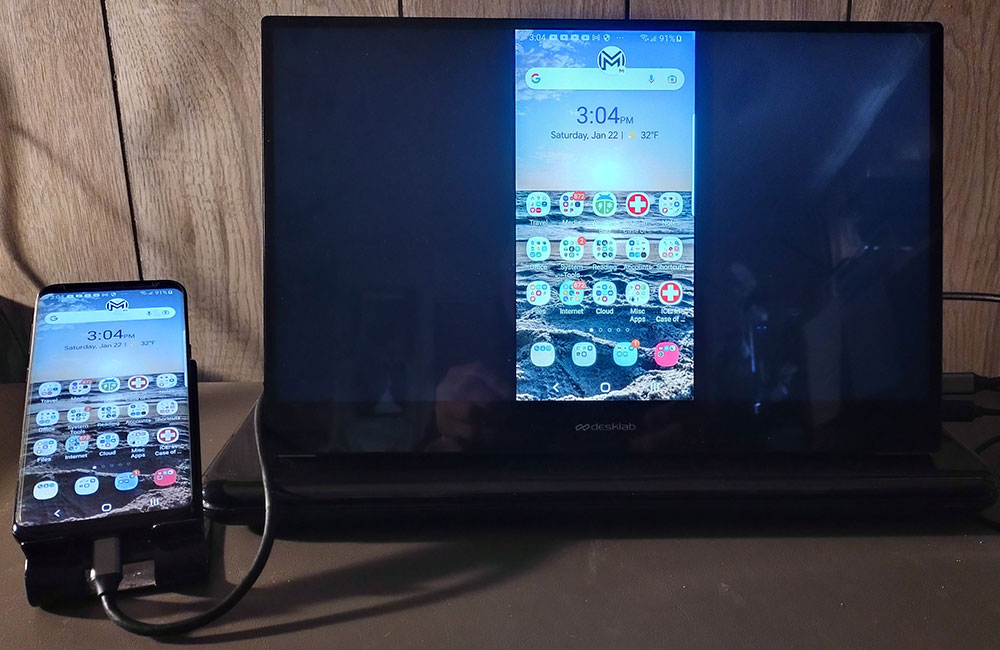 Add a wireless portable keyboard and convert your phone to a full-screen email and apps view.
---
This Desklab portable monitor is available from the manufacturer's site for $399.00, marked down from its original price of $700. I have not found it elsewhere.