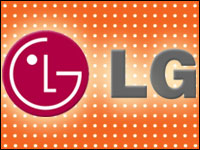 LG Electronics has released some teaser information about its upcoming LG Arena, model LG-KM900, a touchscreen multimedia phone with a 3-D user interface (UI). It will be formally unveiled by LG next week at the Mobile World Congress 2009 in Barcelona.
LG says the Arena's 3-D S-Class UI was specifically designed to be a more fun and engaging gateway to its multimedia environment. It boasts a cube-based layout that provides four customizable home screens for access to its features, which include music, movies and pictures.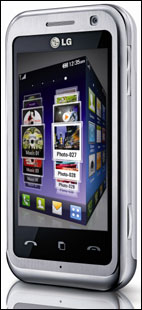 The basic form factor mirrors Apple's iPhone — a slab with few buttons and big touch screen — but the operating system offers its menu items on a 3-D cube that users can "spin" to select different applications.
You Don't Need Red and Blue Glasses
"The direct, intuitive and dynamic S-Class UI will be unlike anything that has appeared on a mobile phone before. With rich 3-D graphics, touch sensitivity and exciting multimedia capabilities, it will truly make Arena a fully loaded multimedia phone," noted Skott Ahn, president and CEO of LG Electronics Mobile.
Indeed, the 3-D interface may be the best thing going for the Arena.
"The 3-D S-Class user interface sounds interesting — most users find most of the user interfaces too confusing," Jeff Kagan, a wireless and telecom industry analyst, told TechNewsWorld.
"Many of the customized user interfaces are preferable, especially if they have graphics and words as the icons to choose from … whether it is actually easier to use is the question," he added.
A Few of the Features
LG hasn't provided full specifications for the phone, and the company didn't respond to a request for more information from TechNewsWorld.
Still, LG says it will include enhanced Internet connectivity with HSDPA 7.2 networks, WiFi, A-GPS and "far more."
In the meantime — and based on admittedly limited information — what's interesting about the Arena? Where might it fit?
"It looks like it's not a smartphone — I don't see any operating system that they have running, and it looks like it's a proprietary operating system," Chris Hazelton, research director of Mobile and Wireless for The 451 Group, told TechNewsWorld.
"That 3-D interface that allows the screen to rotate is very similar to HTC's TouchFLO, where you drag your finger across the screen, and then the whole screen basically rotates to another format with different applications on it," he added.
For now, it also seems as if the Arena might be slated for international markets.
"The main concern I have for this phone is that it isn't a smartphone, so you don't have that smartphone multitasking ability. I would like to see it be quad-band EDGE and UMTS (Universal Mobile Telecommunications System) so you can use it in the U.S. If not, it's most likely going to Europe and Asia," Hazelton said.
"And if it's not a smartphone, there'll be limited developer support for it, whereas if it was a Windows Mobile phone, LG would have access to the upcoming Windows Mobile app store," he added.
Playing in the iPhone Arena?
If the LG Arena is a multimedia phone but lacks the depth and breadth of a true smartphone, is it just trying to ride the latest and greatest form factor?
"It's a very good format because it lets you have different user interfaces for each application," Hazelton said.
"The unfortunate thing is, if you use that form factor, you're putting yourself up in comparison against Apple, because they invented that form factor," he added.