Dish Network continues to up its game with its whole-home TV set-top box and accompanying devices. Since introducing its Sling-based TV-anywhere solution and whole-home DVR three years ago, Dish has remained one hop ahead of the competition.
Since its launch, the Hopper has featured Sling technology that allowed for the streaming of content from the living room to almost anywhere in the world that had an Internet connection.
In recent years, Dish introduced its Joey extenders, which allowed for streaming of recorded and live TV to other wired rooms in the home. Then it supersized the Joey by adding two more tuners to the mix. Dish later added the Wireless Joey system, which allowed viewers to share video content virtually anywhere in the house via a WiFi network, thus taking a cue from AT&T's U-verse and cutting the cord.
Now, another major upgrade to the service could be a game changer for TV viewers.
Unveiled at the 2016 International CES in January, the Hopper 3 features 16 tuners, support for 4K content, universal search for Netflix, a new remote and a streamlined interface.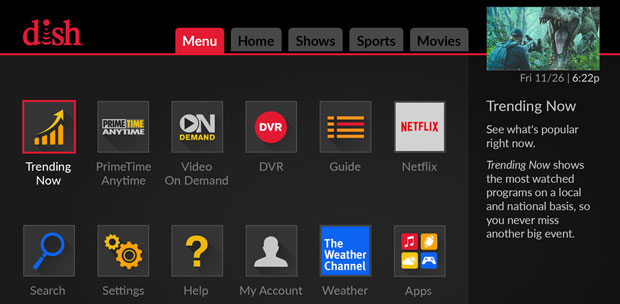 Tune Up
The previous major upgrade to the Dish Network's Hopper and whole-home DVR featured the Super Joey, which added two tuners, so the new set-top box rightfully could have been called the "Mega Hopper."
Instead, the company went for the more low-key moniker of the Hopper 3, downplaying the box's most significant feature: the fact that it's is equipped with enough tuners to let users record up to 16 shows at once. That includes Prime Time Anytime, which automatically records the content from the four major networks — ABC, CBS, NBC and Fox.
The CW, a sibling channel of CBS, unfortunately is not included in Prime Time Anytime, so programs on that channel must be recorded manually.
However, that shouldn't be much of a problem since users can now record so many programs at once. It's a significant upgrade from the Hopper with Sling, which offered six tuners that were expandable to eight in total with the Super Joey. Dish essentially has doubled the amount of content users can record at one time.
All of that allows for what Dish has called a conflict-free TV experience. About the only conflict may be finding time to view so many shows. Fortunately, the Hopper 3, which is a slimmed-down redesign of the Hopper with Sling, is compact in size — measuring just 2.1 inches high, 16 inches wide and 11.4 inches deep — yet offers 2 TB of internal storage. That's enough to hold 500 hours of HD videos — so users could take a two-week vacation, record all their favorite shows, and then need another two weeks to watch it all.
That could present another conflict, with the family fighting for time in front of the set to catch up, but Dish has that covered. The Hopper 3 is able to operate with up to six Joeys, meaning that the whole family can record and then stream content to other rooms, so there should be no fighting over the remote.
The new set-top box can stream away without glitches. On the tech end, the Hopper 3 is powered by a Broadcom 7445 chipset, with a quad-core ARM processor, running at 1.5 GHz, 21K DMIPS, Dish noted.
That makes the Hopper 3 seven times more powerful than DirecTV's newest Genie and twice as powerful as the TiVo Bolt, according to Dish. I wasn't able to put those units to a head-to-head test, but in hands-on testing of the Hopper 3, it was very responsive, and programming loaded quickly, even when streaming to multiple Joeys.
Redesigned Remote
The remote has been redesigned as well. It retains much of the layout and functionality of the old remote, but offers a major upgrade in that it utilizes a radio connection to the Hopper instead of an infrared connection. It can control the Hopper without direct line of sight, so the unit can be tucked away.
The design and aesthetics of the remote are also a bit more pleasing. It is flatter and slightly smaller than the old model, and offers a square navigation that makes interacting with the new interface (see below) very easy. For longtime users of the old remote, there may be a slight learning curve, but this one makes taking control a whole lot easier with fewer buttons.
Interface Time
Talking about the interface: Dish Network never had the easiest navigation … until now. The main interface has been given a makeover, and basics have been streamlined enough so that users can get right to the program guide and DVR with just a button press, while a new pop apps menu offers even easier access to the added functionality.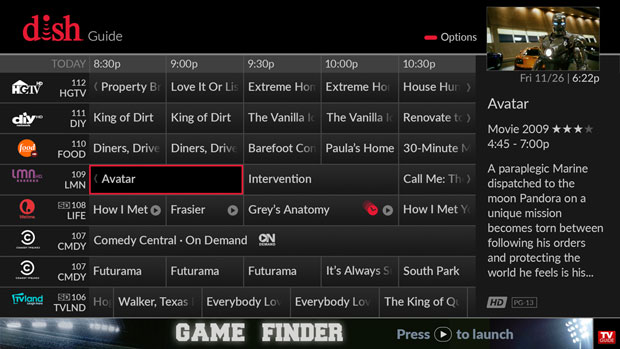 From the home screen, users can access programming that is trending, as well as series premieres, season premieres and season finales. The ability to see that content is nice given that unless you regularly watch the promos on TV (which the Hopper makes all too easy to avoid), the debut of some programs can fall through the cracks.
Sports content gets similar treatment, making it all but impossible not to find the big game or a specific event. From the sports screen, "today's games" as well as upcoming games are highlighted, and fans even can browse via their favorite teams. All of that can come in handy, especially during events such as March Madness and various playoffs, when keeping track of games could be difficult.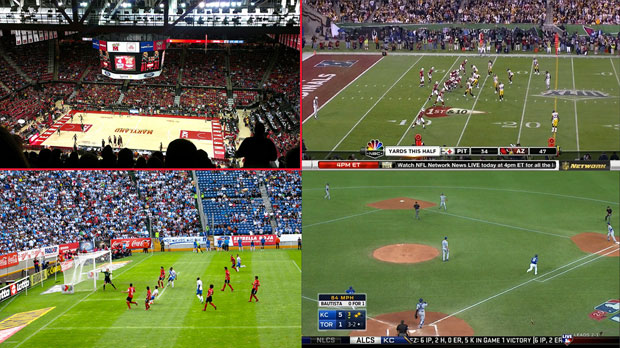 Apt Apps
TV viewing could be limited to watching shows, but the new apps offer the ability to launch social media services, Vevo streaming video, music from SiriusXM and Pandora, and even a few simple HDTV-based games such as Solitaire and Blackjack. Who would play those games when there are so many other options remains questionable, but it suggests that Dish is considering entertainment options beyond TV and movies.
The social media component of the Hopper 3 allows users to call up a social overlay that lets them chat with other people while watching a TV program — thus taking today's second screen experience and putting it on the main screen like never before.
One new app is very much aimed at power TV watchers and offers multichannel viewing of up to six live feeds at once. If there is a complaint here it is that each of the channels is presented as a miniscreen within the larger interface, so even on larger-sized TV panels, some space is lost. Navigating the individual channels is also a little clunky, but overall it's a great feature for people watching multiple sporting events or other live events at the same time.
However, in time for March Madness, Dish Network introduced the Sports Bar Mode, an alternate multichannel view that divides the screen into quadrants, each able to display a different game in HD from CBS, TBS, TNT and truTV. On 4K TVs, the four quadrants display in 1080p; on HDTVs, the four quadrants display in 540p. It need not be limited to sports, and viewers can watch four live feeds evenly divided across the screen.
The Hopper 3 also has added a Netflix app, which integrates Netflix titles into its universal search results for movies and TV series. Netflix loaded up quickly from the Hopper 3 as well, and in this test the picture and overall quality were comparable to those of a smart TV. As with SiriusXM and Pandora, a Netflix account is required to utilize the feature. For users of those services, the integration with Dish might be truly welcome.
4K Content and Upcoming Features
I wasn't able to test the 4K programming, but it is worth noting that the Hopper 3 can decode and output 4K video — including titles from Sony Pictures — to a 4K/UHD TV set. The content is rather limited, but 4K movies and TV shows are among some of the upcoming features that Dish has promised. It likely isn't a matter of if the content will come, but when.
Other upcoming features include a voice remote, which can be customized for natural language to search for movies and TV by title, actor or genre, and a YouTube app. The features are scheduled to arrive later this year and certainly could add a bit more bang for the buck.
Final Thoughts
Everything else about what made the Hopper with Sling so compelling — such as the ability to stream content via the Dish Anywhere app for Android, iOS and Windows — is present with the latest version. The playback quality still depends greatly on the Internet connection at both ends, but in testing I found this to be a life-changing experience, meaning that users won't have to miss their shows while traveling — at least as long as they have access to the Internet.
One feature I'd like to see is the ability to download recorded content remotely to a mobile device or laptop to avoid having to worry about a reliable stream, but no doubt a legion of lawyers from the TV networks and movie studios would stop that from ever happening. For now, users can download content at home before they head out.
As for the new features, in tests the ability to record up to 16 live channels was, in a word, amazing. Even a power TV viewer could struggle to find 16 programs to record at the same time. With Netflix integration and 4K content in the wings, the Hopper likely will continue to be the set-top box to beat.