Disney+ made its official debut last week, and after a few minor hiccups, the service is up and running. It is widely available via a plethora of devices, offers a breadth of content, and serves quick and seamless downloads to mobile devices.
However, with a heavy focus on Disney animated films, Marvel superhero movies, and Star Wars, this service might not be quite the Netflix killer that the Walt Disney Company claims it is.
Simply put, it is a great service for families with children who watch their favorite animated movies on repeat, and it's great for sci-fi fans. Compared to Netflix, Amazon, or Hulu, however, Disney+ lacks diversity. There's very little in the way of dramas or action films that don't involve a caped character!
Disney+ may signal a shift toward more specific — if not entirely specialized — content. The core content available through the streaming service comes from Mouse House and the various brands it now owns.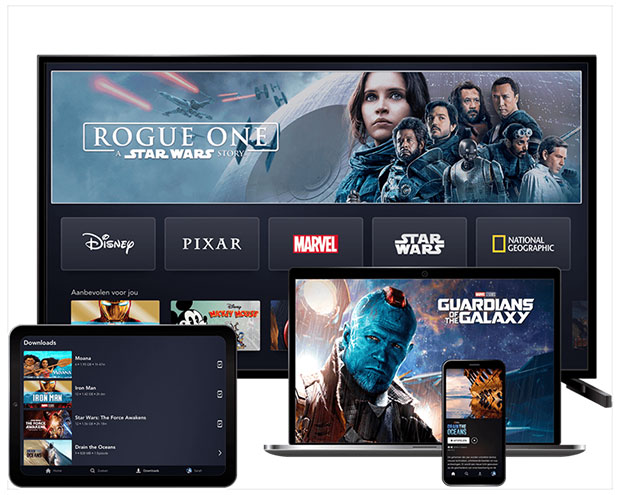 Its catalog likely will get more diverse in the months and years to come — surely in years to come — but unless you absolutely need to see the latest Star Wars series or Avengers: Endgame (and you don't want to buy the Blu-ray version), this might not be the service for you.
Disney+ is currently available for US$6.99 a month or $69.99 for a year. In addition, Disney is offering a bundle with Hulu and ESPN+ for an extra $6 per month. Unlike rival services, Disney+ includes 4Kand HDR versions of some of the content at no extra cost. Netflix, for example, now charges a premium for this programming.
As a matter of full disclosure, to review Disney+ I signed up for a free trial, to be deleted at the end of the seven-day test period.
Set Up and Launch
Disney+ had a rocky start. After being live for just a few days, Disney announced that the service had more than 10 million subscribers. Though not in the same ballpark as Netflix's more than 158 million, the flood of viewers was large enough to cause Disney+ a few download issues. Those were mostly resolved by the first weekend.
Disney+ can be accessed on a number of devices: Amazon FireTV devices; Apple TV, iPhones, and iPads; Android handsets, tablets, and TVs; Google Chromecast devices; Roku boxes and sticks; Samsung and LG smart TVs; and video game consoles, including Microsoft's Xbox One andSony's PlayStation 4.
The fact that the service is so widely available is commendable. Out of the gate, most customers should have an easy time accessing it.
I found the service installed quite easily to an AmazonFire TV Cube, and within a few minutes it was ready for living room viewing. I also downloaded Disney+ and set it up for testing on a Kindle Fire.
Compared to other services, Disney+ is quite easy to navigate. This is made all the easier by the fact that Disney, Marvel, Pixar, StarWars, and NatGeo content is immediately accessible from the home screen. In addition, users can browse categories: originals, movies, or series. There is the expected overlap, and some movies — Avengers: Endgame, for example — show up in multiple categories.
As with other streaming services, an algorithm can provide recommendations based on past viewing, but a longer viewing period would be required to tell how effective these recommendations might be. The recommendations max out at just 25 titles, so it is not very useful to browse that way. Since most of the content is from the Disney vaults or associated companies, the search could be a far more important feature.
One annoyance is that Disney+ makes it hard to continue watching a program, compared to Netflix, Amazon, or even Hulu. With FireTV, this is less of an issue, given that content across all services is listed on the device's home screen. However, upon returning to Disney+, you'll see no option to continue watching a series.
Streaming Quality
I tested Disney+ on my living room setup through a wired connection to the Fire TV Cube. Even on Friday evening — no doubt during heavy or even peak usage for the newly launched service — there were no serious glitches.
The picture was free of noticeable artifacts; there were no lockups, buffering issues, or other problems. At no point did the content revert to a lower resolution — something that can be a common occurrence with rival streaming services such as HBO Now or even Netflix.
Disney+ clearly uses some robust compression technology, and both the picture and sound quality were excellent.
Tablet Time
I also tested the service on an Amazon Kindle Fire and found no issues with the setup. The interface and menus are translated nicely to the smaller-sized screen.
Disney+ wisely offers downloadable versions of its content, which can be viewed in an offline mode. Content is available as long as the subscriber's service is active, and there appears to be no limit to the number of movies or series that can be downloaded.
This could be a godsend to parents planning a trip or just an evening out.
Available Content
Where the service lost my interest was in the content on offer. As another matter of full disclosure, my wife and I do not have children, and we're not fans of Disney animated films. The same is true of Star Wars and Marvel. Given that these are major selling points for the service, we're obviously not the target market.
In testing, we did watch The Mandalorian, the new Star Wars bounty hunter series, just to see what the hype was about. Simply put, the show will appeal mostly to hardcore fans. Whether it is worth $7 a month is another question entirely.
Disney+ is following the Hulu model — rolling out content rather than making it available for binging. No doubt hardcore fans will want to see each episode as it rolls out, but the show leaves a lot to be desired.
Right now, Disney+ does have more than 500 movies, as well as a number of series, and the promise of a whole lot more content to come. At present, however, it is really one part "kids and princesses" and another part "Star Wars and superheroes," with some National Geographic content thrown in for good measure.
Original content, which includes a live-action remake of "Lady and the Tramp," was simply lacking at launch. Disney promised a ton of content, but the streaming platform arrived without a truly must-see show — apart from "The Mandalorian," which disappointed me.
Canceling the Service
It is common for users of streaming services to cancel one from time to time, and here is where Disney+ can be a lesson in frustration. Because the service is available via a plethora of devices, canceling is far more complicated than signing up.
Users who sign up directly via the Disney+ website will have it the easiest, but it's trickier for those who opt to set it up via a third-party device. I set it up on a third-party device, the Fire TV, so I then needed to manage the subscription directly through that vendor.
In my case, it meant going to the Amazon website to cancel the service. Users should note that uninstalling the app alone does NOT cancel the subscription. You will need to turn off the automatic renewal before the free period ends (or prior to the next billing cycle).
In the case of Amazon, it should be noted that I did not technically cancel the service — I simply turned off auto-renewal.
I won't know for certain if I actually managed to cancel the service until next month.
Bottom Line
Perhaps my lukewarm review is due to my not being in the right target market, and that could be a fair assessment — but I contend that the target is too small. Unless you have children, are a fan of Disney's movies, or simply absolutely need to have access to all things Star Wars, there's little justification for spending $7 a month on this service.
It lacks the "grownup" fare offered by both Netflix or Amazon — for example, TheCrown, Jack Ryan, or Orange Is the New Black. In fact, Disney+ has all but doubled down on a very specific segment of the market: kids and geeks.
That isn't to say there's anything wrong with catering to that audience. In fairness, "Avengers: End Game" is the highest-grossing film of all time, and Star Wars still has a huge following. Still, this content is widely available via Blu-ray — and what Star Wars fan doesn't already own the movies in multiple formats? The same goes for most of the animated films, which also are available on home video.
Another example of highly touted content is The Simpsons. Although it is now part of the Mouse House, the show remains in regular rotation on the FXX cable channel and is available on DVD/Blu-ray.
In other words, Disney+ isn't so much about being the exclusive place for the company's content as it is a way to convince fans to pay for a subscription-based streaming service filled with content they already might own!
If they can pull it off, Walt Disney would be proud.