They are early Christmas presents from Google to technology reporters and bloggers eager to swallow up any news regarding the tech giant: tweeted weekend photos of Mountain View, Calif., employees testing an experimental Android phone of Google's own design.
The photos, together with a Google blog post confirming that select employees around the world were putting a "mobile lab" through its paces, set off a round of speculation that the phone may be coming in early 2010, and that it might be an unlocked offering sold directly to consumers.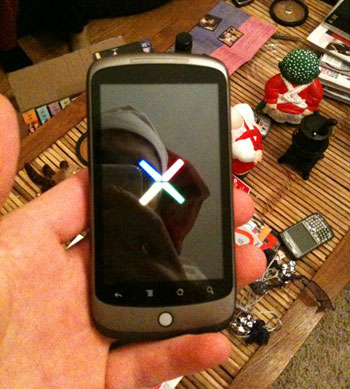 This photo of Google's Nexus One Android smartphone was posted online by
Cory O'Brien
.
The tech blog Engadget managed to dig up an FCC document with some specifications and a name: "Nexus One."
Google spokeswoman Carolyn Penner would not confirm any details to TechNewsWorld.
"We're not saying anything more than what's included in our Mobile Blog post," Penner said. "We have not spoken to anyone to confirm any additional details."
The blog post, written by mobile product development vice president Mario Queiroz and dated Saturday morning, began by using a well-worn technology industry term — "dogfooding," which means a company is using its own products, or "eating its own dogfood" — to describe some in-house testing going on during the holiday season.
Google's "mobile lab" is a device that combines "innovative hardware from a partner with software that runs on Android to experiment with new mobile features and capabilities," Queiroz wrote.
That dogfooding post was enough to set the technosphere's bloodhounds on the scent of a story.
What's in It for Google
All that Web-digging turned up some tantalizing possibilities: HTC, which already makes the Hero, Droid Eris and Imagio Android phones, could be the partner alluded to in the blog post.
T-Mobile may be interested in offering the phone, but Google may also be talking to other carriers and would allow customers to pick their network providers when ordering the phone on a Web site, suggested Kara Swisher on The Wall Street Journal's All Things Digital blog.
One particularly interesting potential detail: The NexusOne may be powered by a Qualcomm Snapdragon processor.
"If that's the truth, then you've got a 1 GHZ processor, and there's not another phone on the market with that speed," said Kevin Burden, mobile practice director at ABI Research.
"Now you've got the most powerful phone, potentially, heading to the market," he told TechNewsWorld. "Ultimately, what Google could be thinking is to build the most powerful phone out there, give it to their own employees, let them build an entirely new experience on Android, and that will be their selling point."
Because it could be unsubsidized, however, all that power would require a higher price than the current sweet spot of smartphones, which now ranges from US$150 to $199, noted Burden.
Scenarios for the Nexus One
A Google-branded phone has been a topic of conversation in the smartphone industry for the past two years, Burden observed. Google started its phone foray by licensing its open source Android operating system to handset manufacturers. That strategy is now gaining some momentum, with favorable reviews and strong sales of recent offerings.
Still, Apple's iPhone remains the king of the market, so Google may be aiming for a smartphone game-changer.
Possible scenarios: Google may be moving Android closer to Google's core revenue stream by using an ad-based model and offering the NexusOne at cost, suggested Burden.
Or perhaps it is truly just a test phone, "a super-phone for its own employees so they can continue to work on applications," hu mused. "The best developers they have are the actual Google developers themselves, so give the phone to them and let them use it."
There are dangers in a Google-branded phone, Burden added. The company risks angering licensees who are now gaining traction with the new spate of Android phones.
"This points back to the days of the PDAs and Palm," he said, "another company that had its own operating system, it's own hardware, and was competing with its own licensees — and you saw the fiasco that turned out to be."
The big difference between Palm and Google, Burden admitted, is that the Android OS allows more flexibility on the part of handset manufacturers. Yet adding one more offering to what could be a crowded buffet table of Android phones doing different things and offering different features could take consumer confusion to a new level. How to clear things up and keep licensees happy?
"If they make the case that it's more technically advanced and more expensive than any other Android, they may want to seed the early adopter community. Maybe that makes more sense," Burden said. "If there's this perception that the best experience you get on Android is a phone sanctioned and made by Google, then why would I go buy another Android?
"Google may be thinking, 'We're going to be the tech leaders in all of this and always going to show you what more is possible. So, if you want the best Google experience, then pony up another hundred bucks and buy this Nexus and whatever follows,'" Burden speculated. "The licensees might be more amenable to that."