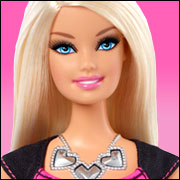 Barbie's gone digital. She's wearing a new dress outfitted with programmable LED lights that let her change her look on a whim.
"Today's girl is tech-savvy, and we created a Barbie doll that utilizes technology to provide a new way to play with Barbie," Mattel said in a statement provided to TechNewsWorld by Ketchum's Jamie Haley. "Girls will like this doll because it allows them to be creative and tap into their inner fashion designer by creating their very own digital fashions."
The Barbie Digital Dress doll makes use of two technologies: a resistive, pressure-sensitive touchscreen; and tri-color LEDs that act like pixels in a television to create a variety of colors. The dress is made out of a special translucent fabric so that designs can be seen clearly through it. It's a fashion update that Mattel hopes will continue Barbie's penchant for trendsetting.
"Barbie has been a fashion icon for more than 50 years, and wearable technology has been center stage for life-size fashion this year," said Mattel. "This doll blends technology and traditional doll play in an unexpected way that parents and children can both appreciate. To date, Barbie fans of all ages have appreciated the high-tech take on the iconic doll."
The Digital Dress Barbie is part of a strategy intended to bring the iconic doll and her accessories into the digital age.
"Barbie is always looking for new ways to connect to today's girl, and you'll see that the pink portfolio will continue to expand with additional tech-focused offerings including the Digital Makeover product — a mock vanity that works with an iPad giving girls a fun way to play with color," said Mattel.
Digitized Paper Dolls
Even paper dolls are getting a makeover. Digital Paper Dolls displays Linda Jean Macmillan's digitized collection of paper dolls originally published in magazines like Ladies Home Journal in the early 20th century.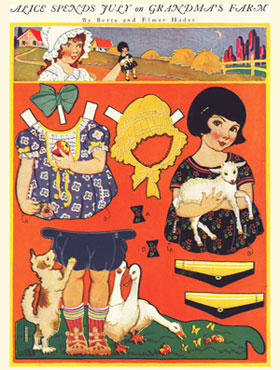 Alice spends July on her Grandparents' Farm – artists Berta and Elmer Hader, originally published in Good Housekeeping Magazine in 1924.
"The vintage magazine paper doll pages and activity pages that I was collecting were never really meant for long-term storage," Macmillan told TechNewsWorld. "Digitizing them was a way [of preserving] these fragile pages as well as restoring damage such as foxing, creases, ink bleed-through, poor storage conditions, mold and damp, [and] insect and rodent damage."
Her site has more than 125 pages of digital paper dolls for sale, and she's always adding to the collection.
"I have a huge backlog of pages waiting to be scanned and digitized and repaired," said Macmillan.
The digital versions of these paper dolls have opened up new audiences and uses for them.
"These are delightful paper dolls that can be printed out to cut and play with," said Macmillan. "Also, there are so many new printing products, so that people can take a favorite image and print onto fabric, iron onto fabric, create water decals to add to china or glassware."
New Models
Despite the adoption of some new technologies, however, the doll industry — like the toy industry as a whole — has a divide between the physical and the digital, and bridging that gap will be vital to creating the dolls of the future.
"The toy industry has struggled with understanding how to reach across the digital/real divide," Richard Gottlieb, president of Global Toy Experts, told TechNewsWorld.
"There are a couple of reasons for that. The digital world is not intuitive to people to work in the physical, and as in most industries, we have an older leadership group that is less familiar and less comfortable with the digital side," he explained. "The business model of the digital community is much different from the physical community."
In order to appeal to a new generation of doll lovers, in other words, the toy industry must rethink its basic premises — including the most essential question of all: What is a "doll"?
"Children don't see the difference between virtual and real," said Gottlieb. "Kids don't think, 'I'll play with this real doll, and then I'll play with this digital doll.' It's all seamless for them. There are those who realize that kids see the world seamlessly, and they'll be coming up with new ways to provide play to those children."