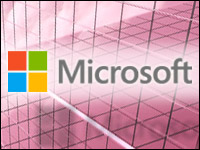 Researchers at Microsoft have developed a way to embed coded tags into 3D-printed objects, paving the way for those products to include identifiable information.
The tags, called "InfraStructs," are embedded during the printing process and then read using terahertz scanning.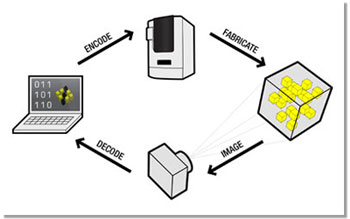 InfraStructs are created by encoding information into a digital model that is then fabricated with material transitions inside a physical object. The object's internal volume is imaged in the THz region and decoded into meaningful information.
InfraStructs could replace items like electronic chips or bar codes on 3D-printed items, according to principal Microsoft researcher Andy Wilson and former Microsoft intern Karl Willis of Carnegie Mellon University.
Manufacturers could print several items and use the codes for inventory control. Eventually, those tags could even contain software code, said Wilson, enabling objects to have unique location-sensing or graphics capabilities.
That could allow interactive gaming accessories to sense locations, for example, or enable mobile robots to recognize nearby objects.
InfraStructs could also help large-scale 3D printing companies that must sort through batches of thousands of 3D-printed objects and determine which go where — a process that is still performed manually. If those objects could be tagged, it would speed up the sorting and open the door to more development in the space, said Wilson.
Next Wave of Innovation
Wilson and Willis presented their paper on InfraStructs at last week's SIGGRAPH 2013 conference, where Wilson said the technology was very well received.
The fact that they were presenting at the graphics-oriented convention was an indication of the excitement surrounding 3D printing, he noted.
"SIGGRAPH had a whole session on 3D printing and another on fabrication," Wilson told TechNewsWorld. "There is a lot of interest in figuring out how objects can be reimagined in ways for 3D printing, and the different applications for it. There is a lot of enthusiasm in that space."
Wilson interest is in thinking beyond what the 3D printing industry is already capable of, he said.
Many 3D-printing experts have made 3D objects visually pleasing, for instance, with fashion or architectural functions in mind. Those applications will go a long way in fostering 3D-printing adoption, said Wilson, but he is hoping that tinkering with technology like InfraStructs can help researchers and developers think of ways to make 3D-printed objects not only aesthetically pleasing, but also affordable and practical.
"We're looking outside of the surface of a project and into some of the more functional aspects of what could be there, like the digital signals and identification codes," he said. "We're fishing for the right balance of manufacturability and thinking about the unique capabilities you could get from 3D printing as opposed to different manufacturing. We're looking for something a bit deeper — something that really leverages the interesting capabilities of 3D printing."
Getting Ahead on 3D Printing
Microsoft's work with InfraStructs isn't the company's first foray into the world of 3D printing.
"Today, we estimate that well over 70 percent of all 3D printing happens on the Windows platform," Microsoft spokesperson Chrissy Vaughn told TechNewsWorld. "On both the commercial and consumer fronts, we see an opportunity for making Windows an even better platform for 3D printing."
Microsoft will include native support for 3D printers in its upcoming Windows 8.1 platform, as well as support for developers looking to create apps that enhance the 3D-printing process.
Those moves are helping Microsoft carve out an area where it can overtake many of its rivals, said Al Caudullo, 3D systems integrator at Hollywood3D Studios — a smart move as the 3D printing industry blossoms.
"The market is heating up quickly," he told TechNewsWorld. "Certain patents on selective laser sintering are expiring in the next year or so. This will increase the ability for 3D printers to generate high-resolution sophisticated designs. Undoubtedly, Microsoft is wisely planting seeds for the near future."