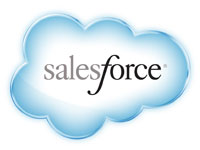 Salesforce and Philips last week announced they had teamed up on a cloud computing initiative designed to transform existing healthcare platforms.
The companies plan to create an open cloud-based healthcare platform that will allow everyone from software developers to health insurance companies to connect and exchange information via Salesforce's health cloud.
The ultimate goal is to streamline several aspects of healthcare, optimizing the experience both for providers and patients. Salesforce and Philips plan to make it easier to integrate medical devices and data, giving both providers and patients a clearer picture of their health and medical options.
Efficiency on the provider and insurance end of the healthcare spectrum will be a key focus in the partnership, Salesforce said in its announcement.
So far, the initiative includes two clinical applications set to debut later this summer: Philips eCare Coordinator and Philips eCareCompanion are designed to help providers monitor patients with chronic conditions.
Going forward, the team plans to launch applications that will help a patient's healthcare providers pull information from a variety of sources — including medical records, diagnostic and treatment information, monitoring equipment, and personal devices like a wellness tracker. Along with making the healthcare process more efficient, Salesforce aims to analyze the wealth of data to help assess how better decisions can be made going forward.
Wanting In on Health
This initiative comes at a time when several companies are understanding how crucial a role healthcare will continue to play in the coming years, said Robin Gauld, professor of health policy at the University of Otago'sDunedin School of Medicine.
"They are joining forces to compete in what is seen as an important future market that sits behind the need to respond to the growth of chronic disease, population aging and increasing use of mobile technology," Gauld told TechNewsWorld.
Salesforce stands to gain some serious advantages, said Kui Ren, associate professor in the Department of Computer Science and Engineering at the State University of New York at Buffalo.
"This is a smart move for Salesforce," Ren told TechNewsWorld. "Healthcare systems can be a killer, profitable application for cloud service providers such as Salesforce. Tremendous opportunities lie ahead. With the aggregation of enormous health-related data, unprecedented business opportunities will arise."
Using Their Strengths
Those opportunities will be even greater if Salesforce and Philips can take advantage of their strengths in the industry, said Gauld. Many companies attempting to make inroads in the healthcare industry are focusing more on individual apps and services — such as wearable fitness trackers or wellness campaigns — but Philips and Salesforce have the potential to go beyond that and streamline an entire healthcare process to the benefit of everyone involved.
"The key to success will probably be developing apps and other systems that are fully integrated and user-friendly," Gauld noted. "They would be very wise to work closely with healthcare professionals and involve other end-users — like patients — since even the best IT plans often fail due to lack of involving the real professionals."
Challenges lie ahead, Ren pointed out. The companies likely will face legal hurdles when attempting to access highly protected medical records, and they'll also have to figure out how to merge several large-scale systems. With the right execution, though, Salesforce and Philips have quite an opportunity.
"The potential is huge," said Ren. "The information to be mined out of this medical and health data can be very valuable and will be desired by companies and organizations across different sectors — from medical care to medicine and pharmaceutical, to hospitals, research institutes, etc. Note that if successful, no health data of this scale and granularity level have ever been collected in the human history."