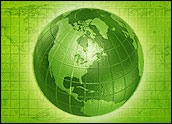 Governments, international development organizations and transnational corporations are looking to technology transfers and the growing number of budding green IT initiatives to address economic and social development, as well as concerns about greenhouse gas emissions, climate change and environmental degradation resulting from industrial processes, as was discussed in Part 1 of this series.
The complex, evolving green IT calculus involves evaluating the costs and benefits of often-competing interests: the desire for shorter-term financial profitability, economic growth and job creation versus less monetarily and scientifically tangible, projected threats to the environment and society, for instance.
Nonetheless, IT industry leaders — such as Google, IBM, Intel and a growing number of alternative energy and power technology providers — are making multi-billion dollar green IT investments and building an increasingly compelling case for adopting green products and policies in the Asia-Pacific region, as well as in the U.S.
The Growing Green IT Spend
A combination of altruism and self-interest is prompting IT vendors in the Asia-Pacific to increase their green IT efforts, Springboard Research notes in a recently released research report. For instance, Deutsche Bank's Greater China Chief Economist Jun Ma projects that China's investment in environmental protection will grow faster — at a 16 percent rate — than its GDP, accounting for 1.9 trillion yuan (US$242 billion), or 1.6 percent of economic activity by 2010.
Springboard estimates that the largest amount of spending by IT vendors is focused on increasing the energy efficiency of their products (40 percent of spending). Recycling and disposal efforts (30 percent) and manufacturing in a more environmentally friendly way (25 percent) follow closely.
However, greater awareness of green IT and potential financial benefits are needed if cleaner technology is to gain widespread use in the region, pointed out Anu Singh, a senior market analyst at Springboard.
"While IT vendors are increasing their spending on green initiatives, IT end users still have little awareness of what green IT is and how it can help their businesses," Singh stated. "Many end users in Asia see green IT as just another additional cost and they still need to be educated on how it can benefit their organization.
"This is where we feel IT vendors have a big opportunity: Those that can educate end users on how to be green without increasing their costs or even saving money will differentiate themselves and gain not only increased market share, but also more brand equity in the eyes of their customers."
IBM's Green Team in the Data Center
IBM will reallocate $1 billion a year in research and development spending and is assembling an 850-strong, worldwide team of energy efficiency experts as part of its Project Big Green, which has the goal of qualifying its facilities as "green data centers" according to specified best practices and policies.
IBM is taking Project Big Green outside the company as well. Green data centers are efficient and environmentally responsible in five strategic business aspects: Diagnostic energy usage capabilities; building energy efficient data centers; measuring and managing energy allocation and usage; making use of more energy efficient virtualization technology; and heating and cooling systems.
Energy efficiency initiative clients are realizing up to 40 percent reductions in power and cooling requirements, increases of as much as 20 percent in server/storage utilization and some have achieved as high as 80 percent reductions in floor space, according to Rich Lechner, vice president of IT optimization for IBM.
Hydrogen Power Fuel Cells
Upstream in power generation and distribution networks, distributed power systems based on cleaner, renewable fuel sources, such as hydrogen fuel cells, solar power and wind turbine farms, are making initial inroads with high-tech and power industry customers in the U.S. and Asia.
Connecticut's Fuel Cell Energy is among a growing number of companies achieving some initial success selling and installing its proprietary fuel cells in the U.S. and Asia.
"We have power plants installed and distribution partners in the U.S., Europe — mainly Germany, Japan and South Korea," Ben Toby, vice president of business development, told TechNewsWorld.
Fuel Cell Energy's power plants typically ship from Danbury, Conn., at about $4,000 per kilowatt (kW) for its 300-kW DFC300MA unit, and $3,600 per kilowatt for its DFC1500MA (1.2 megawatts) and DFC3000 (2.4 megawatts) units, he said, adding that shipping costs must be added, as well as installation costs at about $1,000 per kW.
Comprehensive maintenance costs include major overhauls at five-year intervals and typically around $0.05 to $0.06 per kilowatt hour, Toby added.
"As a result, our customers typically are able to generate power with our systems for 15 to 20 [cents] per kilowatt hour, based on fuel price in the range $8 to $10 per gigajoule. Of course, these numbers are rough approximations only, and the actual cost to generate electricity depends on many local factors, which must be carefully considered during the planning stages of the project," he explained.
Based on current, strictly dollars-and-cents accounting rule and economics, fuel cell technology is competitive with other renewable sources, such as biomass and solar power. That's not typically the case when compared with conventional grid power or engines and turbines, Toby continued.
"In order to enter into a new market, we need the support of local or central government to provide a clean energy grant, to make the electricity price of fuel cell competitive with others. Together with our partners in the U.S., Europe, Japan and South Korea, we have been successful to create and utilize clean-energy incentive programs. We would expect to pursue similar support in new markets which we enter for the next several years."
The Growing Mountain of E-Waste
The hurdles to widespread adoption of green IT products and services are substantial, particularly in large, diverse and fast-growing industrializing economies such as China's and India's.
"As of now, debate continues at both Indian national and provincial government levels on passing more laws and regulations to govern various aspects of green IT such as materials used in manufacture, energy consumption of devices and equipment disposal, but nothing has been actually done. Even laws that have passed (such as those designed to restrict the handling of toxic materials in residential areas) are very weakly enforced," commented Bob Hayward, Springboard Research's research vice-president.
"As a result, India — along with Pakistan, China and some African nations — is becoming the world's dumping ground for e-waste," he told TechNewsWorld. "More than 150,000 tons of e-waste is likely to be both legally and illegally brought into India in 2007. Even within India, cities like Delhi are becoming centers of e-waste processing by tens of thousands of people exposing themselves to potential harm."
PC manufacturer Wipro is alone among Indian companies that have announced a green IT agenda aimed at removing toxic materials in production, reduce energy consumption of devices and promote and support clean disposal programs, Hayward noted.
Getting the Message Out
"The green IT message is also not yet being heard by most Indian enterprise users of technology, most of whom are still driven by price/performance factors in procurement and are yet to include any aspect of sustainability, eco-friendliness or reduced carbon emissions in their buying criteria," Hayward told TechNewsWorld. "The current situation in India is bleak and getting worse, and more attention to actually passing and enforcing green-IT-related legislation is very necessary.
Nonetheless, Springboard foresees green IT becoming a core part of management agendas in the Asia-Pacific regions in years to come. In its latest green IT research report, Springboard lists its top five predictions for the Green IT market in the Eat Asia region:
While the desire to create a greener planet will drive some projects, cost savings resulting from greater energy efficiency will be the primary driver of green IT investments.
Regulations will become more uniform and stringent. With the European Union taking the lead and setting precedent, Asian governments will create more uniform and stringent green IT regulations, which will spur greater visibility and adoption, according to Springboard.
Strong growth in virtualization and consolidation from a majority of end users will boost revenues for green IT products and solutions.
IT equipment vendors operating in Asia will increasingly be required by law to provide equipment take-back programs for their customers. "The providers that do not will stand out," Springboard's researchers commented.
Asian government IT departments will be the leading green IT adopters and will spark broader green IT investments across other enterprises.