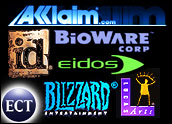 Electronic Arts announced an agreement to acquire Criterion Software Group from Canon Europe. With the acquisition, EA will assume Criterion's studio in Guildford, UK; two intellectual properties, Burnout and Black; and the RenderWare middleware technology.
Under a previous agreement, Criterion's Burnout3 game is being published by EA and is scheduled for release on all major platforms in September. Criterion is also developing a game known simply as Black. Both titles received strong critical support earlier this year at the recent E3 game exhibition in Los Angeles.
"This is a great fit," said EA Chairman and CEO Larry Probst. "Criterion offers us studio talent and a proven management team, globally recognized intellectual property and technology infrastructure that will accelerate our readiness on the next generation of consoles."
Common Framework for Development
EA creates games with a set of tools and libraries that are shared among its studios. RenderWare and RenderWare4 — currently under development for next-generation consoles — will be combined with EA's technology to create a common framework for development.
EA also plans to continue licensing the middleware technology to other developers.
"Combining EA's tools and technology libraries with the existing RenderWare technologies will create a superior platform for game development," said Criterion CEO David Lau-Kee.
"This system will provide the most powerful common technological framework for creating great games. Our work on RenderWare4, combined with EA's next generation efforts, will also boost development efforts on the next generation of consoles which are expected to debut over the next two years."
Criterion will be managed from EA's UK Studio in nearby Chertsey, Surrey; the RenderWare business will remain in the UK at a separate location. RenderWare will be managed apart from EA's local studios.
The acquisition is expected to close in 30 to 45 days, subject to regulatory clearances.