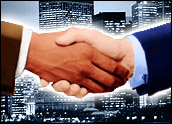 By looking carefully at the technological, environmental and cultural changes required to fully take advantage of the power of video and telepresence, the full story of how companies can successfully implement this technology is being revealed. Based on a survey of over 150 executives for the November report, "Being in Two Places at Once: Telepresence and Videoconferencing," Aberdeen is uncovering how successful implementations of telepresence occur in the enterprise workplace.
Best-in-Class companies for this research were based on three key performance indicators:
change in videoconference usage,
change in travel, and
setup time to use videoconferencing solutions.
Based on these practices, this article will provide a full profile of effective videoconferencing implementation and potential sources of value and cost savings for the company.
Adapting Your Style
Prior Aberdeen research has shown that companies seek more immersive and realistic interactions in their business communications. In a December 2007 report, "The Role of Real Time Virtual Collaboration in Product Development," Aberdeen demonstrated that the top challenge that product innovation teams faced with their collaboration solutions was to adapt their presentations and meeting styles to incorporate remote teams. Seventy-five percent of all respondents to the Product Lifecycle Collaboration benchmark survey struggled with the challenge of adequately understanding and communicating with talent based outside of the product development headquarters.
As the scope of product and project collaboration increases both in terms of the number of departments needed to develop products and the geographic dispersion of high-level talent, technology becomes an important enabler in ensuring that these products can be developed in a timely fashion with the correct internal input. As one effort to improve collaborative communications, enterprises have increasingly brought in videoconferencing solutions to improve their remote communications. Best-in-Class companies have been able to increase their videoconferencing usage by 60 percent over the past year, compared to a mere 4 percent for Laggard companies using this same technology. The commitment to increase the use of videoconferencing in the business is important because videoconferencing deployments can represent a significant capital expenditure. Whether it be through the purchase of thousands of software licenses and units or the investment in a fixed videoconferencing solution with a high-definition display, realistic sound, and features, companies strive to improve an employee's ability to share data while participating in a key meeting.
Without a firm commitment to use videoconferencing in the workplace, any investment that brings videoconferencing equipment and software to end-users is wasted. Before a company purchases a videoconferencing solution, it must be committed to understanding how to use the technology to accelerate key business processes, decision-making capabilities, and profit-related activities and to bring this information to the employees who can leverage this technology. This does not simply mean that companies should provide this technology to executives and high-level employees.
Although 82 percent of respondents were using videoconferencing for executive meetings and 66 percent of all respondents had project management meetings over video, Best-in-Class companies were able to find other uses for this technology, such as remote training sessions to teach vital concepts and maximize the value of subject-matter resources which were not scalable or easily available. Videoconferencing experts were even able to use this technology to communicate outside the enterprise and conduct business via customer service, sales and other functionalities.
For instance, why shouldn't a company be able to improve its ability to remotely interview potential employees by leveraging its videoconferencing solution? Companies comfortable with using video in the workplace are willing to do just that at a much higher rate than their counterparts to gain a competitive advantage. By effectively increasing the range of their talent search without being constrained to the limitations of phone-based communications or Web-based conferencing, both of which fall short compared to the promise of realistic and interactive communications, companies are gaining a competitive edge.
The Right Tools
Once a company has decided how to best use videoconferencing in the workplace, it needs to make sure that it is installing the proper technological tools to ensure that the implementation will best suit an environment that will support adoption in the workplace. With the diversity of videoconferencing tools and technologies, which ones are helping enterprises to increase their usage and minimize the setup time needed to facilitate enterprise collaboration?
One of the top technological adoptions that greatly differentiated Best-in-Class implementations from their Industry Average and Laggard counterparts was the use of a suite of technologies typically associated with telepresence. As part of this solution, users will notice a variety of premium features that differentiate telepresence from traditional videoconferencing solutions. For instance, a telepresence solution will allow participants to aurally track the voice of a speaker in a remote location as she walks around the room. A separate monitor will allow participants to share PC data without blocking the screen displaying body language and facial gestures. Microphones and cameras will be hidden to prevent them from distracting with the process of direct communications. In addition, there will be life-sized displays that allow participants to see each other in realistic proportions that provide the illusion of speaking directly to other customers. All of these technologies are leveraged by Best-in-Class companies that use videoconferencing to a greater extent than all other firms, which demonstrates that enterprise users are more willing to use videoconferencing solutions as those solutions display remote locations more accurately and seamlessly. At the end of the day, an important aspect of videoconferencing adoption in the enterprise is the level of realism and immersion that end users are able to experience.
Today, enterprise videoconferencing can be divided into four categories of vendors: desktop vendors, portable dedicated videoconferencing, fixed-location videoconferencing and telepresence.
Desktop PC videoconferencing vendors: These solutions provide videoconferencing to the personal computer through some combination of hardware and software directly connected to an individual computer. With the addition of a microphone, camera, software and a broadband Internet connection, any personal computer can bring configured to provide videoconferencing capabilities to the end user. Although desktop solutions do not provide the robust and detailed body language and spatial relationships of more complicated solutions, they do leverage the personal computer and allow for greater mobility than their fixed-location counterparts. These solutions can also be part of a unified communications suite, which allows videoconferencing to be further used in the enterprise as part of a portfolio of communications tools which enhance the flexibility of the company's collaborative options.
Portable videoconferencing systems: These systems provide flexibility to the carpet warrior seeking to conduct business throughout the office or campus, but are not directly connected to the PC. These solutions typically include components such as an omnidirectional microphone, remote-control cameras, and speakers. They may either have a built-in screen or be fully compatible with monitors and television sets.
Fixed-location videoconferencing solutions: These solutions consist of specialized equipment designed specifically for videoconferencing. The monitor, speakers, camera and microphone are placed in a room or location that is dedicated specifically to the use of videoconferencing, such as an auditorium or classroom assigned to distance learning. To strengthen the value proposition, many fixed-location vendors also offer high definition (HD) videoconferencing to allow end users to leverage their own HD technology and realize the benefits of higher visual detail. Some vendors also provide entire rooms that can be rented to provide HD videoconferencing or telepresence capabilities.
Telepresence: Telepresence differs from traditional videoconferencing in that the technology is specifically designed to improve interactions traditionally associated with face-to-face contact. For instance, by improving eye contact, providing life-sized images, mapping face and body movements in greater detail, and creating similar or shared virtual environments, two geographically dispersed individuals can interact more quickly and share ideas in a more comfortable manner. Some of these solutions go so far as to provide a three-dimensional simulation that perfectly maintains dimensions, spatial relationships, and real-time movement to make collaboration efforts more authentic. The authenticity is also improved through environmental control of the telepresence room, which allows for the illusion of visual and audio verisimilitude to permeate through the communications area. By controlling the visual background, camera placements, audio inputs, and network monitoring, participants are better able to communicate directly to each other without the awkward problems that have traditionally been associated with videoconferencing.
---
Hyoun Park
is a research editor in Aberdeen Group's Technology Markets Group.
---