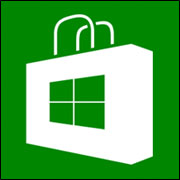 Epic Games founder Tim Sweeney last week called on Microsoft to remove the walls it's building around the Windows Store with its Universal Windows Platform initiative.
The problem is that it is impossible to install and update UWP apps from third-party publishers outside of the Windows Store, he wrote in an op-ed for The Guardian.
It is possible to turn on support for sideloading of third-party apps by flipping on a switch inside Windows 10's user interface, Sweeney acknowledged. However, Microsoft, through one of its mandatory Windows 10 updates, could remove the option to support apps that haven't been approved and accepted into the Windows Store.
Open Up
The Universal Windows Platform system won't gain support from the heavyweights in PC game and app development unless Microsoft opens up the Windows Store, he said.
That would entail enabling users to download UWP apps from the Web without warnings about venturing outside Microsoft's walled garden, Sweeney added.
Opening UWP would allow developers, publishers and users to conduct business without being funneled through Microsoft's in-app monopoly, he said. Microsoft should allow companies to operate stores for Windows PC games as they have been able to do with the Win32 format.
The Universal Windows Platform is an open ecosystem that's available every developer and can be supported by any store, Microsoft said in a statement shared with TechNewsWorld via spokesperson Carmen Vasilatos.
"We continue to make improvements for developers," the company said, citing the Windows 10 November update, which enabled users to sideload apps by default, with no UX required.
Microsoft wants Windows to be the best development platform, regardless of technology, it said. It offers tools to help developers leverage technologies such as .NET, Win32, C++, Objective-C, HTML and JavaScript.
With Xamarin, which Microsoft last month announced it wasacquiring1, UWP developers can reach all Windows 10 devices and use a large percentage of their C# code to deliver native mobile app experiences for iOS and Android, the company noted. "We'll have more to share at Build."
Follow the Money
Sweeney is chastising Microsoft, but Apple has its own ecosystem, remarked Joe Silverman, owner ofNew York Computer Help.
"Just like Apple, if Microsoft users want to find an app, they go to the Windows store," he told TechNewsWorld. "Microsoft is just trying to compete more with Apple here in an effort to add more apps in volume and to have users go to one simple store."
Unlike Sweeney's Epics Games, the company behind the popular Unreal Game engine, thousands of smaller, unknown companies receive recognition only after successfully submitting their software to Microsoft's app store, Silverman noted.
"So his cries are not for the people, but the small few independent heavyweights," he said.
If a walled garden is such a concern, why has Sweeney singled out Microsoft and failed to note Apple's similarly exclusionary practices and others? noted Charles King, principal analyst for Pund-IT.
Sweeney also seemed to make the assumption that Microsoft is more interested in asserting control than engaging with PC gamers and profiting from them, he told TechNewsWorld.
"That's not only silly but also contradicts commonsense, longtime Microsoft practices," King said.
"At the end of the day, successful businesses, including Microsoft, follow the money more than they do strategies that could and probably would place healthy revenue streams in jeopardy," he said.
Good for Business
There is validity to the issues Sweeney raised, but much of his criticism seems to be founded on fears of Microsoft's trustworthiness, King said.
Questions of Microsoft's trustworthiness may have been valid a decade or so ago, but the company "isn't the one your daddy used to fear and loathe," he noted.
"The appointment of Satya Nadella as CEO has pushed many of Microsoft's manipulatory practices even further into the rearview mirror," said King. "As a result, Sweeney is targeting a caricature, not a realistic organization. That ultimately makes his own criticisms appear cartoonish."