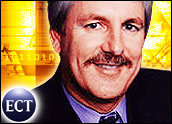 The personal computer market got a much needed shot in the arm last week when Microsoft launched the latest version of its media center offering, Windows XP Media Center Edition 2005. We are rolling into the 4th quarter, which is critical to the PC industry, and the market is in the doldrums. But the new media center platform may have given this segment a whole lot more than just a shot in the arm.
The personal computer has been stuck with an image problem. Much like an adult who can't shake the image of his impetuous youth, the PC has been seen in much the same light for the last two decades. Over time it has grown, matured and become much more capable, but much of that capability is simply unused.
It is well past time for the platform to move to the next level. It's time for the personal computer, particularly in the home, to grow up.
Media Center Overview
By now you have read the news surrounding this latest edition of Microsoft Media Center — the large number of partners as well as the concept of your music, TV shows, movies and pictures going with you on a variety of portable devices including portable media centers, hand-held computers and phones, all being broadcast to different locations in your home, to set-top boxes and game systems, and even to your car.
While the vendors focused on their products, what you may have missed was the magic of a system that has grown beyond its isolated roots. The whole is now clearly greater than the sum of its parts. This was a demonstration of the power of Microsoft that is often overlooked. This is the power to get competitors to come together to build something that that none of them could have built alone. This is also the power of consumer choice, and it is part of what defines and differentiates this revised platform.
That choice is defined by a new brand — "Plays for Sure" — that will be placed on products that work with the new platform seamlessly. This certification improves the out-of-box experience and helps insure the product you purchase won't live out its useful life on your shelf.
With the current generation of PCs, and particularly media centers, we have the capability to recapture some of what we lost over the last few decades — specifically, our memories and the ability to share them.
For those of us who grew up with family slide shows and home movies, this may not always seem like a good thing. But these things become much more important as we age, particularly when we are faced with the kinds of tragedies and heartbreak that we have struggled though over the last several years. Sharing memories and entertainment with family and friends can often make life a little more bearable, and cause us to remember what is important. That ability is at the core of the new media center platform.
HP Stands Out
One vendor clearly stood out, and that was HP. It had the most accessories and products and was featured on stage as the only major vendor building a product that fulfilled the current Microsoft vision for the Media Center.
Black, low-noise and looking very much like a piece of CE equipment, it helped showcase HP's commitment to this platform and explained why it sells more of this class of product then any other vendor. HP also had more traditional tower designs, but another that stood out was running an AMD processor and had a market price under $1,000, making it the lowest-cost purpose built media center with a major brand expected to be on the market this year.
HP displayed a unique PDA that also functions as a media player and would integrate with this new platform. The device also functions as a remote control and could use WiFi to control remote personal computers in this mode.
HP showcased its tablet PC as a product that could be used, once again using WiFi, to move the media experience around the home, and it had one of first media extenders (set-top boxes) expected to be on the market. As you may recall, HP was able to get Apple to participate with this platform, and it's made the iPod a somewhat reluctant Media Center accessory. From cameras to printers to PCs, no other vendor embraced this platform as completely as HP.
Gateway, Cisco, ATI
Gateway showcased the first BTX configuration for this platform. Looking like a regular PC on the outside, on the inside BTX allows a related PC to run more coolly and quietly. It was there to signal its successful merger with eMachines and help us remember that this new class is defined more by its quietness than its power. Gateway was also one of several vendors targeting the Apple iPod with a much improved digital music player.
Dell is planning to offer a Media Center option on every consumer-oriented PC, with a promise that it will build the machine you want. This showcases its direct model and the flexibility that brings to the table. Like HP, it offered a lot of choice, but its approach was more traditional and less visionary. It also had a special hand held computer at the launch, and while it's more limited than HP's, it also is much less expensive. Rather than using the iPod, Dell has brought out its own music players nearly identical to both the regular iPod and the iPod Mini.
Cisco, through Linksys, was showing off its media extender and making the general statement that it is the networking vendor to beat — whether the network is in large companies or in your home.
ATI and Nvidia were there as well, clearly excited about the potential to use their graphics technology for this new wave. However, ATI had a solid tuner line (lousy tuners were one of the shortcomings of earlier versions of this product)and a nice bundle of both conventional and HP tuners. This latest version not only supports multiple tuners, but you can also upgrade a single tuner box with a compliant tuner and make it a dual tuner, or dual tuner with HD capability.
Virgin, iRiver, RIO
Virgin Electronics, the company many of us are watching in this space due to its strong execution with portable music, featured its new MP3 player and a set of portable speakers (which can work with iPods, too) that are stunning in sound quality, portability and (in the premium version, which has a very nice subwoofer) sound depth.
The only vendor whose portable music player has beat the iPod regularly is iRiver. Like Creative Labs — which announced a line of multi-colored competitors to the iPod Mini — iRiver supports the platform with a variety of products. For Apple, the portable digital music market is beginning to resemble the PC market it used to dominate.
RIO was back with a full line, and Bill Gates was so impressed he made special note of the RIO Carbon on stage. RIO, many don't realize, is part of a powerful combination that includes Marantz and Denon. It's another company to watch as we move into this new converged age. RaveMP, which used to be in the same company with RIO (S3), was there with its competing line, showcasing the diversity represented by this platform.
Service providers included Wal-Mart music downloads, NPR, Reuters, Movielink, Musicmatch, MusicNow, Napster, Fye, CourtTV, Galleryplayer, CinemaNow, AT&T Wireless, Audible.com and AOL Music on Demands. Together they showcased the incredibly diverse support from this segment by companies that often compete with Microsoft and with each other.
Sony was also there in support of the platform. This is ironic because Sony was the first to come up with the concept of a PC at the center of the home. It just amazes me every time I see Microsoft do this: No one else seems capable of bringing together this massive number of competing companies to focus on a single initiative, yet only in this way do we ever move the industry forward.
Looking to the Future
Media Centers don't yet support digital cable or satellite TV elegantly. It's not a technology problem. Rather, the approvals aren't yet in place from the providers. The next-generation music service from Microsoft, code named Janus, is held up by approvals as well (in this case from EMI). In this new world it is content owners, not just technology providers, who create the drag on new products. These content owners are very concerned with media theft and adequate pricing.
Automotive support is still light, but you can use a portable media center or a compliant digital music player. However, OmniFi, whom we mentioned in an earlier column, was there. This suggests that a more integrated solution is coming.
We are still missing a true media server, though the HP product is close, and you can expect improvements to both still picture and video editing. There is one interesting dynamic to consider: Initially there will be a need for much larger and more resilient storage, but eventually on-demand services like Microsoft's Janus (once approved and integrated) may actually reduce our need to store commercial music and movies.
With e-commerce, the platform supports music and video purchases, and you can expect that it will eventually embrace photo services, platform accessories, and the ability to buy directly from commercials.
All of this aside, however, the most important part remains enabling us to capture, and often improve, our important memories. Our ability to express ourselves, manage and share these memories, and entertain our guests often defines us. Enhancing that capability is a large part of the next phase of the personal computer's evolution, and the fact that a large number of companies are cooperating in this process is what makes all of this possible and just a little bit magical.
---
Rob Enderle
, a TechNewsWorld columnist, is the Principal Analyst for the
Enderle Group
, a consultancy that focuses on personal technology products and trends.
---