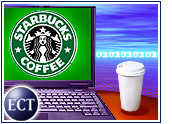 Will the caffeine and music combo make consumers want to dance in the aisles at Starbucks? Or will spills of sweet, creamy drinks stick the coffee powerhouse with a crashing failure?
These questions remain to be answered as Starbucks expands its "Hear Music" franchise with 45 locations in its hometown of Seattle and the music haven of Austin, Texas. The music bars, where consumers can search digital music, download songs and burn a personalized CD, will open between next week and the end of November.
California Dreamin'
Starbucks opened its flagship Hear Music "media bar" in California in March, on Santa Monica's Third Street Promenade. Although the company originally said it would offer "hundreds of thousands of songs," it now says 150,000 will be accessible at each site.
Will music lovers be persuaded to spend $8.99 for seven songs (and 99 cents for each extra song) on top of the four bucks they're already spending on decaf soy latte machiottos?
"Time will tell as the system is deployed more broadly. It depends how well Starbucks executes on this strategy," Susan Kevorkian, senior analyst at IDC, told TechNewsWorld. "If they consistently offer compelling music content coupled with reliable technology that delivers the CD — and eventually the download — that the customer wants when they want it, they will be in a strong position to attract and keep customers with their music and to cultivate a reputation as a destination for music purchases. On the other hand, if the music selection is perceived as uninteresting or the systems consistently malfunction, customers will go elsewhere to buy music."
Would You Like Some Music With That?
The system is being provided by Hewlett-Packard and includes Tablet PCs for browsing and choosing the songs. Users will tap the screen to scroll through menus of music. The burning and printing functions use HP xw6000 Workstations running HP-developed applications. HP inkjets will print labels, cover art and liner notes.
Kevorkian doesn't see music lovers running to Starbucks for the music, but she said that the captive audience of coffee lovers, those who linger for hours with their laptops and people "who don't feel comfortable in a traditional music retail setting" — that is, most of the population over 30 — are most likely to give it a listen.
High-Tech vs. Basic Needs
What about the combination of HP Tablet PCs, crumbly scones and hot liquid? Will the technology stand up to over-caffeinated downloaders?
"That's an important question, and one that will be answered as the system is rolled out and tested in more new stores and more users," Kevorkian said.
But if it works, it could be a boon for the music industry.
"It's a new, non-traditional outlet for music distribution that will reach millions of potential buyers if 'music bars' are deployed nationwide in Starbucks stores. If the program is successful and generates music sales, it could be an important win for the music industry," she said.
Starbucks has already become a cultural icon, but it remains to be seen whether its success will spill over into pop culture.