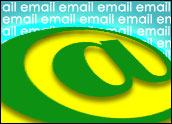 Microsoft Research released today a program that can help sort through e-mail so that correspondence that you're most likely to want to see ends up where you're most likely to see it.
SNARF (Social Network and Relationship Finder) is a free, add-on program that works with Outlook 2003 and up. It "knows" which e-mail is coming from your contacts and how important those contacts are to you based on how often you correspond with them. Microsoft calls it "social sorting."
Good Review
Ferris Research analyst Lee Benjamin tried out SNARF and said that at first glance it seems to deliver. It even flagged as important a message from a new contact that was, indeed, someone Benjamin wanted to hear from.
"It seems to be a handy feature and if research is releasing it, they're looking for feedback. One could take a wild guess that they plan it for a future release of Outlook," he said, adding that he had one worry. "I wish it was integrated because my fear is that I'll play with it for a week and then forget about it because I always go to Outlook and I won't open it."
Microsoft did say that features of the program are likely to be included in future e-mail clients.
Filters and rules are clunky ways of sorting e-mail, Benjamin said. A simpler method would spare time and help avoid lost messages.
"We can call this business productivity," he said. "What do I need to look at once an hour, once a day, or only if I have time? Ultimately a mail filter has got to help me figure out what's important."
All Help Appreciated
Mark Levitt, IDC vice president of collaborative computing, agrees that sorting can only help.
"Anything that Microsoft and other vendors can do to pre-sort inbound e-mail will be welcomed by e-mail users. Most of the attention in the e-mail filtering space has been dedicated to identifying and separating suspected spam," he said. Taking the problem of information overload by the horns, SNARF will be welcomed as a smart agent that learns how to do its mission of prioritizing email for viewing by watching each user's own history and behavior. The only complaints that I expect to hear are 'What took so long?' and 'What about non-Outlook users?'"
Benjamin also believes that anti-spam vendors are in a great position to capitalize on the need for e-mail sorting since their products already sort through mail looking for specific characteristics.
"The thing I'm waiting for is anti-spam companies to wake up and realize they can do more than look for inappropriate, naughty e-mail," he said.