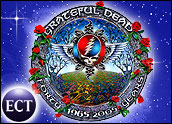 The Grateful Dead found out this week what happens when you give and then take away: consumer uproar.
The Dead, a band who has always encouraged tape sharing of its multitude of live shows, a few weeks ago asked the non-profit Internet Archives to remove free downloads of their concerts from its site. Dead Heads were not pleased and showed it with a petition calling for a merchandise boycott. More than 4,200 signed.
Concerts Back Up
Today, those concerts are back online. The only restrictions the band members have placed on free trading is that recordings taken directly from concert soundboards may not be downloaded. They are available for listening.
"I was not part of this decision making process and was not notified that the shows were to be pulled. I do feel that the music is the Grateful Dead's legacy and I hope that one way or another all of it is available for those who want it," Band bass player Phil Lesh wrote on his Web site yesterday.
The move by the Dead is not a sign that other bands will open up their archives, one analyst said.
"They are such a unique case. The Grateful Dead is an example of a band that if you're a fan you're going to be a consumer of all of their products for what the fan considers a reasonable price," Russ Crupnick, President of NPD Music and Movies Business, told TechNewsWorld. "Thy have so much unique content and you've got this huge, really engaged fan base."
So while those fans are still free to share the Dead's music, they are also likely to spend money on T-shirts and other merchandise that brings in revenue.
Dead Stand Alone
That is untrue for most bands.
"For the vast majority of artists, the fan base is smaller, level of devotion may not be as high, once you open Pandora's box, you can't close it up," Crupnick said.
NDP surveys have found that consumers never even listen to about 50 percent of the music they download.
"There's so much free content out there, but the surveys show that a lot of it doesn't have that much value to you. When you start making people pay, then they have to make decisions about what's really value."
The bottom line for any entertainment provider is knowing your fans. "For Grateful Dead fans there's a huge amount of value," Crupnick said. "It's critically important to know what kind of equity you have with your audience. When you're deciding whether to pay for content you have to think, 'How much appetite do I have? How much wallet? How deep is my loyalty?'"
For the Dead, with a deep and loyal fan base, a history of allowing sharing won out over the potential for revenue. But that won't be the case for most others.
"I'd say 90-95 percent of artists won't change the way they operate. There's a recognition that they have to deal with a business reality that if there's no revenue stream going back to the record company, they won't get promoted and they won't keep their contract," Crupnick said.