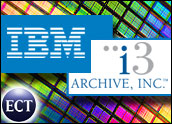 Patients who want to manage their own breast health records have a new tool with which to do so.
MyNDMA.com, launched today by IBM and i3 Archive, is a Web portal that gives its users a place to store digital mammogram results as well as faxed-in medical documentation. But the portal is much more than that, because it is linked into i3's grid-based National Digital Medical Archive (NDMA), a database that can be accessed by about 300 participating doctors and 24 hospitals so far. That means that patients can send their records through the portal to the doctor of their choosing. The system can also store PET, CT and other scan results so that the many specialists often involved in one patient's health (breast surgeon, oncologist, hematologist, etc.) have ready access to all a patient's records.
"This is a part of the transformation of health care," Scott Cleare, Medical Imaging Channel Segment Executive, IBM Life Sciences, told TechNewsWorld. "Patients want to and should be taking responsibility for managing their own health care."
Grid-Based System
The mammography database began in 1999 as a federally funded project of the University of Pennsylvania with grid-computing technology from IBM. From that project sprung i3, a commercial enterprise that harnesses the grid to offer NDMA with per patient utility pricing, or as IBM terms it, On Demand service.
MyNDMA users pay an annual US$14.95 fee to store a mammogram and five faxed-in pages. More storage is available for higher fees. Women whose mammograms are on film can contact i3, which will digitize the tests. The mammogram industry is moving toward complete digitization, a transformation Derek Danois, President and CEO, i3 Archive, said will probably take 5-7 years.
The Technical Side
The system, which has several security mechanisms to comply with HIPAA (the Health Insurance Portability and Accountability Act) privacy regulations, is based on IBM DB2 running on X series servers.
"Some of the problems women encounter are that they go to a private mammography center and it closes and goes out of business. All the records need to be moved. Doctors and hospitals are managing so much information, sometimes tests get misplaced or aren't available," Danois said.
Aside from managing health records, patients will be able to make themselves available for clinical trials just by clicking a box to say they are willing to have their records search. The database is set up with each piece of information as a discrete data object to make it easy for researchers and pharmaceutical companies to find appropriate trial participants.
Cost Savings
In the future, the database, which now contains 1 million mammograms from 350,000 patients, may be used for cancer drug research.
"There's a tremendous cost savings to shortening the recruitment cycle for clinical trials, Danois said.
The process is now done mostly by culling through charts by hand and hiring staff to ask doctors if they have patients who fit the study parameters and are willing to participate.
Eventually, Danois said, he wants i3 to work with IBM and other partners to create a system that could store and access all a patient's medical records through a grid of interoperable systems.