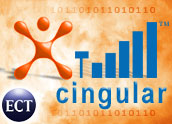 Did video really kill the radio star, or were they just placed in suspended animation until streaming mobile services can revive them? Cingular is betting on the former.
Wireless carrier Cingular announced yesterday it had teamed up with MobiTV to offer MobiRadio. For US$6.99 a month plus kilobyte use fees, Cingular subscribers with radio-ready handsets can stream any of 44 commercial-free radio channels directly to their handsets. The stations, programmed by Music Choice, run the gamut of musical genres.
"This is a nascent market, but there's definitely consumer interest," Michael Gartenberg, vice president and research director for Jupiter Media, told TechNewsWorld. "Streaming music overcomes the drawbacks of mobile music — you don't have to sync anything up, there's no need for expensive satellite systems, no wires and no navigation on a device, because it's radio content.
"Services like this definitely make sense as conduits for this type of audio content," Gartenberg said.
More Opportunities to Buy
The updated service is available on the Nokia 6620 as well as the Sony Ericsson S710 and Z500a to start, but Cingular said handset options will expand in the future.
MobiRadio subscribers will see the album art, song title and artist information while the song is playing. The companies said that, within the next few months, customers will be able to buy ringtones and other content related to the song that is playing directly from their phones.
While there is customer interest, Gartenberg said it won't be easy to generate mass-market appeal for the service.
"It depends on how well it's evangelized and the pricing," he said. "There's definitely a chance for this to become much larger in the future, as people get these handsets with these options, but it's going to take some time. Strategically marketing to consumers will be difficult."
Getting Comfortable With New Ideas
That, Gartenberg said, is because consumers have to not only think the service is cool, but they have to adjust to a whole new behavior and incorporate it into their lives.
But convincing consumers they need radio on their phones may get easier as more and more wireless carriers expand their musical offerings.
Two weeks ago, Sprint announced it was expanding into the music download business, offering a service to download songs directly to its mobile phones. Music Store is an addition to Sprint's current music offerings. The company already has streaming radio and satellite music service.
With Music Store, subscribers can buy songs for $2.50 each from EMI Music, Sony BMG, Universal Music Group and Warner Music Group. For that price, they get one version of the song formatted for mobile device use and another for use on a PC or CD.