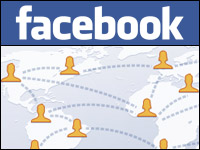 After a tumultuous couple of weeks for Facebook that have included the introduction of Open Graph, threats of lawmaker scrutiny, complaints from consumer groups and embarrassing bugs in its software, members of the social networking site may be wondering whether it's time to ask the musical question: Should I stay or should I go?
Should members stick with the world's largest social network as it reaches critical mass and rethinks — once again — its position on how to treat its users' data? Or should they withhold that valuable personal information and quit the network until Facebook shows a little more respect for customer privacy?
Those thoughts may be racing around users' heads in light of the latest software gaffes to hit the company. A flaw that allowed users to see private chat conversations of friends showed up Wednesday, and some tech media discovered that visiting certain websites while logged onto Facebook resulted in applications showing up in a user's profile without their knowledge.
Company officials patched the chat bug on the same day it showed up, and Facebook spokesperson Barry Schnitt told TechNewsWorld that the bug depositing apps on user profiles had also been fixed. However, Schnitt also wanted to make it clear that no personal data changed hands along with the apps.
"There was a bug that was showing applications on a user's Applications Settings page that the user hadn't authorized," Schnitt said. "No information was shared with those applications, and the applications did not appear to anyone but the user."
Although he did respond to the app bug situation, Schnitt did not address questions by press time about why users should stay with Facebook.
Reasons to Give Facebook a Chance
It is, of course, too soon to tell if the recent headlines regarding Facebook privacy issues and software bugs will result in a flurry of account closings on the network. That leads to one reason why users might want to stick with Facebook as it deals with these problems — all their friends will probably still be on the network."I don't see a mass exodus from Facebook anytime soon," Gartner analyst Ray Valdes told TechNewsWorld. "Facebook has now reached critical mass and become an essential part of many people's online persona. Facebook is where your friends are, so you are unlikely to leave unless all your friends also leave. And there are no strong alternatives to Facebook on the horizon."
Another vote in Facebook's favor: The company is still relatively young, and other tech firms that are now respected leaders in their sections of the Internet playing field also had growing pains.
"Facebook is kind of this big lumbering oaf that keeps crashing into tables and knocking over the dishes," social media consultant Paul Gillin, author of The New Influencers: A Marketer's Guide to the New Social Media, told TechNewsWorld. "They're headed in the right direction, but they can't seem to get there without tripping and falling down along the way. But Google had a number of mistakes in its history when it was first rolling things out like Gmail, which has gone on to become a part of its users' everyday activities."
Amazon and Ebay had system outages — some lasting longer than a day — during their early years. Stumbles and lurches are to be expected when one is carving out a new niche in the online space, Gillen said.
"They are really way out by themselves with the stuff they're doing. They're trying to create social-based applications on a scale that's never been attempted before, and they're playing with the most delicate information you can have, which is people's personal activities and their conversations with their friends."
Reasons to Tell Facebook 'Enough'
All the more reason to close your account, says Paul Stephens, director of policy and advocacy for the Privacy Rights Clearinghouse.
"Aside from protecting your privacy, it's a matter of making a statement," Stephens told TechNewsWorld. "Consumers need to talk with their wallets if they're unhappy about something. If a site is not being privacy-friendly, my opinion is that computer users need to take action to show that site they're not happy with what's going on, and the way you do that is by closing down your account."
If consumers are also weary of trying to navigate a byzantine maze of account settings in order to lock down any info they don't want shared with friends or strangers, saying goodbye to Facebook may also send Mark Zuckerberg and company the message that they need to make that process simpler, Stephens said.
"They have made it so complicated that even people who wrre online-savvy have a great deal of difficulty understanding what is private and what is going to be disclosed. The defaults are not what you would expect them to be. Even when they make changes (in privacy policy), there are wrinkles that don't necessarily protect your privacy in all the ways you think they would."
Fixing the application-addition snafu to a user's profile is a good example. Opting out of the Instant Personalization feature introduced with Open Graph isn't enough to block apps from showing up. You have to go into your Account and click on Application Settings. There you will see all the applications you've used in the past month. Visiting certain websites will result in an app getting dropped in that profile. You must click on "Profile" for that particular application and look for the "block application" listing on the left-hand side of that apps' Profile Page.
Got it? You'll be tested on this later. In the meantime, Facebook is also being tested, and critics can always take consolation that the company might end up like its predecessor in the Hot Social Media Company category. "MySpace was close to reaching this threshold a few years ago, to the point of becoming entrenched in the online social landscape," Valdes said. "Unfortunately, Myspace proved unable to seal the deal for a number of reasons — lack of strong peer-verified identity, lack of a robust, extensible platform. It was hampered by a user interface that lacked usability and burdened by a corporate parent that had slow responses to changing user needs.
"Facebook, by comparison, has executed pretty well," he added. "Granted, that execution has not been totally smooth, and not all users are happy. There are likely some users who are considering a possible exit. Nevertheless, Facebook continues to show strong growth and momentum even while competitors are scrambling to get on track."