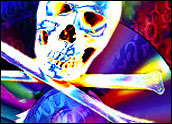 Microsoft has expanded its Genuine Software Initiative (GSI), a pilot program to notify users of non-genuine Windows operating systems (OSes) that their copies of the software are illegal.
The software giant is using the "Windows Genuine Advantage (WGA) Notifications" tool — a virtual equivalent of the exploding dye that banks use to mark stolen currency and thus deter theft. WGA automatically checks for genuine copies when customers use Windows Update, Microsoft Update for Windows and Microsoft Download Center.
If the tool finds the OS is counterfeit, users see pop-up dialog boxes with messages stating they're not running a legal copy of Windows. The WGA program not only helps Microsoft combat software piracy, but also informs users who may not be aware they paid for non-genuine software.
No End to Piracy in Sight
Worldwide, US$59 billion was spent on commercial software in 2004, but over $90 billion worth of software was installed, according to a study conducted by IDC. The Business Software Alliance reported an estimated 35 percent of all installed PC software in 2004 was illegal. This piracy is blamed for $33 billion in losses.
Microsoft and other software companies are stepping up their battle against software piracy, which they say affects thousands of businesses nationwide and costs millions of dollars in tax revenues and lost jobs.
"A recent IDC/BSA study showed that if the piracy rate were to drop to 25 percent, it would create as many as 2.4 million new jobs, $400 billion in economic growth and $67 billion in tax revenues worldwide," Neil MacBride, vice president of legal affairs at Business Software Alliance, told TechNewsWorld.
Users who unintentionally bought pirated software could be at risk for viruses or system bugs. They don't qualify for fixes, upgrades or technical support.
Many companies bemoan the need to spend money fighting piracy instead of dedicating it to research and development for software innovation that benefits users.
Program Is Optional
The pilot program is currently optional, so users can accept or decline installing WGA. However, the company may require customers using Automatic Update and Windows Update to participate as it expands later in the year, Director of Genuine Windows David Lazar told TechNewsWorld.
For the participating user, a message pops up at logon prompting a visit to the WGA Web site to learn more. The user continues to receive reminders until genuine software is installed. A message is permanently displayed on the logon screen, and another randomly pops up near the system tray.
No Explorer Updates
Users running illegal copies of Windows won't be able to download Internet Explorer 7, Windows Defender and other downloads and updates. However, they will be able to download critical security patches.
Customers who unknowingly paid for counterfeit software are invited to learn more about recognizing genuine Windows software at the Microsoft Web site. They are advised to return the counterfeit product to the reseller and seek redress.
"If their reseller is unable to help, users can take advantage of Microsoft Genuine Windows offers designed to help victims of counterfeit software," said Lazar.
Microsoft tested the pilot program in seven countries beginning November 2005. The program expanded this week to include the U.S., the UK, Malaysia, Australia and New Zealand.
"Every effort to encourage users to become compliant helps," said MacBride.