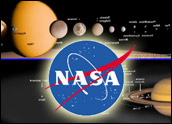 NASA won't release its 70-page report on why the DART (Demonstration for Autonomous Rendezvous Technology) spacecraft didn't complete its mission last year because of its sensitive content, the agency said.
"The official DART Mishap Investigation Report will not be publicly released because it contains information that is protected by U.S. International Traffic in Arms Regulations (ITAR)," Kim Newton, a NASA spokesperson, told TechNewsWorld.
Instead NASA plans to issue an executive summary that will provide information on what happened, while omitting ITAR-protected details. The agency revealed that DART had a fuel problem, but its engineers didn't catch the fuel leak. The robotic vehicle also was compromised by navigational mistakes with its onboard computer, according to reports.
Orbit Anomaly
The purpose of the US$110 million mission was to test whether robots could perform some tasks that astronauts must do manually. NASA's Marshall Space Flight Center in Huntsville, Alabama, managed the project, which would have been the first to complete specific maneuvers without human interaction.
Last year, NASA's DART spacecraft successfully began a 24-hour mission to use only computers and sensors to find and meet an experimental communications satellite launched in 1999.
The 800-pound DART located its target and came within 300 feet of the Pentagon satellite, but the project ended when the spacecraft shut down after running into an orbit anomaly. It went into the retirement phase before completing all operations.
NASA was experimenting with autonomous rendezvous capabilities to build a foundation for future manned and unmanned missions using computers to handle various tasks. Once successful, the agency planned to use the craft to service the International Space Station, help with cargo delivery and carry out other related activities.
Security or Saving Face?
Government agencies often withhold information when its release may constitute a threat to national security, but that's not the only reason for omitting sensitive details.
"In general, government officials are quick to claim exemptions for information that is politically embarrassing," explained Robert Jensen, Ph.D., associate professor in the School of Journalism, University of Texas at Austin. "Judges are typically hesitant to rule against claims involving national security," he noted.
Jensen lists nine exemptions to the Freedom of Information Act (FOIA):
National Security Information;
Internal Agency Rules;
Information Exempted by Other Statues;

Business Information

;
Inter-and Intra- Agency Memoranda;
Personal Privacy Information;
Law Enforcement Records/Ongoing Investigations;
Records of Financial Institutions; and
Oil Well Data.
Had NASA released unauthorized information to the media, the people responsible might have faced disciplinary action or prosecution.