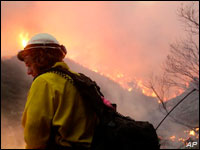 The smoke and haze from the 190-square mile Station Fire near Los Angeles isn't just making it difficult to see in the area of the San Gabriel Mountains. It's also having an impact on advanced forms of communications in Southern California: cellphone signals, television and radio broadcasting, even transmissions among the police, sheriff and fire crews battling the blaze and directing evacuation procedures for suburban residents.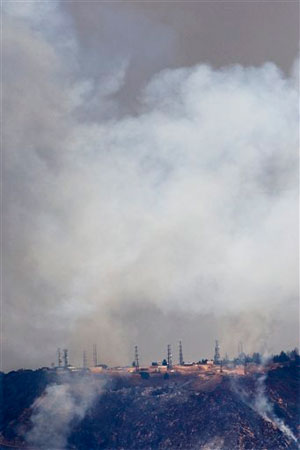 Mount Wilson – Aug. 31, 2009
Federal Communications Commission officials are maintaining close contact with first responders and commercial broadcast interests in the region, and they told TechNewsWorld that so far, no emergency requests have been made to the government. However, "you always have to plan for the worst and be prepared to respond to any situation," FCC homeland security/public safety spokesperson Rob Kenny said.
Even the 105-year-old Mount Wilson Observatory, scene of many a heavenly discovery, can't escape the threat of a hellish fire that has already killed two firefighters, destroyed more than 50 homes and threatens 12,000 others. The observatory's staff had to abandon the building Saturday as the fire rapidly grew, and director Hal McAlister is using his blog — and a nearby towercam shot from UCLA — to provide updates. "Some good news," he wrote Tuesday morning. " U.S. Forest Service Fire Dispatch has informed us that as of 9:40 this morning ground crews were back at the Observatory. As of 8:00 am, air tankers were back in operation."
Towers in Trouble
The FCC, Kenny told TechNewsWorld, has already contacted public safety officials and commercial broadcasters in the affected region. "In any situation where something like this might be occurring, we do that outreach to make sure they know we're there. That's done quickly. We're getting updated by the hour, sometimes even sooner."
As of Tuesday mid-morning Pacific Time, 18 to 20 communications towers were considered to be in jeopardy because of the Station Fire. Lower temperatures and higher humidity did offer firefighters glimmers of hope in containing the blaze, but Kenny said the government will make sure everybody is ready in case the situation deteriorates. "We are working with the National Association of Broadcasters, local broadcasters, as well as commercial carriers and first responders to make sure in a moment's notice, if there's an issue they need assistance with, we can provide it to them."
If those towers are consumed by flames, requests to use alternative means of transmission such as satellite, portable microwave, or even quickly building temporary towers — anything "to go outside their licensing during emergencies" — would be given quick approval by the FCC after the agency made sure no other frequencies would be interfered with by the procedures.
Cellphone Service
Commercial carriers would probably be the least disrupted by the fires, said Matt Nodine, spokesperson for the FCC's wireless division. "Most cellphone towers are not necessarily on that mountain," Nodine told TechnewsWorld. "Hundreds of them are spread out throughout cities, and some could be just 12 inches high and serving as repeaters. The way the companies have set up towers in metro areas like L.A., people may not know that a lot of times, cellphone towers only cover three-quarters of a mile, even less. Companies can redirect the signal around them. It's just the way cell technology works."
However, Nodine added that should the need arise, the FCC can help with spectrum redirection. "There will be an impact if you lose any sort of tower, but the type of impact is not as great."
Keeping TV on the Air
Whether it's cellphone service, emergency transmissions or radio/television signals, maintaining clear lines of communications becomes a top priority in a dangerous situations like an unpredictable, rapidly-spreading wildfire. "We have to make sure that broadcasters can get emergency information to the public, including guidance and actions they should be taking to protect themselves," Kenny said. "If broadcasters need assistance, we're there promptly to provide that help and guidance and make sure they have the ability to communicate those emergency messages to the public."
The recently completed digital broadcast transition is another avenue of assistance, Kenny said. "It's more robust, more reliable and allows for communications to be carried much further distances."
Some local stations have already alerted viewers to digital channels in case of a disruption of service. Local affiliates have told Los Angeles media that those receiving cable or satellite service would not see any disruptions, but those getting their signals via over-the-air might lose signals. Channels are also directing viewers to their Web sites for the latest updates.