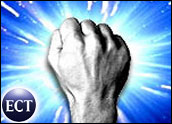 Josh Wolf, an independent and freelance video blogger who refused to turn over his footage of a San Francisco street protest and testify about it to a grand jury, is now out of jail after spending a record-setting 226 days behind bars. Wolf spent more time in jail than any other journalist being held in contempt.
To get out, Wolf had to cut a compromise deal with prosecutors that led to him handing in his uncut video footage in exchange for not having to testify. However, in addition to turning over the uncut video to prosecutors, he also posted it on his blog for the public to watch and evaluate on their own.
The demonstration the video depicts was a protest of the G-8 Summit on July 8, 2005 in San Francisco. One police officer was hurt and a demonstrator allegedly attempted to set fire to a police car, however, the video seems to hold little to no evidence of these crimes.
California, as well as every other state in the U.S. except Wyoming, has shield laws in place to protect journalists from having to testify in court in areas related to their coverage. Wolf went to jail through a loophole — the police vehicles were federally funded, so authorities were able to classify the asserted arson attempt as a federal crime. Because journalists aren't protected by shield laws from the federal government, Wolf was jailed for his noncompliance.
Who's a Journalist, Anyway?
The Wolf case brings up an interesting intersections of technology, journalism and freedom of speech. Clearly, some bloggers, video or otherwise, are well-trained journalists, independent or funded, while others seem to simply dump their thoughts onto the Internet through a keyboard.
"Fundamentally, what we need at the federal level is to recognize there needs to be some protections for the journalist to do what they need to do to get the information out to the public," Dr. James Thomas Tucker, policy counsel for the American Civil Liberties Union, told TechNewsWorld. "A key point here is the shield laws are not meant to protect the journalist or even anonymous sources — they are meant to protect the public, because it's only through anonymous sources that we've been able to get some of the greatest revelations since 9/11."
The main issues that seem to be holding back a federal law, Tucker noted, are the definition of a journalist and what exceptions, if any, should be allowed under the law.
For instance, in what situations should a shield law not apply? That has become a stick question with the Bush administration, Dr. Tucker said, because of the White House's tendency to qualify so many things as national security matters.
Have Computer, Will Report
The Bush administration, says Tucker, is worried that bloggers open the floodgates — that everyone with a computer and Internet access would qualify as a journalist. "What we [ACLU] propose is a functional definition of a journalist," Tucker explained. "First, is what they are doing an act of journalism? Are they communicating something they read in the newspaper or are they interviewing people, taking photographs or video, and doing the things we expect a journalist to do?
"The second is, why are they doing it?" Tucker continued. "Are they reporting for a purpose? If it is just purely for personal interest, some morbid curiosity, they shouldn't qualify, but if they want to get the information out to the public for public dissemination … they should qualify as a journalist."
Bigger Than Bloggers
The National Press Club is very happy that Wolf is out of jail but isn't thrilled that he had to turn over the video in order to get out, National Press Club President Jerry Zremski told TechNewsWorld.
"The definition of journalist is changing. There are some bloggers who are not trained in journalism, who do really good journalism, so it's hard to draw the line between a journalist and blogger journalist or someone who's blogging about their cat," Zremski said.
"I think it's a real conundrum for states that have shield laws … but what I come back to is the First Amendment, and the First Amendment doesn't make distinctions between if you're trained as a journalist or if what you're writing about is your cat," he added. "It talks about freedom of expression, and I think that's the most important point here. My feeling is that we want to be standing strong for anyone who is trying to tell a story in a legitmate way."