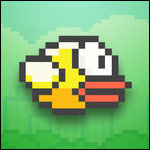 Popular smartphone game Flappy Bird has been pulled from Apple's App Store and the Google Play app marketplace by its creator.
Independent Vietnamese developer Dong Nguyen released the free-to-download game last May having spent only a few nights creating it.
Flappy Bird remained under the radar for many months. However, it suddenly soared up the rankings in recent weeks to take the top spot as many fans became enamored of the kitschy graphics and the difficult gameplay.
Flapping Wings
It asks gamers to guide a bird through a series of pipes by tapping the screen to make it flap its wings. The physics and crash detection involved made progressing beyond the first few pipes a tough prospect.
Mobile gamers "want something that is simple, easy, fun — doesn't take too much effort," Susan Schreiner, an analyst at C4 Trends, told TechNewsWorld.
"They want something they can pick up and play. It doesn't have to be the type of experience you'd find on a desktop. There's a clear difference between the casual market and the console or desktop markets," she said.
"I think it's a very simple physics-and-timing game that's no more complex than Fruit Ninja or the old Activision game Pitfall!," Lewis Ward, research director for gaming at IDC, told TechNewsWorld.
"Flappy Bird is basically only good for generating ad dollars — not that that's a bad thing — but it's a far cry from squeezing money out of gamers through microtransactions. To be honest, it probably deserves to be a flash-in-the-pan game," he added.
"Smartphones are non-specialist devices, which means that some owners are gamers, some aren't, and some are even probably avid players who don't even think of themselves as gamers, thanks to the manner in which games can be consumed on such a format," Steve Bailey, games analyst at IHS iSuppli, told TechNewsWorld.
"I think there's always going to be latitude for a success to rocket out of left field, as happened with Flappy Bird," he noted. "It perhaps will happen less and less as time goes on, but the possibility will remain. The speed of transmission of the game's uptake also highlights the reach and power of digital distribution, on any connected hardware."
$50,000 Per Day
The game reportedly was downloaded more than 50 million times, and generated more than US$50,000 per day in revenue through in-app advertising, Nguyen told The Verge. Yet the colossal success of the game seems to have contributed to its demise.
Nguyen on Saturday tweeted his intention to pull the game from both the App Store and Google Play within a day. He held true to his word.
Many parodies and ripoffs emerged online, while Android owners are swapping the game among each other.
Profiting From eBay
Such is the passion for Flappy Bird that some people are selling their iPhones and Android devices with the game installed on eBay. Some listings have attracted bids upward of $7,000.
One rumored reason Nguyen chose to pull the game is that its artistic similarities to games made by Nintendo could lead to legal action. The pipes in Flappy Bird bear a striking resemblance to those seen in the Super Mario Bros. series.
Friends of Nguyen told reporters that he'd received a letter from Nintendo, though the company told The Wall Street Journal it had no complaints over the similarities to Super Mario Bros." Nintendo did not respond to our request to comment for this story.
'Overusing' Game
It seems more likely that the success of the game overwhelmed Nguyen. He tweeted that his decision had nothing to do with legal issues. "I just cannot keep it anymore," he said.
Nguyen also said players were "overusing" the game — suggesting unease with how often many people were playing it.
"My first instinct was that Nintendo or perhaps Rovio sent him a letter threatening a lawsuit over copyright infringement, but having seen some of his commentary, I really think this lone wolf developer was totally unprepared for success," IDC's Ward said.
"I think there are two possible reasons [why Nguyen pulled the game]: One, that he genuinely was overwhelmed. The other is that this is some sort of publicity stunt. I think it will return. It's simply a matter of when," predicted C4 Trends' Schreiner.
"The reason the developer gave is one that I could certainly believe to be authentic — this surge into prominence is just too stressful, perhaps, for a small indie developer," IHS' Bailey remarked.
"He's just one guy who, in the space of a week, has gone from being a minnow in an ocean of obscurity to having … international attention … . Some of that attention may well be valid criticism, but a significant portion will also be caustic to the point of including death threats."